In male-dominated food retail jungle, 2 women working for plant-based meals to take root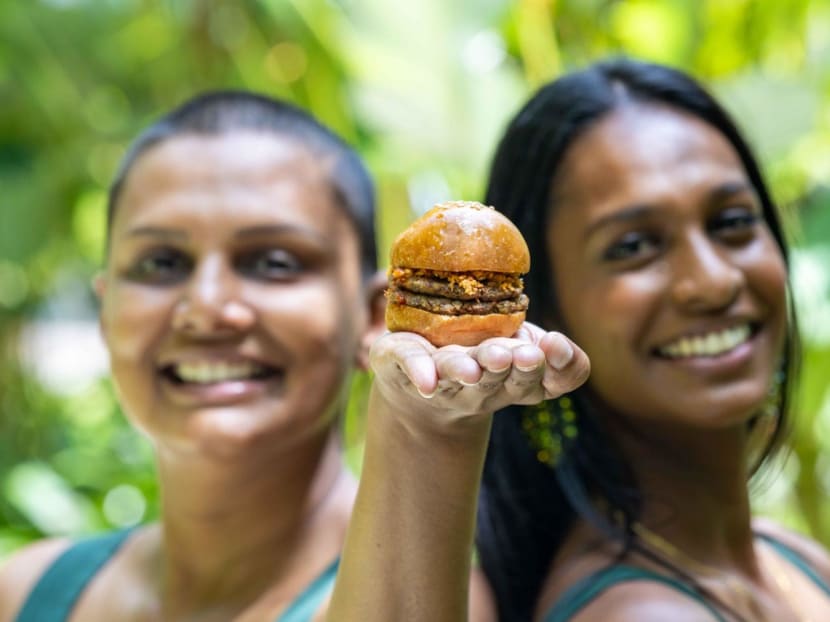 With the shift towards healthier and more sustainable food choices, homegrown brands are striving to making tangible changes to Singaporeans' dietary choices and eating habits
Jungle Kitchen, the newest entrant in the alternative protein field, is working towards serving up tasty plant-based products
It is is not a brand targeted at vegans, but it is encouraging people to choose more plant-based options for their meals
The startup that is owned and run by women tries to hire and empower females in a male-dominated food retail industry
SINGAPORE — While tucking into their favourite food, it is not always that people would consider how it is farmed or produced before it arrives at the table.
That is gradually changing, however, as consumers are becoming more conscious of what they eat and where their food is sourced.
The common trend these days is a shift towards healthier food choices — even better if it is sustainable and transparently sourced.
The latest data from a survey by online market research firm YouGov revealed that as of January this year, more than a third (34 per cent) of Singapore consumers said that they are actively trying to cut down on their meat intake.
Over a third are undecided about changing their level of meat consumption (36 per cent), which indicates that they may be at least considering it.
Separately, the global Innova Consumer Survey 2020 found that the top reasons for considering plant-based alternatives were health, diet variety, sustainability and taste.
It found that six in 10 global consumers are interested in learning more about where their food come from and how it is made, while three in four consumers expect companies to invest in sustainability.
These trends has had a tangible impact on the food scene here as well.
In a three-part series, TODAY takes a look at a few homegrown brands to learn how they are doing their part to make positive changes to Singaporeans' dietary choices and eating habits. 
If you missed the first and second parts, read them here and here.
This week, the co-founders of Jungle Kitchen talked about how they are hoping to empower people to add more plant-based food in their meals.
PLANT-BASED PRODUCTS FOR HOME COOKS
Jungle Kitchen is the newest entrant on the alternative protein scene here.
The Singapore-based startup made its debut at the FHA Food and Beverage 2023 fair, which took place at the Singapore Expo last month. 
It launched six vegan products that feature a range of tropical ingredients sourced from smaller individual farms across the Southeast Asian and South Asian regions.
Ms Surekha Yadav, its 38-year-old Singaporean co-founder, said: "We've been so used to having everything readily available all the time. Now in my late 30s, I see that people are going back to the idea of, 'Let's think about it, when and why are we eating it, and where does it come from?'
"We're really fortunate to finally ask these questions — and it's important to ask them."
Ms Yadav, who is married to a Sri Lankan, recently left her previous startup, a communications agency, to focus on her passion in sharing good food and contributing towards a more sustainable food supply system.
She is not a vegan, but said that she is looking to reduce her meat intake due to ethical reasons.
For instance, there is greater awareness on the way animals are reared and killed for food, and its large-scale impact on the environment.
A major new study published in 2021 in Nature Food, an online research journal, has found that global production of meat causes twice the pollution of production of plant-based foods, for example.
In her past attempts to eat less meat, Ms Yadav found it tough to find healthy plant-based alternatives. Out of convenience, she turned to unhealthy high-carbohydrate food such as cake. 
Ms Yadav said that Jungle Kitchen is not a brand targeted at vegans, but rather, she hopes to empower people to weave in more plant-based options into their diet.
She has also observed a growing appreciation for return-to-roots fare that involves the use of indigenous ingredients and local flavours. This is why familiar tropical fruits such as jackfruit are among the key ingredients featured in Jungle Kitchen's debut range.
One of its signature products is a ready-to-cook plant-based mince called Jungle Jack, made with jackfruit, beetroot, moringa, kohila and other flavourful herbs and spices. Both moringa and kohila are plants commonly found in tropical Asia, and are good sources of vitamins, minerals and nutrients.
The plant-based mince can be shaped into a burger patty or meatball.
The brand also has ready-to-eat products including a hot sauce, young jackfruit curry and coconut sambol (a staple of every meal in Sri Lanka made with lime, chilli and coconut).
The ready-to-cook products are meant to be versatile and can be easily used when cooking meals at home. 
For example, the Jungle Jack plant-based mince can be used as a minced meat substitute. It can be shaped into patties to make burgers or cooked in soups, stews or sauces — much like how one would cook bolognese sauce for pasta.
The readily available but often overlooked tropical fruit has a naturally meaty mouthful that works well as a meat alternative, Ms Yadav said. Other ingredients used are coconut, chilli, banana blossom.
Ms Yadav said that she and co-founder Mukeeta Manukulasuriya are also passionate about doing their part to build a more sustainable and equitable food system.
Ms Manukulasuriya, 26, a Sri Lankan, is a third-generation owner of a food production factory in Sri Lanka that is founded and run by females.
The startup works with and support smaller farm holders with transparent and sustainable farming processes.
"We're now sourcing from regenerative farms where there's visibility in terms of farming practices, how they treat their workers, etc," Ms Yadav said.
"We also work with smaller farms so there're fewer middlemen taking a cut and more income goes directly to the farmer."
Regenerative agriculture is a conservation and rehabilitation approach to farming. It focuses on improving the health of soil to restore agricultural land that has been degraded by the use of heavy machinery, fertilisers and pesticides.
Being so selective with who they work with has its challenges.
"It's tough keeping up with the big boys in the industry with their deep pockets," Ms Yadav said.
Working with small farms means that output will never be as large as companies that work with industrial-sized farms, she added.
It would also affect how they price their products. However, Ms Yadav said that there is a big difference between what is competitively price and fairly priced.
"Pricing a product competitively can be quite dangerous because it becomes a race to the bottom at the expense of the workers or producers.
"Just look at tea — tea pluckers are paid lesser increasingly because companies are trying to drive costs down to price competitively," she added.
"We are going to price our products fairly. We won't be the cheapest around, but we believe that what we are doing offers value."
Another unique feature of Jungle Kitchen is that it is owned and run by an all-female team — and that is no coincidence.
For the co-founders, it is their way of paying homage to the women who have raised them and a bid to improve gender equity in the food industry. 
"When you look at the economics of the food-and-beverage (F&B) industry, it's primarily male-dominated — not just chefs but the big F&B businesses are also male-owned," Ms Yadav said.
"Most of us know that our mothers and grandmothers are the cooks at home, but there is a mismatch of who does the work and who gets the rewards. We are hoping that wherever possible, we try to hire and empower females."
At home, Ms Yadav said that she uses her own company's products.
"We use them a lot at home. That said, we probably shouldn't keep eating our own supply," she said with a laugh.
"Besides our own products, we are also eating different things because we want to experiment on what we can come up with next."
Jungle Kitchen's products are available on its webstore and will soon be available in supermarkets and speciality grocery stores.