'Consistent rational policy' and patience key for Asean to make progress on Myanmar peace plan, says PM Lee
LABUAN BAJO (Indonesia) — In working to resolve the Myanmar crisis, a consistent rational policy and patience will be key, so the Association of Southeast Asian Nations (Asean) should press on with its five-point consensus, Prime Minister Lee Hsien Loong said on Thursday (May 11).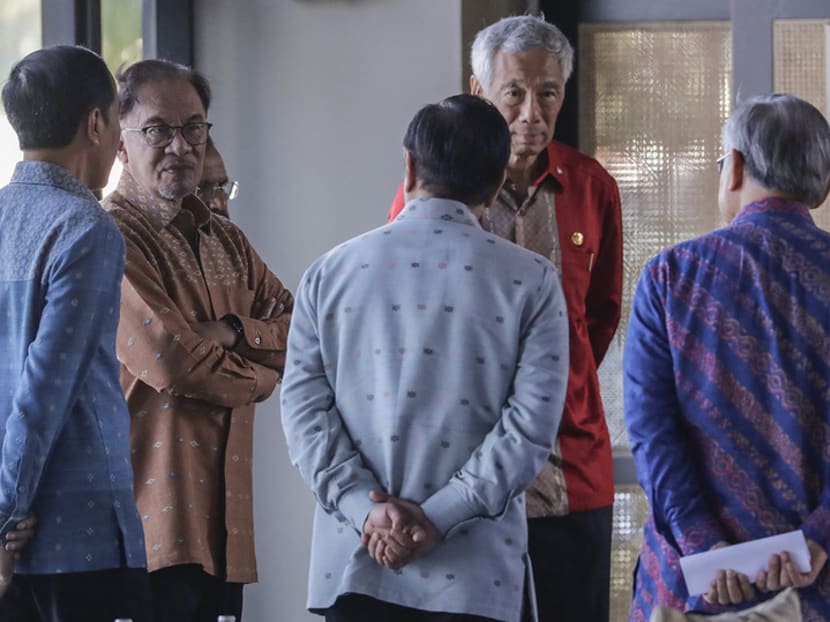 A peace plan agreed upon in 2021 by the leaders of the Association of Southeast Asian Nations (Asean) to address turmoil in Myanmar remains relevant, said Prime Minister Lee Hsien Loong
This is despite the lack of progress in the "five-point consensus" over the past two years, he added
Mr Lee said patience and a consistent rational policy were key to making progress on the five-point consensus
More broadly, he also stressed the importance of Asean unity and cooperation in a troubled world
Wrapping up the two-day 42nd Asean summit, Mr Lee also talked about how Asean should help Timor Leste build its capabilities to support its eventual membership in Asean
LABUAN BAJO (Indonesia) — In working to resolve the Myanmar crisis, a consistent rational policy and patience will be key, so the Association of Southeast Asian Nations (Asean) should press on with its five-point consensus, Prime Minister Lee Hsien Loong said on Thursday (May 11).
Speaking at the conclusion of an Asean summit, Mr Lee acknowledged that this is "very hard to do" and will take a long time, but added that it was difficult to see a solution without fulfilling the consensus.
The five-point consensus is a plan settled on by Asean in 2021 to work towards peace in strife-torn Myanmar through steps such as Asean providing humanitarian assistance, appointing a special envoy and bringing an end to violence.
"I think if we look at the five-point consensus, the contents are completely relevant because it talks about cessation of violence," Mr Lee told reporters.
"It talks about forming a special representative. It talks about humanitarian assistance. It talks about engaging all the parties and the special representative to engage all the parties," he said.
"And these are things which need to be done. But they have not been done. So what do we do?"
Mr Lee's comments came at the end of the two-day 42nd Asean Summit in Labuan Bajo, Indonesia, where Myanmar was a central topic of discussion.
A military coup in February 2021 overthrew the country's democratically elected government, leading to widespread bloodshed, instability and turmoil over the past couple of years.
Leading up to the summit, Indonesia's President Joko Widodo on Monday had told reporters about an attack the day before on an Asean humanitarian convoy in Myanmar, which included two officials from Singapore.
The Asean leaders on the first day of the summit issued a statement condemning the attack.
Mr Lee on Thursday also said that the status quo — in which Myanmar is invited to participate in Asean meetings, but at a non-political level — serves a purpose. 
He said that "it signals that all is not well", yet without hampering Asean's work and cooperation as well as the grouping's dialogue with partners around the world. 
"And this format, I think, has a symbolic purpose as well as important practical consequences."
During the press conference with Singapore media wrapping up his trip, Mr Lee also spoke about Timor Leste's upcoming membership of the regional grouping, and how Asean still plays a relevant role in a world growing more tumultuous.
Mr Lee met with his counterparts from Timor Leste, Vietnam and Laos on the sidelines of the summit.
The summit is the first of two to be hosted by Indonesia as the Asean chair this year.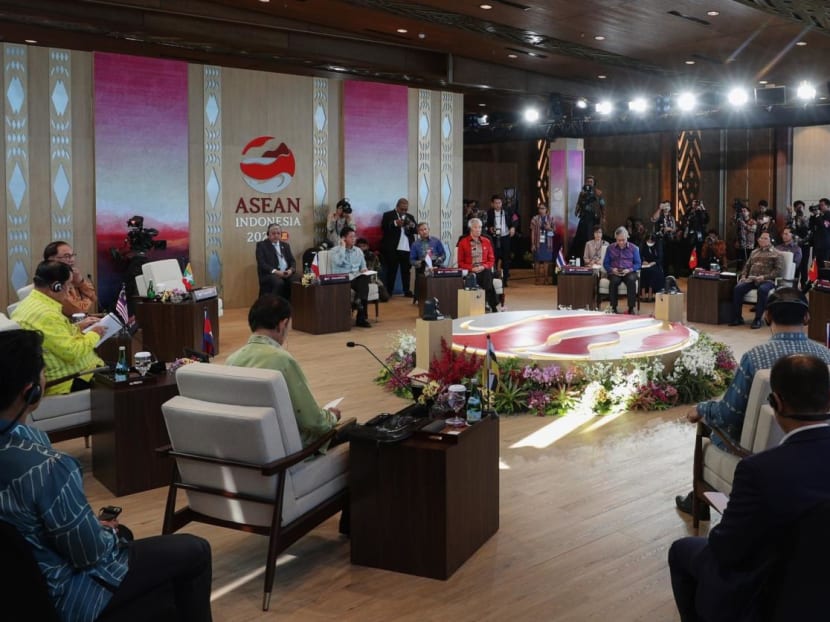 ASEAN'S VIEWS NOT MYANMAR'S 'PRINCIPAL CONSIDERATION'
Mr Lee said that Asean leaders had a frank discussion on the Myanmar issue during a retreat on Thursday morning. He acknowledged there has been "very little progress" made on the peace plan.
Asked if the current arrangement of inviting only non-political representative from Myanmar would essentially lead to a situation where there would only be nine Asean members, Mr Lee reiterated that Myanmar is still a member state.
"They have been invited to participate in the meetings but not at the political level. And Asean is able to work like this," he said. 
"We have been able to work with our foreign, with our external partners also. And they have been okay to engage us and various cooperation projects proceed."
Mr Lee said that the crisis will take a long time to resolve.
"The last time we were in this situation with Myanmar, the demonstrations which led to a coup began in 1988. And finally the elections took place (in) about 2010, thereabouts. It's 20 years," he said.
"So I do not expect this time to be easier to solve. And we have to be patient," he added.
"And we must be able to maintain a consistent rational policy, in order to derive the best outcome for Myanmar and for Asean."
He said that some other Asean countries share this view of Singapore.
"But there are other views as well and this is something which Asean will be discussing."
Mr Lee said that ultimately, the crisis in Myanmar is a domestic situation and a power struggle between different groups.
"Asean influence is not huge and not their principal consideration. And we have to understand that."
ASEAN A 'LIFE RAFT' IN MORE TROUBLED WORLD
More broadly, Mr Lee said that "in a troubled world, we need Asean to be unified, to be cohesive, to be effective, to be central".
He added that there needs to be substance in Asean's cooperation.
"That's why we're talking about upgrading our economic cooperation, talking about green economy, talking about the digital economy, upgrading our FTAs (free trade agreements) with New Zealand, Australia, with other countries as well," he said.
The more Asean can make its cooperation work in terms of economy, politics and security, "the more other partners will want to work with us and will take us seriously".
Mr Lee said that a more troubled world would necessitate a "safety life raft" even more.
"And Asean is our life raft, it is the life raft for all the Asean members," he said. 
At the end of the day, Mr Lee said that as Aseans's members individually are "not that big" in a global context. The grouping pools the members' voices together to become one that "counts for something in regional affairs".
"You don't determine the outcome, but you're able to speak, and to be listened to," he said.
ROAD TO TIMOR LESTE'S ASEAN MEMBERSHIP
Asean members last year agreed in principle to Timor Leste joining the grouping as its 11th member. This year, Timor Leste's Prime Minister Taur Matan Ruak attended the summit as an observer for the first time.
Mr Lee on Thursday said that many issues in the region will also concern Timor Leste and "on the face of it, it would look like an anomaly" if the nation were not to be in Asean.
However he noted that a membership into the grouping entails "a very heavy responsibility" given the numerous committees, frameworks, guidelines and agreements among members.
During the summit, the Asean leaders adopted a roadmap for Timor Leste's membership of Asean, which sets out the requirements that need to be fulfilled before the young nation can join the grouping.
Mr Lee said it was also important to help Timor Leste with its capacity building to help the country reach that end goal.
"You must have your officials and the know-how and the expertise, so that you can participate in the meetings and make a sensible contribution or even to uphold your own interest and negotiate in an informed way, so that we can reach a proper outcome," he said.
For Singapore's part, it launched a Singapore-Timor-Leste Asean Readiness Support (Stars) package in December 2022 to help Timor Leste in its preparation to be an Asean member.
About 800 officials from Timor Leste have come to Singapore to train since the Stars package was launched, said Mr Lee.