PM Lee wins defamation suit against blogger Leong Sze Hian; awarded S$133,000 in damages
SINGAPORE — Prime Minister Lee Hsien Loong has won a defamation suit against blogger Leong Sze Hian, with the High Court awarding him S$133,000 in damages.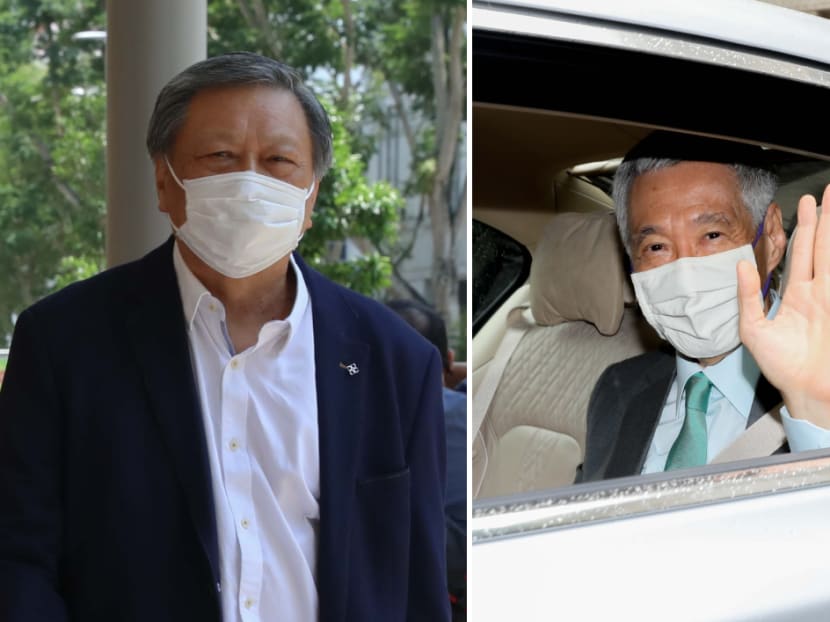 A High Court judge ruled that blogger Leong Sze Hian could not reasonably claim that the defamatory words did not impugn PM Lee's character
Mr Lee sued Mr Leong for sharing an article that contained corruption allegations against him 
While the Facebook post had no caption, the judge ruled that there was no interpretation other than that Mr Leong endorsed the article
SINGAPORE — Prime Minister Lee Hsien Loong has won a defamation suit against blogger Leong Sze Hian, with the High Court awarding him S$133,000 in damages.
In his 69-page judgment on Wednesday (March 24), High Court judge Aedit Abdullah ruled that Mr Leong, 67, could not reasonably claim that the defamatory words did not impugn Mr Lee's character.
Mr Lee, 69, sued Mr Leong for posting a link on Facebook to an article by Malaysian news site The Coverage in November 2018.
The article, which he shared with no caption, contained corruption allegations against Mr Lee, falsely linking the Prime Minister to the scandal engulfing Malaysia's state fund 1Malaysia Development Berhad.
The fact that Mr Leong had shared the article should be construed as his having published the defamatory words in it, said Justice Aedit. 
"There does not appear to be any other plausible interpretation of the link to the article in the post, apart from (Mr Leong) in some way supporting or endorsing the content in the link," he wrote.
The judge noted that the act cohered with Mr Leong's self-described role as a "staunch government critic".
During the trial, the lawyers representing Mr Leong and Mr Lee crossed swords over the reach of the blogger's Facebook post.
Given that the post was publicly available and that 45 people had responded to it, the judge said it was likely that "a third party" had accessed the article. 
Relying on estimates provided by Mr Lee's expert witness Phan Tuan Quang, a social media expert from the University of Hong Kong, Justice Aedit said that the post would have reached 400 people in Singapore at most. They would have also read the defamatory words in the article that was linked to the post.
Mr Leong's lawyer Lim Tean had earlier argued that Mr Lee's suing for defamation meant bypassing Singapore's anti-fake-news law, the Protection from Online Falsehoods and Manipulation Act (Pofma), and denying a citizen the protections built into the Act, which was enacted in 2019.
In response, the judge said that Pofma does not alter the law of defamation.
The purpose of Pofma is to avoid or minimise damage from online falsehoods to the country and its people, or to public confidence in the Government, he said.
He added that the Act does not provide individuals with any right of action arising from a false or defamatory allegation made against them.
Mr Lim, who is an opposition politician, had also made the point that the defamation proceedings were an abuse of process. He cited a case in England, in which a court ruled that a government organ or entity cannot sue for defamation, as that would impede criticism and freedom of speech.
Justice Aedit, however, said that Mr Lee's lawsuit was in his name and was a claim for the loss of his reputation. 
"Crucially, nothing in the claim or arguments raised points to an attempt to vindicate anything other than (Mr Lee's) own personal rights."
The amount Mr Leong was ordered to pay comprises S$100,000 in general damages and S$33,000 in aggravated damages, which refer to a sum granted over and above compensatory damages.
Mr Lee's lawyers had asked for damages to be in line with Mr Lee's earlier defamation suit against blogger Roy Ngerng. 
In 2015, Mr Ngerng was ordered to pay S$150,000 — S$100,000 in general damages and S$50,000 in aggravated damages — to Mr Lee for alleging that the Prime Minister had criminally misappropriated Central Provident Fund monies.
The judge noted that the defamatory statement in Mr Leong's case was worse than the one made by Mr Ngerng, even though Mr Ngerng's blog post had a far wider reach. 
This is because Mr Leong's case involved allegations of a misappropriation of public funds in cooperation with the leader of another country.
There was, however, a "more limited basis" to award the same aggravated damages, and about a third of the general damages — S$33,000 — would suffice, said Justice Aedit.
After the judgment was handed down, Mr Lim described it as "wrong and deeply flawed", saying in a Facebook post that the judge's quantification of damages had "no bearing to reality". He said that he would advise Mr Leong on the options open to him.
Responding to queries from the media, Mr Lee's press secretary Chang Li Lin said that the judge had decided on the matter and the Prime Minister had nothing further to add.