PMD laws tightened to designate more areas as public paths; importers of motorised vehicles must get LTA approval
SINGAPORE — Laws have been tightened to further curb the unsafe operation of personal mobility devices (PMDs), with courtyards, town plazas, squares, atriums and other open spaces declared as public paths where motorised devices are forbidden.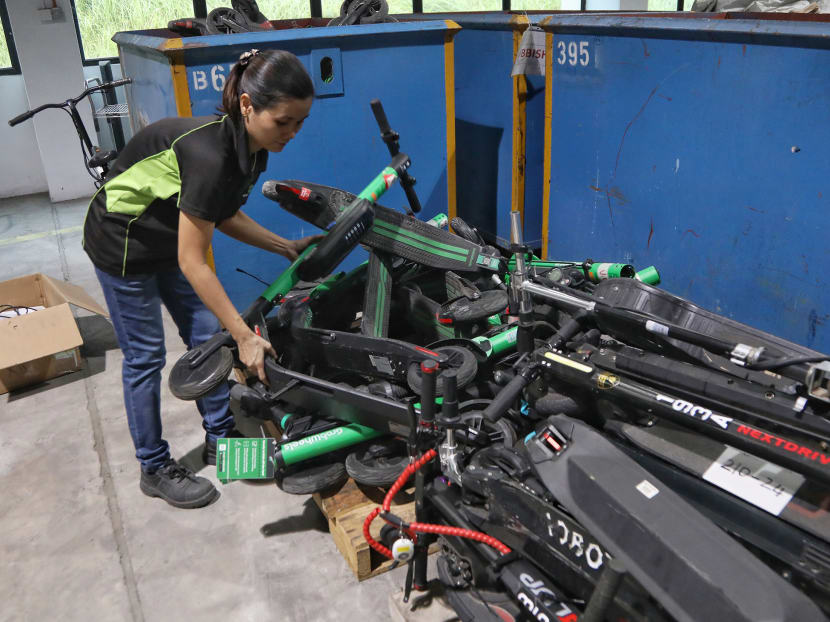 SINGAPORE — Laws have been tightened to further curb the unsafe operation of personal mobility devices (PMDs), with courtyards, town plazas, squares, atriums and other open spaces declared as public paths where motorised devices are forbidden. 
And from the first quarter of next year, those who import motorised PMDs and electric bicycles (or e-bikes) must obtain an import approval from the Land Transport Authority (LTA) before they can bring these vehicles into Singapore. 
PMDs include electric scooters, hoverboards and electric unicycles.
These were among the measures introduced by the Government under two Bills that were passed into law on Tuesday (May 26). 
The import controls are part of the Small Motorised Vehicles (Safety) Bill to stem the flow of imported non-compliant PMDs, while the expansion of areas marked as public paths are among amendments to the Active Mobility Act.
Under the changes to the Act, LTA will also have the powers to immediately dispose of non-compliant devices that it deems as a safety hazard once a 30-day notice period for objections to be filed has lapsed. 
These moves come at a time when there is a rise in travel demand on active mobility devices while ridership of public transport, taxis and private-hire cars has tumbled during the Covid-19 pandemic. 
Dr Lam Pin Min, Senior Minister of State for Transport, told Parliament that the use of such devices is expected to pick up again with the expansion of the cycling path network. By 2030, Singapore's cycling path network will total 1,320km. 
"With more users, it is all the more critical for us to strengthen our regulations and enforcement even as we deal with other Covid-related challenges," he said. 
CHANGES TO ACTIVE MOBILITY ACT
The expansion of the Active Mobility Act to designate "path-connected open spaces", including courtyards and atriums, as public paths will allow Singapore's public path network to accommodate the largest range of possible users, Dr Lam said. 
Motorised mobility devices are barred from public paths, although bicycles, non-motorised vehicles and personal mobility aids for the less mobile are permitted.
Dr Lam said that these open spaces are "generally indistinguishable" from the present network of public paths. Declaring them as such will enable LTA to extend the public path user rules to reduce potential conflicts between the motorised and non-motorised users in these open spaces, he added.      
Riders who use their vehicles in these spaces will have to comply with a 10km/h speed limit.
Turning to non-compliant devices, Dr Lam said that they pose a fire risk even when they are not being used or charged. 
Since the Active Mobility Act was passed in 2017 to ensure the safe use of public paths, LTA has seized mobility vehicles that were used by offenders. 
Dr Lam said that about 1,500 devices are stored in LTA holding yards, some badly damaged or with leaking batteries as a result of accidents. It would therefore be "dangerous for LTA to retain custody" of them, he added.
The move to allow LTA to dispose of these vehicles after the 30-day notice period will mitigate safety hazards arising from the storage of such seized devices, he said. 
There will be no change to the forfeiture and disposal process for non-compliant devices that do not pose fire hazards.
IMPORT CURBS  
Despite tightening the rules over the years — including barring the sale of devices that are not certified to the UL2272 fire safety standard — Dr Lam said that LTA continues to find non-compliant devices being used on public paths. 
Fires involving such devices have continued to occur.
Last year, 972 users were found riding non-compliant PMDs and e-bikes on public paths and roads. Eleven retailers were caught for displaying non-compliant vehicles and failing to show warning notices. 
These trends mean that the Government must "go upstream" to stem the import of non-compliant devices, he said. 
The new regime will make it an offence to import motorised PMDs and e-bikes without LTA's approval. Devices that flout weight, width and speed requirements, or do not meet the UL2272 standard for PMDs or the EN15194 electrical and fire safety standard for e-bikes, will not be granted approval.
Those who import motorised PMDs and e-bikes without valid approval can be fined up to S$5,000, jailed up to six months, or both, for the first offence. Businesses can be fined up to S$10,000 for the first offence. 
Dr Lam said that those with legitimate reasons to import non-compliant devices, such as for research, re-export or commercial use on private land with restricted public access, can do so with LTA's approval. 
"For these specific cases, import approvals can still be granted after LTA has ascertained that these non-compliant devices will not be abused and eventually used on public paths where they could be a danger to other path users." 
Importers will also run foul of the law if they allow non-compliant devices allowed into Singapore to be used for purposes other than what had been permitted under the approval. They would also have committed an offence if they flout conditions specified in the import approval. 
To allow for enforcement, LTA will affix tamper-proof tags to all non-compliant devices allowed to be imported, Dr Lam said. 
Member of Parliament (MP) Melvin Yong from Tanjong Pagar Group Representation Constituency (GRC) asked if the import of spare parts that could be assembled into a non-compliant device should also be regulated. 
Dr Lam said that the Bill does not cover the import of spare parts. "For a start, we will apply (the Bill) to fully assembled PMDs and (e-bikes), but may, after monitoring the situation, extend import controls to cover partially assembled or completely unassembled vehicles, if necessary." 
With PMD users set to increase, other MPs raised questions on how the public will be protected. 
Dr Lee Bee Wah of Nee Soon GRC asked if enforcement against errant users will be tightened this period. 
Dr Lam said that since May last year, the authorities have stepped up enforcement consistently in view of rising safety concerns. A spate of accidents and mounting calls to protect pedestrians had led to a ban on all motorised PMDs from footpaths starting last month. 
Dr Lam also said that LTA has continued to carry out regular enforcement operations against errant riders even during this stay-home period to stem the spread of Covid-19.