Police officer banged on table and shouted at me, alleges tutor in O-Level cheating case
SINGAPORE — It started allegedly with a text message from her brother that their mother had been taken into custody at Bedok Police Division.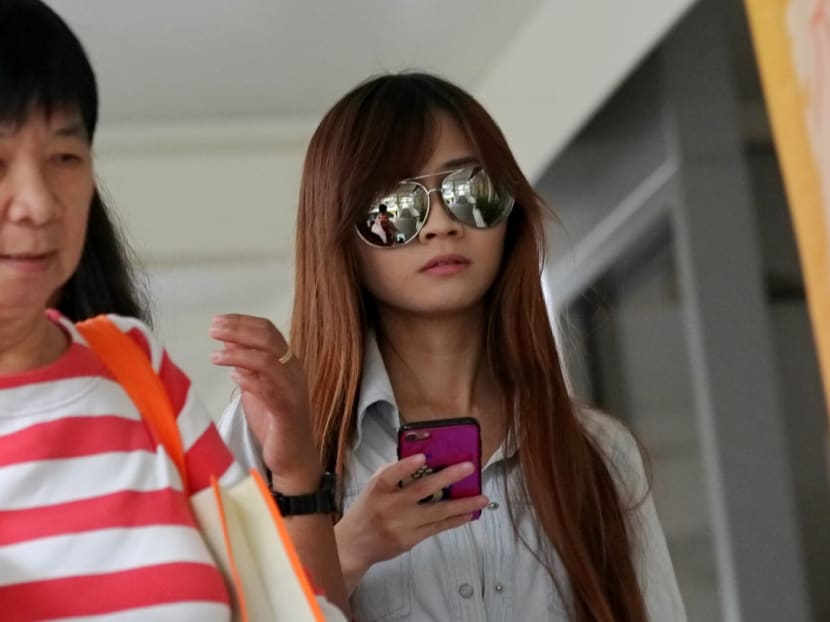 SINGAPORE — It started allegedly with a text message from her brother that their mother had been taken into custody at Bedok Police Division.
What transpired over the next 24 hours or so "built up" to a "stressful" experience, culminating in Zeus Education Centre tutor Fiona Poh Min allegedly giving a second police statement "involuntarily".
Taking the stand for the first time on Wednesday (Aug 15) for an ancillary hearing on the disputed statement, Poh, 31, alleged that she was subjected to threats, coercion, as well as promises of leniency from some of the investigating officers involved in her case.
Poh, her 52-year-old aunt and centre principal Poh Yuan Nie (also known as Pony Poh), as well as fellow tutor Feng Riwen, 26, are accused of helping six students from China cheat at the 2016 O-Level exams.
They each face 27 cheating charges, with Poh also facing one charge of instigating student Chen Yi, 20, a Chinese national, to leave Singapore to avoid being investigated by police.
On Wednesday, Poh testified that her brother told her on the evening of Oct 26, 2016, that their mother was in police custody.
Arriving at the police station that same day, she was put in a room and "bombarded with questions" from multiple investigation officers who "came in and out" of the room.
She testified that Assistant Superintendent (ASP) Stanley Chew had banged on the table "a few times", and shouted at her to "tell me what I want to hear".
She said: "He was towering over me…(and had) aggressive actions. I was thinking to myself, what if he really hit me if I didn't tell him what he wanted to know.
"It felt like I was already guilty."
Poh was allegedly told by another investigating officer that her mother had been locked up for more than 10 hours without food or water.
"I was worried about my mother…I told them to let her go, because she was totally not involved," said Poh.
She added that the number used to call Mr Chen Yi was registered to her mother.
Poh did not have her handphone when she was in custody, and she testified that she threw it away because it had photos of illegal pets that were kept at the tuition centre.
She was then brought by the police to the vicinity of the tuition centre in Tampines to look for the phone, but they did not find it. The phone was found in a dustbin outside the Bedok Police Division the next day, after Poh led them to it.
She provided her first statement to the police on Oct 27, the same day that a police search of the tuition centre was conducted. Poh alleged that she was subjected to more threats and taunts from the three investigation officers — ASP Tan Yi Hao, Senior Staff Sergeant (SSSgt) Koh Mun Gek, and ASP Justin Ng — accompanying her on the search.
Among other things, Poh alleged that SSSgt Koh and ASP Tan wanted to put her by the tuition centre's main door as they wanted to smoke. This was refuted by both officers in their testimonies on Wednesday.
SSSgt Koh and ASP Tan said that the centre search took about two to three hours, and they uncovered items such as Bluetooth devices and electronic transmission devices. The officers said they did not interact with Poh, aside from clarifying what some of the items were for.
This was disputed by Poh, who testified that they talked about many topics, including the pets in the tuition centre. Poh also asked if she could feed the pets, and she was allowed to.
She also alleged that the officers brought up Pony's health condition as she has high blood pressure. They allegedly asked her if she wanted her aunt to "die", and that "there will be nobody to bury" her.
Poh said: "I was really scared then, I didn't want anything to happen to anyone."
She testified that the officers told her she could be jailed for seven years due to the severity of the situation, but if she co-operated with them, "they can plead leniency for me".
As they led her back to the police station, SSSgt Koh told her to relate what she said at the centre to the officer taking her statement, said Poh.
Poh said she was "in a state of shock" during the incident.
"Everything kind of built up, when I entered the police station, everyone was very hostile," she said. "It felt like I was in prison already."
In their testimonies in court on Wednesday morning, the investigating officers denied using any form of threats or intimidation towards Poh.
Refuting Poh's testimony, ASP Chew, who oversaw the centre search, denied being at the station on the night of Oct 26, 2016. He told the court that he was alerted of the case on Oct 26 evening after receiving a call, but only formally took over investigations the next morning.
The trial continues on Thursday.