Policies may have to change as society evolves: Chan Chun Sing
SINGAPORE — Singapore's political system needs to evolve over time as circumstances change, said Trade and Industry Minister Chan Chun Sing, and policies should be crafted not just for the present but also future generations.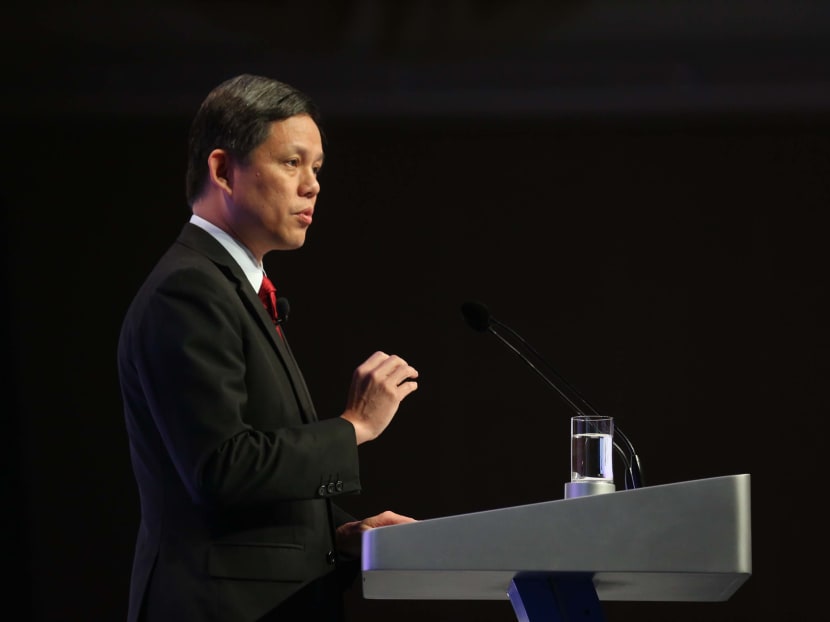 SINGAPORE — Singapore's political system needs to evolve over time as circumstances change, said Trade and Industry Minister Chan Chun Sing, and policies should be crafted not just for the present but also future generations.
Speaking at a politics-themed conference on Monday (Jan 20), Mr Chan said that Singaporeans need to have "the gumption to evolve our political system to stay relevant with the needs of the time".
"No political system is perfect. Certainly, no political system is perfect for all times," he said at the event, where he started with a short speech before taking questions from the floor.
"As time goes by, as circumstances change, we must also evolve our solutioning. There is no one problem where we can ever say that 'This is the answer and this answer will be eternally correct'."
Mr Chan gave some examples on how policies on the economy, social issues, and race and religion have to change as society evolves.
He brought up the prospect that as many as one-third of young Singaporeans may not get married and form the traditional family structure.
The Government would then have to find ways to take care of these unmarried Singaporeans when they grow older and possibly rework the classification of housing estates, as well as housing policies and incentives in the future.
The current policy on race, where citizens are divided into Chinese, Malay, Indian and others, may also have to change as there is a growing number of intermarriages across different races and more Singaporeans are tying the knot with foreigners.
This will change the complexion of society in the years to come, Mr Chan said at the conference, which was organised by the Institute of Policy Studies (IPS).
"And before these are going to change, then we have to seriously ask ourselves every step of the way, are our policies still right and relevant?
"Never, never make the assumption that just because policies are right and appropriate now that it will always be right and appropriate forever more," he said.
GETTING SINGAPOREANS TO JOIN POLITICS
Mr Chan also talked about the difficulties in getting Singaporeans to join politics.
While every generation has its own challenges, he said that there is increased pressure on would-be politicians and their families in today's internet and social media age.
Mr Chan also shared a personal anecdote on how his wife had questioned him on his purpose in continuing to be in politics.
"My wife asks me, 'Why do you continue to be where you are? Every day you're getting all the brickbats. Your family is getting the brickbats. Your children are getting the brickbats. Why are we still here?'" he recounted.
Mr Chan's response: "And I can tell you we're still here, I'm still here because I want my children and my grandchildren and for many more generations to come to be able to call themselves Singaporeans."
ON THE NEED FOR DATA
During the question-and-answer session, Mr Goh Meng Seng of the People's Power Party asked whether more data can be made publicly available.
With access to data, he reckoned that opposition parties will be able to do a proper analysis of issues, come up with policy solutions and engage in meaningful debate.
"A lot of people (said) that opposition members are all opportunists. We do not know our stuff, we do not know policy options but that is not true. What we lack are data and statistics," Mr Goh said.
In response, Mr Chan said that data, while necessary, is not enough for there to be meaningful discussions.
This is because different people might have different interpretations of the same data.
For instance, he had revealed last week that Permanent Residents (PRs) took up about 17 per cent of the net new jobs created in Singapore between 2015 and 2018 — higher than their overall share of the total workforce (15 per cent).
Mr Chan said people can interpret this to mean that the Government is not doing enough for Singaporeans.
Another interpretation is that PRs would naturally have a higher share of net new jobs as compared to its proportion in the overall workforce as they have been pre-selected, which was the explanation he gave last week.
Trust in the entity or individual providing the data is also an important factor.
"If people don't trust you as a person, you can give as much data as you want and you won't win over the hearts or the minds of the person," said Mr Chan.
OPERATION COLDSTORE
Drawing reference to how Indonesia is planning to revive a "truth and reconciliation" commission to look into the 1965 mass massacre of people suspected of being communists, Dr Paul Tambyah from the Singapore Democratic Party asked Mr Chan whether similar plans are in the pipeline for Operation Coldstore.
Operation Coldstore was the codename for a covert operation in 1963 where several political activists were arrested on suspicion of being communists. Many of them were members of the Barisan Sosialis, the main opposition party against the People's Action Party at the time.
"And before you ask me what's the point of the question, the point of the question is that Dr Lim Hock Siew (one of those arrested) is a very good family friend of my parents and I think his family deserves to have a hearing," said Dr Tambyah, which drew laughter from the audience.
Dr Tambyah was making reference to the Parliament session on Jan 6 when, in response to Workers' Party chief Pritam Singh request for workforce numbers, Mr Chan had asked: "What is the point behind the question?"
Responding to Dr Tambyah, Mr Chan said he does not know whether a "truth and reconciliation" commission will ever be called to address Operation Coldstore and that it is for the rest of Singapore to decide.
However, he did say that it is not appropriate to compare what happened in Indonesia in 1965 with Operation Coldstore as the massacre had "deep implications on the psyche of Indonesians".