Poll showing 6 in 10 food delivery workers were injured at work warrants 'better look' at medical claims: Koh Poh Koon
SINGAPORE — Ever since he started doing food delivery on a full-time basis in 2012, Mr Abdul Hady Abdul Hamid has had at least one accident a year, he said.
A straw poll of about 60 respondents found that 60 per cent of gig workers have suffered injuries while on the job
The poll was part of a series of prompts during an engagement session with such workers on Oct 11
It was organised by an advisory committee tasked to improve their working conditions
Dr Koh Poh Koon said the committee is expected to finalise its list of recommendations to the Government in a month or two
SINGAPORE — Ever since he started doing food delivery on a full-time basis in 2012, Mr Abdul Hady Abdul Hamid has had at least one accident a year, he said.
The latest and most serious one by far was in July, when a road accident involving a car left the 30-year-old with a partially fractured elbow and unable to work for one-and-a-half months.
He told reporters that he had incurred around S$8,000 in medical and repair expenses, but he was given just S$1,000 in compensation by the food delivery firm.
"We always try our best to ride safely, but sometimes, it's the other road users who might behave carelessly," he said at the end of a gig worker engagement session on Tuesday (Oct 11).
The session was held by the Advisory Committee on Platform Workers, which is under the Ministry of Manpower (MOM). 
Mr Abdul Hady's experience is fairly common, with about 60 per cent of 61 respondents in a straw poll conducted at Tuesday's session saying that they have been injured while doing work for platform companies.
Dr Koh Poh Koon, Senior Minister of State for Manpower who was present at Tuesday's engagement session with gig workers, said that he was "quite surprised" by the numbers reflected by the straw poll, which he deemed as "a little bit high".
Dr Koh, who is the adviser for the Advisory Committee on Platform Workers, said that this shows the importance of taking "a better look" at the matter of medical compensation, which is an area that the committee is looking into as part of its upcoming recommendations to be proposed to the Government.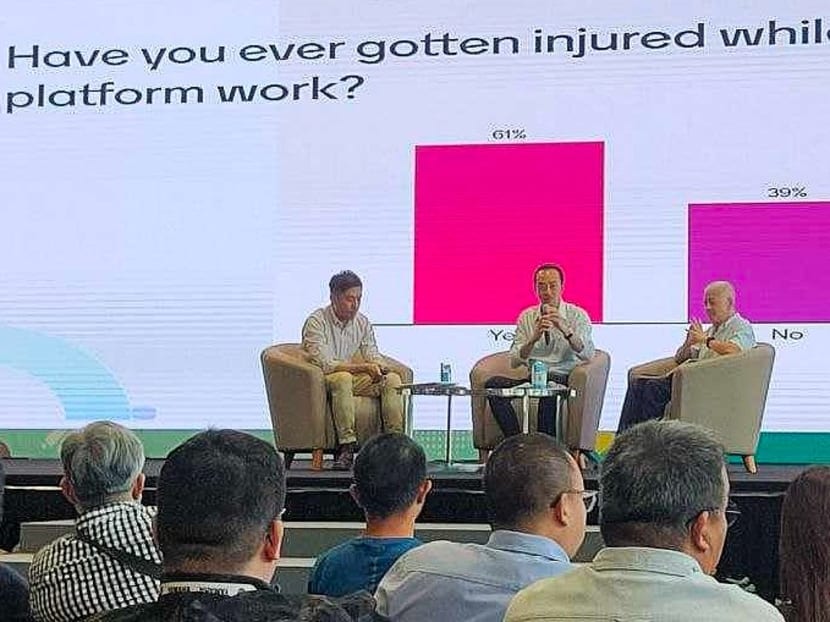 Fatal accidents involving gig workers have grabbed headlines in recent times, with MOM saying in July that it was working with food delivery firms to improve safety for these workers after five riders were killed on the road over 18 months.
One such accident that killed a food delivery rider in April had also landed a 20-year-old motorcyclist in the intensive care unit.
About a dozen riders who spoke to TODAY for The Big Read feature in July told of long hours and fatigue, as well as the rush to fulfil orders to meet targets or gain incentives as factors putting them at risk of accidents.
Since the Advisory Committee on Platform Workers was formed in September last year, five other focus group discussions involving 150 platform workers such as food delivery workers and private-hire drivers in total have been held, MOM said. 
The session on Tuesday at community and cultural complex Wisma Geylang Serai had about 100 platform workers attending, the largest scale so far.
Two other areas the committee is examining are improving the housing and retirement adequacy of gig workers, and strengthening their representation so that they can be in a better position to discuss fairer working conditions with platform companies.
Dr Koh also said that the committee was looking at the possibility of adapting the Work Injury Compensation Act to the gig workers' "unique situation" where one individual may work on multiple platforms. The Act is now broadly applied to all employees in Singapore.
Aside from concerns relating to work safety and injury compensation, other issues raised by the attendees on Tuesday included lack of support by their platforms when facing day-to-day issues on the job, as well as fluctuating earnings.
Speaking to the media at the end of the event, Dr Koh said that the committee is making "good progress" in finalising the list of recommendations. 
"So we're in the final stages of consulting with our stakeholders to make sure that the final recommendations are something that everyone has some form of alignment to.
"I do believe that we should, in the next month or two, be able to finalise the final recommendations, barring any unusual changes to the overall economic system." 
WHO BEARS THE COST OF COMPULSORY CPF CONTRIBUTION?
During the event, workers were also prompted to talk about instances that made them wish they had better insurance coverage.
Some of the short answers submitted and flashed on the screen include "PMD flying" and "e-bike deaths" and "create more cyclist paths".
Asked by TODAY if the advisory committee is looking beyond compensation when it comes to workplace injuries and accidents for platform workers, Dr Koh said that "a few tracks of work" are ongoing.
"What we're recommending here — eventually using the Work Injury Compensation Act as a potential frame to ensure that they have fair compensation — is only, in my mind, a basic minimum requirement," he added.
The Workplace Safety and Health Council is also working actively with the food delivery firms to draft safety guidelines and ensure that workers take up the appropriate road safety training, he said.
Dr Koh said that "the eventual representation body of the workers" would be in a good position to work with platform companies to relook at their service delivery requirements and key performance indicators, "because some of these can drive behaviours on the road".
"They (can) then have a more detailed discussion with the platform companies to see how we can be a bit more granular about creating safer work conditions for them."
During the event, a food delivery rider said that they have already seen their earnings fluctuate. He was worried that the possible move of mandating food delivery firms and workers contribute to the workers' Central Provident Fund (CPF) would raise business costs, thereby leading to the firms cutting back on drivers' earnings to make up for the rising costs.
Responding to this when speaking to the media at the end of the event, Dr Koh said: "We will look at how we can (work) out the pace of implementation of CPF, to make sure that it is something that both the platforms and the workers, as well as the consumers, are able to absorb some of the costs.
"And eventually, (we want to) socialise the cost to the larger society to make sure that as we consume services, as we move forward as a society, we also bring these workers along with us.