Poverty looks like this: Drama students hope plays will dispel misconceptions
SINGAPORE — Quite recently, these secondary school drama students would have been shocked at the very notion that poverty could exist in Singapore.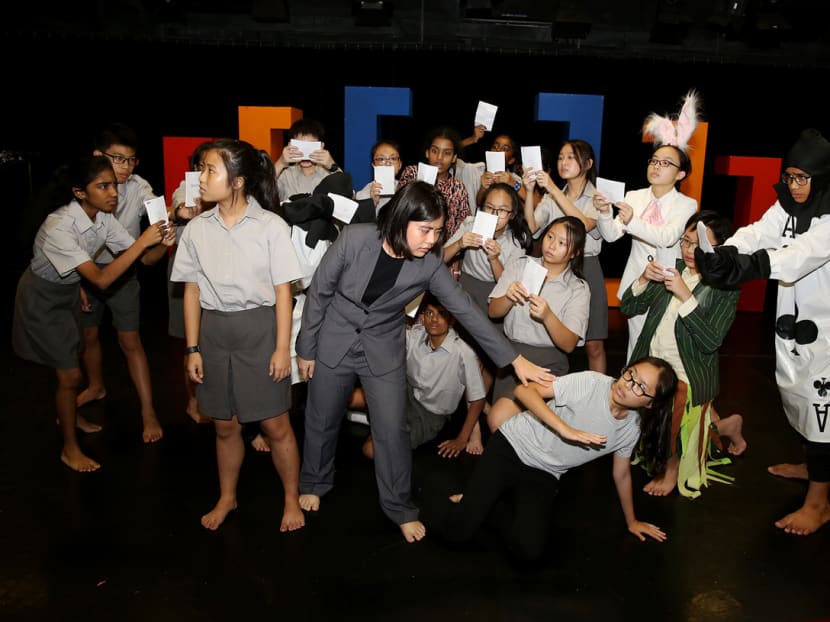 SINGAPORE — Quite recently, these secondary school drama students would have been shocked at the very notion that poverty could exist in Singapore.
But 18 months on, after extensive on-the-ground research, they have gained an insight into the challenges and complexity of poverty in their own country.
Now, the students, from Anderson Secondary School and Anglo-Chinese School (Barker Road), hope to convey some of what they have learnt to audiences of two plays they will be performing later this month.
The students spent time talking to a range of impoverished families here — with one man's sad plight providing the inspiration for one of the plays.
Apart from these face-to-face interviews, they read about related cases online and even the essays of local author Teo You Yenn in her book, This Is What Inequality Looks Like.
It all provided material for the performances slated to run from July 24 to 27 at the upcoming M1 Peer Pleasure Youth Theatre Festival.
The theme for this year's festival will revolve around topics that involve the impoverished.
During the two-hour long double-bill performance at the Esplanade Recital Studio, the students hope to help the audience dispel some of the same misconceptions that they themselves previously had about poverty.
The cast from Anderson will be performing Wonderland. Directed by theatre practitioner Renee Chua, it tells the story of Nadine, a misunderstood student from a lower-income family who is made to feel like an outcast in a school of predominantly middle-income families.
It is only when Nadine's classmate, Charmaine, visits her house that she discovers what has been keeping generations of Nadine's family financially strapped and "low-class".
The cast from ACS (Barker) will perform The Ground, directed by artist-educator Iris Chia-Khanashat. The play featuring an all-male cast tells the story of an impoverished single-father and his son and how inequality affects their interactions with their community.
WALKING THE GROUND
Anderson student Chen Bai Lin said that prior to being cast as the lead actress Nadine for Wonderland, she never thought much about poverty as she was growing up.
"It's a topic that I was quite sheltered from since I came from a more privileged background," admitted the 16-year-old.
Before she started visiting and speaking with families from lower-income households, Ms Chen said she had her own notions of what people in poverty should be like.
"When I entered their homes, I wondered: Why did they have mobile phones? Why do they have LED TVs?"
But she quickly realised through her conversations and readings that just because someone may possess these items does not mean they are not living in poverty.
"These are also counted as a basic need, and most of what they own were donations from the Salvation Army. We shouldn't judge on what we just see. We have to go and listen to their stories before we make any judgements," she said.
Drama students from Anglo-Chinese School (Barker Road) rehearsing their play The Ground, which drew inspiration from a man they interviewed. Photo: ACS (Barker Road)
Some of the stories had impressed the students so much that they insisted on incorporating the material into their plays. For the boys of ACS (Barker), it was one man's struggle as a single-father that became the basis for The Ground's protagonist.
Secondary three student Ashley Wong Kaibo, 14, recounted the rough life of the man he and his fellow thespians interviewed.
Although the man had a bright start as a youth, his cockiness became his undoing when he attacked a teacher and was expelled for it.
Over the years, he relied on his own hands to survive. He started out with carpentry work, before moving on to repairing watches.
Things were looking up for the man, who married and had two children, till he suffered from three strokes and was hit by a car that left him partially disabled.
As if matters could not get worse for him, the man's wife left him after she discovered that he had cancer. At his lowest point, he spent nights living in a tent at East Coast Park.
Mr Wong, who is the understudy for one of the characters in scene 10, was impressed by the man's resilience despite the various obstacles thrown in his way.
"He even told jokes while telling his story, which I found to be very surprising. If it were me, I think would be quite sad and wouldn't want to talk about it."
THEATRE AS A SAFE SPACE
When asked if she could distil what poverty meant to her after her experience speaking to different people, Ms Chen said: "It's a very sensitive issue and it's not so simple. There is actually a lot of complexity to it."
Chiming in, co-star Janine Ng Kah Min said there is no definite reason why people end up in poverty.
"I hope that (the audience) will understand that there are things that are keeping people in poverty, (such as) not being able to get the help they need," said Ms Ng, who plays Charmaine.
Ms Chua, the director of Wonderland, said poverty is such a huge topic and that there are so many things to talk about.
"Do you want to talk about intergenerational poverty? Do you want to talk about systematic obstacles? The point of view of people living in poverty? There's childcare, housing, education, healthcare…There's so much to talk about," she said.
Ms Ngiam Su-Lin, the co-founder of ArtsWok Collaborative, said theatre provides the perfect platform to talk about sensitive topics.
"I think theatre is a good space, because we don't purport to represent everyone's views…It is a space where we can feel free to imagine other perspectives or alternatives.
"And it's a safe space where we can talk about very difficult things," said the executive director of the arts-based non-profit organisation which is organising the festival.
The M1 Peer Pleasure Youth Theatre Festival, which runs from July 24 to Aug 4, is presented by ArtsWok Collaborative in collaboration with Esplanade - Theatres on the Bay.
Readers interested in joining in the conversation about poverty with the students can get their tickets at all Sistic outlets.