Pre-school teachers: Leaving before they've even started
Over the past year, the Government has announced new measures and sources of funding to improve pre-school education in Singapore.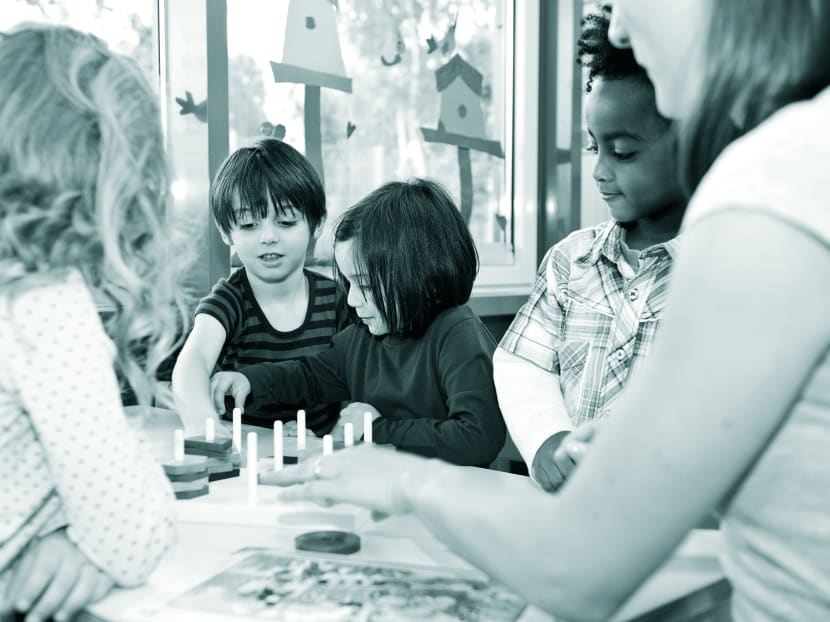 Over the past year, the Government has announced new measures and sources of funding to improve pre-school education in Singapore.
In addition to incentivising operators to hire more qualified teachers at better salaries, proposing schemes to keep pre-school affordable for low- and middle-income families and offering more scholarship money for prospective teachers, the creation of 16,000 more pre-school places is envisioned by 2017.
More places mean more choice for parents, which should be especially welcome news to working mums and dads if centres are nearer their homes or jobs. Yet, it also means, at least in the short run, that the shortage of teachers is likely to be an issue with which the sector will continue to grapple.
BIG LEAK IN THE PIPELINE
High teacher turnover at the pre-school level is a feature of Singapore and among the factors that account for its relatively low ranking globally in pre-school quality.
The Lien Foundation's 2012 Vital Voices for Vital Years report, which examined the views of leaders in Singapore's early childhood (ECE) sector, found their top concern was a shortage of teachers due to turnover.
Teachers leave the field due to pay and other working conditions, so it is important to figure out ways to keep them in the field to mitigate the shortage. However, there is another group that figures less often in the policy discussion: The individuals who train as early childhood educators but never enter the field.
While hard statistics on the number of those leaving prior to starting an ECE career are difficult to come by, it is commonly understood to be relatively high by those who run training programmes in early childhood education. The latest Ministry of Manpower (MOM) figures show that only 56.5 per cent of fresh ECE graduates from polytechnics are in the labour force — a much lower percentage than many other diploma holders.
Some have certainly gone on for further full-time studies, but those numbers are relatively small. Thus, there is a problem of "leakage" in the pipeline of early childhood teachers.
This represents a social loss in terms of the government subsidies for their education, as well as a personal loss in terms of the time and energy invested by students in a career they ultimately decline.
How can we increase the flow from training classroom to pre-school classroom? We need to better understand the reasons of those leaving the field before really entering it.
REASONS FOR DERAILMENT
Recently, I conducted a survey of diploma students (the minimum qualification necessary to teach pre-school) who are training as early childhood teachers. Fewer than half (48 per cent) declared themselves "very likely" to go into a career teaching young children.
In some ways, that should not be surprising; it is only in the actual pursuit of a career that sometimes we learn it does not suit us.
Still, given that the vast majority of them gave a love for children as their main reason for pursuing the subject, followed closely by a love of teaching, it is worth asking what derails the plans of those who start out with a passion for teaching children.
When asked why students leave the field, by far the most important reason given was low salaries (over 60 per cent said it was "very important" and another 35 per cent thought it was at least somewhat important).
Many also cited the low prestige of the profession, but equally important was being turned off by their experience in the mandatory practicum. The lack of professional autonomy was another important explanation.
What are we to make of such responses? How can we combat those perceptions in order to ensure that more trained professionals do indeed enter the field, and to coax back some of those individuals who are accredited to teach but have chosen not to?
SALARIES CATCHING UP, BUT...
In terms of salaries and professional prestige, it is true that the ECE sector has lagged behind other professions, but that is beginning to change. Over the past six years, starting salaries for diploma holders in early childhood have increased rapidly and faster than comparable fields such as communications, accounting and business studies.
In 2007, according to MOM data, starting salaries for ECE diplomas were, at S$1,200, roughly 12 per cent lower than those fields but, by 2012 (the last year for which figures are available), ECE starting salaries for diploma holders were S$1,900 and just marginally better than those other fields.
At the degree level, too, ECE salaries are catching up. In 2007, starting pre-school wages were 69 per cent of the overall average earnings for new university graduates; today, with starting salaries averaging between S$2,400 and S$2,600, they are between 80 and 87 per cent of the average starting salary for all degree holders.
As salaries continue to increase and the public discussion of the importance of early childhood education advances, the status of the profession is likely to rise as well.
As the data show, though, it is not just about salary. The professional climate where teachers carry out their work needs to improve.
The Ministry of Education's kindergarten curriculum framework sees early childhood teachers as skilled facilitators who use their deep knowledge to promote children's learning and development — but they are not always treated as such in the workplace.
As teachers come to the field with better training, the leadership of centres must give them the support, mentoring, resources and autonomy to do their jobs creatively and skilfully. Doing so will not only help retain existing teachers but may help reignite the passion for ECE of those who leave the field before they enter.
ABOUT THE AUTHOR:
Trisha Craig is a social scientist and executive director of Wheelock College Singapore.