Preschools, healthcare providers in malls think up ways to serve unvaccinated customers; hope for more instructions
SINGAPORE — Preschools and healthcare providers situated in malls said they are considering protocols such as pick-up services at mall entrances for children of unvaccinated parents, or asking patients to take pre-event tests before consulting them as ways to adapt to the new vaccination-differentiated measures that were announced on Saturday (Oct 9).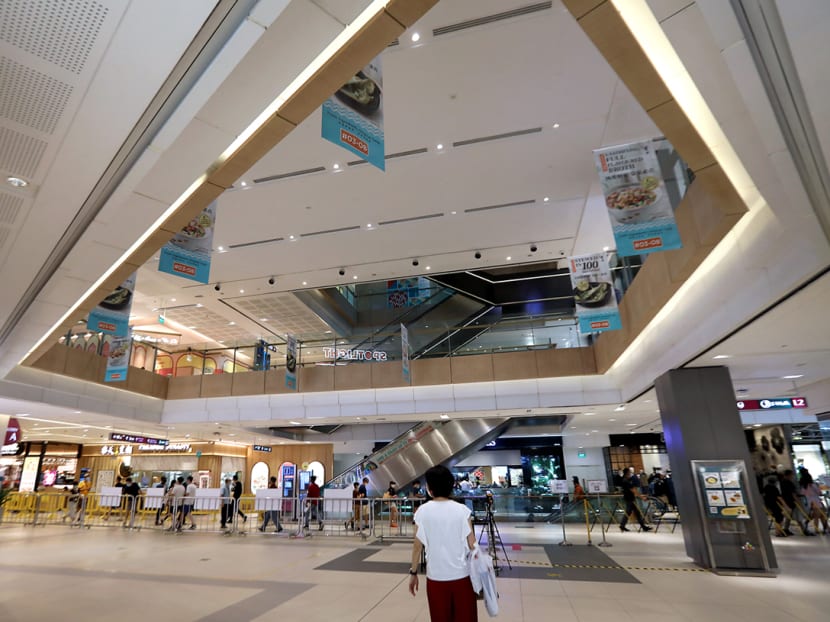 Unvaccinated individuals will not be allowed to enter malls and attractions or dine in anywhere from Wednesday
However, provisions will be made for them to access medical and childcare-related services in malls
Businesses in malls said they had little time to prepare for the new measures
Those providing essential services are awaiting instructions from their malls' managements
Unvaccinated individuals said they were disappointed and upset with the measures
SINGAPORE — Preschools and healthcare providers situated in malls said they are considering protocols such as pick-up services at mall entrances for children of unvaccinated parents, or asking patients to take pre-event tests before consulting them as ways to adapt to the new vaccination-differentiated measures that were announced on Saturday (Oct 9).
These businesses were left scratching their heads as to how they can continue serving their unvaccinated customers, and are now waiting on the authorities to say what provisions will be made to allow their unvaccinated clients to enter malls for their services.
Those who are unvaccinated expressed anger and disappointment over the latest measures, calling them unfair.
The Ministry of Health (MOH) announced on Saturday that those who are unvaccinated will from Wednesday be disallowed from entering malls and attractions. They will also not be able to dine in anywhere.​
However, supermarkets that are large, standalone stores will be exempted from the latest measures.
Children aged 12 and below, recovered Covid-19 patients and unvaccinated individuals with a valid negative pre-event test result are also exempted.
A one-week grace period will be granted for malls to implement the differentiated measures from Wednesday to Oct 19, the authorities said on Sunday.
The authorities added that "​provisions will be made" for unvaccinated individuals to access medical and childcare-related services in the malls.
The authorities added last Saturday that safe distancing enforcement officers will conduct "selective" checks of diners' Covid-19 vaccination status when new rules at hawker centres and coffee shops kick in.
NEW MEASURES, NEW PROTOCOLS
Businesses that TODAY spoke to said they were worried as to what the measures will mean for their operations.
Ms Liani, the manager of LEAP SchoolHouse in City Square Mall, said that the announcement on Saturday happened "so suddenly" and gave the kindergarten little time to formulate any new protocols.
For instance, she is unsure how children of unvaccinated parents can be accompanied to her centre, which is at the basement level of the mall.
Her students are aged from two to six, so most are too young to be left unattended.
Deploying a staff member to the mall entrance to pick up such children would not be a likely option, she said, as issues of safety may arise as staff may not be able to supervise so many children at once.
"We can't do that because it is against the protocol," said Ms Liani, who preferred to go by one name.
Sharing her concerns, MindChamps PreSchool principal Jonelle Ng said that if unvaccinated parents are not allowed in, then the school will consider sending staff to pick children up at the mall entrance.
But this may lead to the school, which is also located in City Square Mall, doing extra work not just in ferrying the children, but also in paperwork such as indemnity forms for parents to sign.
For these extra precautions, she "seeks the parents' understanding".
Like Ms Liani, Ms Ng said that the mall had not contacted the school on any new protocols that it has to follow.
"In the end, we and the parents will work out something, but then we need to follow the advisories," said Ms Ng. "I hope that there can be some exceptions made."
EXEMPTIONS FOR UNVACCINATED PEOPLE SEEKING ESSENTIAL SERVICES?
Other firms that provide essential services, such as optometrists and healthcare providers, similarly said that they were waiting for instructions from the malls they are situated in.
Branch owner of Precision Optics at United Square in Novena, who wanted to be known only as Ms Song, said it could deliver prescription lenses and other products to unvaccinated customers' homes, but it will be unable to provide in-store eye checks.
"Definitely, the number of people who will come into our store will be about 10 per cent less," she said, giving a figure corresponding to Singapore's vaccination rate.
The branch at United Square is also the only one in Singapore, and so there is no alternative, standalone store for unvaccinated customers to go to, she said.
Ms Nancy Lim, branch manager at Q & M Dental Centre in City Square Mall, said that ultimately, the decision will be made by the mall to let in unvaccinated patients or not, and the check will not be done at the clinic.
"If a patient arrives and urgently needs treatment, we can't turn them away," she said.
While her clinic does not have any unvaccinated staff, she said that should a new staff member be unvaccinated in the future, they may have to take a pre-event test every day before their shift.
"We are not sure yet if they would bear the cost of the test or not," she said.
One representative from a healthcare provider in Paragon Mall, who did not want his firm identified as he is not authorised to speak to the media, said that unvaccinated patients should be let into malls to seek medical treatment.
"I don't think the Government will deny people who need healthcare," he said. "I think it will be clarified, the only way to do so would be to exempt such (unvaccinated) patients."
TODAY reached out to the Ministry of Trade and Industry and Enterprise Singapore for details on what exceptions will be made for unvaccinated people who need to access such services, and was told that this will be clarified in an advisory that will be published before Wednesday.
LATEST MEASURES 'UNFAIR' AND 'DISAPPOINTING', SAY UNVACCINATED
Shortly after the new measures were announced on Saturday, members in anti-vaccination Telegram chat groups said they were upset and disappointed by the news.
Some called the new measures extreme, discriminatory and more restrictive than the curbs imposed during the circuit breaker period from April to June last year, when dining in was banned for all.
Their reactions were similar to unvaccinated people whom TODAY approached. Those who were interviewed were either medically unfit to take the vaccine or had chosen not to be vaccinated.
Ms Siti Hamzah, who suffered from severe side effects from her first Pfizer vaccine jab in June, called the measures "really unfair".
She said that MOH has yet to approve her request to take the Sinovac vaccine under the special access route. She submitted her request three months ago.
Under this route, those who have been rejected from taking mRNA vaccines due to severe allergies can receive the Sinovac vaccine for free at an approved private clinic.
"If you want to restrict unvaccinated people, that's fine but vaccinate those who want (the vaccine) first before you implement these restrictions," said Ms Siti.
Ms Siti said that after the announcement of the measures, she made arrangements to be vaccinated with Sinopharm for about S$100 at a private clinic on Tuesday.
Ms Daphne Koh, a 43-year-old homemaker, described the measures as "a really big interruption to family life".
Ms Koh, who chose not to take the vaccine due to the lack of long-term data on its effects, said that she would be unable to run errands or take her children for tuition lessons. The tuition centre they attend is located in a mall.
She was also upset that she would not be able to accompany her children to attractions such as the zoo during the school holidays.
Ms Koh suggested that rather than segregating people based on their vaccination status alone, the Government should segregate based on their risk profiles such as a combination of the age and vaccination status instead.
Similarly, Ms Stephanie Choo, who chose not to get vaccinated as she is concerned about the risk of side effects, described the measures as "being put on house arrest".
The 41-year-old homemaker said that while some errands such as grocery shopping can be done online, there are others such as purchasing assessment books or shoes for her children that are still better done at malls.
She added that she was still thinking about how she will adjust to the measures.
She is considering having her 13-year-old daughter, who is also unvaccinated, attend online tuition classes. She is also enquiring if her daughter's piano teacher can conduct private lessons at home.
Her daughter currently attends these lessons at centres located in malls.
Ms Choo suggested that malls and other premises have swabbing areas at the entrance to test for Covid-19.
These premises could also have allocated time slots for unvaccinated individuals to enter as well, she added.