President's Scholars devote time to society, family and the environment
SINGAPORE — At a Chinese New Year event his school hosted for senior citizens when he was 13, Alden Tan Ming Yang said, "See you next year!" when bidding goodbye to one of the participants.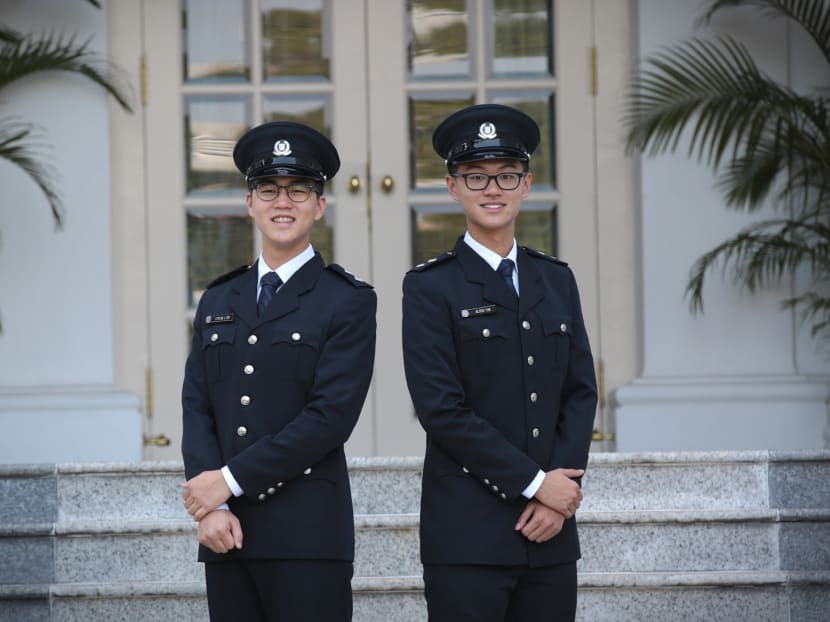 SINGAPORE — At a Chinese New Year event his school hosted for senior citizens when he was 13, Alden Tan Ming Yang said, "See you next year!" when bidding goodbye to one of the participants.
The woman quipped: "Can we see you tomorrow?"
The casual remark made the Secondary One student at Raffles Institution think hard about community service.
He went on to join the Interact Club for the next six years, leading fellow students on visits to befriend seniors living alone in rental flats and mentoring underprivileged children.
Taking Malay as a third language helped him to converse with Malay-speaking "makciks" at Sin Ming Senior Activity Centre, while tutoring children at the Metropolitan YMCA exposed him to larger issues faced by families that are less well-off.
At the Metropolitan YMCA, he met eight to nine regular attendees who turned out to be siblings, and it occurred to him "there are people who lack the opportunities – have less than others to do well".
"Both their parents were working," said Mr Tan, 19, the only child of ST Engineering Land Systems' President of Commercial Business Tan Peng Kuan. "Whatever time (left) had to be split among 14 children, so definitely there would be less parental attention. I am also not sure how conducive their home would be to study."
Mr Tan said he is thankful to be dealt a better set of cards in life.
"Elitism arises when people who do well think that their achievements are solely due to their own efforts and abilities, while I strongly believe that it is actually due to a confluence of factors," said Mr Tan, pointing to parental support, one's teachers, friends and society at large.
One of five President's Scholars this year, Mr Tan – who is on the Singapore Police Force (SPF) Scholarship – has chosen to study economics, statistics and data science at Yale University in the United States.
Economics is "quite useful in (generating) cost-benefit analysis" and can provide plenty of insights for policymaking, he said.
In particular, he relishes delving into behavioural economics, which would allow him to investigate how psychological insights can be synthesised with traditional theories.
The President's Scholars received their awards from President Halimah Yacob at the Istana on Thursday (Aug 16).
Besides Mr Tan, this year's recipients of Singapore's most prestigious undergraduate scholarship are Raffles Institution's Ms Tan Xin Hwee, who will be reading psychology and philosophy at Oxford University; Ms Sharmaine Koh Mingli from Hwa Chong Institution, who will be reading history and politics at Yale University; Ms Penny Shi Peng Yi from Hwa Chong Institution, who will be doing urban studies at Stanford University; and Mr Stefan Liew Jing Rui from River Valley High School, who will be studying liberal arts at Yale-NUS College.
Mr Liew's choice to pursue a degree in Singapore is relatively unusual for a President's Scholar.
He told TODAY he chose to study at a local university to spend more time with his father, an electronics production manager. The single parent raised Mr Liew and his older brother by himself after separating from his wife when Mr Liew was 13.
On an SPF scholarship like Mr Tan, he said he did not want to pursue his studies at the cost of "losing (his) family roots".
"(My father) has given a lot for the both of us. He always worked very hard. Never complaining, never asking for anything other than to do our best in school," said Mr Liew, 19, who lives in an executive Housing and Development Board flat.
"The small things we do for each other shows that we care for each other deeply," said Mr Liew, whose brother received a teaching scholarship and is also pursuing his degree here.
The former Student Council president also champions environmental conservation and encourages his friends to do away with single-use plastic straws.
In her speech at the ceremony, Madam Halimah reminded the scholars that securing the award and achieving great heights in their education and careers "are not ends in themselves".
Their success must be translated into "tangible contributions towards our effort to build a fair, just and equitable society for the benefit of everyone", she said.
"Our society has high expectations of you, and that is as it should be. We must expect our best and brightest who have benefitted from the system to also contribute more to our society."
Sign up for TODAY's WhatsApp service. Click here: