Private property prices to climb slower, expected to rise at most 3 per cent in 2022 following curbs: Analysts
SINGAPORE — The increase in property prices, which has seen a sharp increase this year, is likely to slow down following the latest round of cooling measures imposed by the Government on Thursday (Dec 16).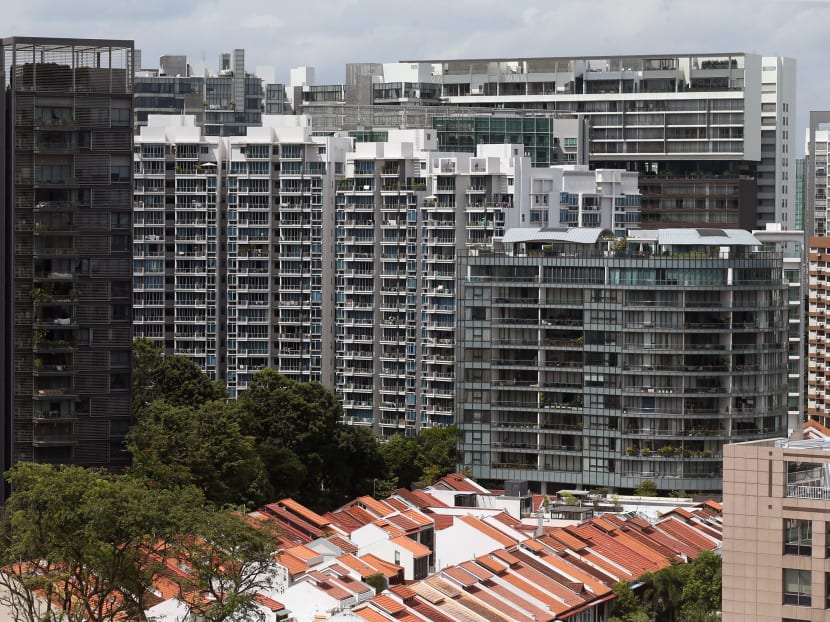 Property analysts projected that housing prices will likely not rise so quickly in 2022
This was after the Government stepped in to regulate the property market
Sales will also slow down, with developers likely to hold off on launches to monitor the impact, they added
The new cooling measures will not have as much of an impact on public housing prices, they said
SINGAPORE — Property prices, which has seen a sharp increase this year, is likely to slow down after the Government moved late on Wednesday (Dec 15) to cool the property market.
Property analysts downgraded their forecast for private residential property prices next year, projecting that increases will be 3 per cent at most instead of up to 9 per cent as initially expected. 
They also said that they expect fewer transactions in the private housing property market in the next few months as developers hold back on new launches and potential buyers assess the impact of the new changes.
The private and public housing resale markets have seen escalating prices this year, with private housing prices rising by about 9 per cent and those for Housing and Development Board (HDB) resale flats going up by about 15 per cent since the first quarter of last year.
The new rules for this round of cooling after the one in July 2018 is to tamper the price increases and keep housing affordable for genuine homebuyers, National Development Minister Desmond Lee said on Thursday.
Among the new rules are stricter loan limits for buyers taking a home loan from HDB and a higher Additional Buyer's Stamp Duty (ABSD) for the purchase of private properties.
The Total Debt Servicing Ratio (TDSR), which applies to all property loans, will also be lowered from the current 60 per cent to 55 per cent. This means that a person's total monthly loan payments, including mortgage loans, cannot exceed 55 per cent of his or her total gross income. 
The Government also announced on Thursday morning that it would bump up the supply of public and private housing to meet demand.
This includes the launch of up to 23,000 Build-To-Order (BTO) flats yearly in 2022 and 2023. The Government will also help boost the supply of private housing via the Government Land Sales programme, which releases state land for development.
TIMING OF ANNOUNCEMENT
The latest curbs, which were announced at about 11.30pm on Wednesday, came as a surprise to some property analysts interviewed by TODAY but not to others.
Mr Ismail Gafoor, chief executive officer of PropNex Realty, said that he was expecting the Government to take action given the "robust sales and firmer prices" in the property market this year.
The new limits will encourage buyers to be more prudent with their purchases since there are concerns about impending interest rate hikes, he added.
Mr Lee Sze Teck, senior director of research at real estate firm Huttons Asia, was of the other camp who thought that the timing of the announcement was unexpected.
"The country is just emerging from the challenging Covid-19 situation and the price gains in (the property market) this year at around 5.3 per cent are in line with the improving economic conditions," he said.
Developers react
The Real Estate Developers' Association of Singapore (Redas) called the Government's new cooling measures "rather unexpected" given that the property market was just beginning to emerge from "the challenging Covid-19 situation".
"Significant uncertainties still persist and the operating environment of many businesses remain challenging," it added.
It also said that the increase in the stamp duties will exert "immense additional pressure" on land acquisition.
This is because it will cause developers to compress their development, sales, project completion period and land replenishment cycle time to meet requirements for remission.
Before the change, housing developers had to pay 25 per cent of the land price as ABSD upfront when they acquired land for a project, but the duties can be remitted if licensed developers complete and sell all units within their development within five years. 
However, this rate is now raised to 35 per cent. 
There is another 5 per cent of additional stamp duty that they have to pay that cannot be refunded — this remains unchanged from the previous cooling curbs in 2018.
The association added that the Government should consider allowing Singapore citizens and permanent residents to defer their payment of the ABSD until six months following the completion of the new property if they are upgrading from a HDB flat to a private property for the first time.
Right now, owners who sell their HDB flat first before getting a private property do not have to pay any ABSD.
However, if they buy, say, a condominium without selling their HDB flat first, they will have to pay the duty. If they sell their HDB flat within six months of buying the condominium, they are eligible to apply to get the duty refunded. 
Ms Christine Sun, the senior vice-president of research and analytics at property firm OrangeTee and Tie, said that prices for private homes are likely to stabilise and climb at a much slower pace next year.
She said that her firm is revising its price projections for the private residential market next year from 6 to 9 per cent to 0 to 3 per cent now that there are new limits.
The volume of private property sold is also expected to slow down for about half a year as a "knee-jerk reaction" from the announcement, she added.
Likewise, Mr Lee of Huttons Asia said that he expects price increases of private housing to be around 3 per cent next year on the back of higher construction costs. This is lower than the initial forecast of up to 5 per cent. 
An estimated 13,000 private residential units were transacted this year, but for next year, Mr Lee believes that this figure will be between 8,000 and 9,000.
Ms Tricia Song, head of research of Southeast Asia at real estate company CBRE, is projecting that transactions for private homes will be a little higher at between 9,000 and 10,000 units next year.
However, she expects to see property prices going flat or for the increases to be 1 per cent to 3 per cent next year.
Mr Ismail of PropNex Realty said that private property developers will likely hold off on launches until after Chinese New Year early next February, because they will want to assess the impact of the new measures on the market first.
This will also give prospective buyers time to reassess their buying options, he added.
Similarly, Mr Lee of Huttons Asia said that new private property launches next year could be pushed back and fewer units could be launched for sale.
LESS SIGNIFICANT IMPACT ON PUBLIC HOUSING
Ms Sun of OrangeTee and Tie said that the impact of the property curbs on HDB flat buyers could be less significant than that for private property buyers. This is because the price of public housing is lower and most HDB flat owners hold only one property.
However, lower-income earners and the self-employed could be more affected by the reduced loan limits since they will have to fork out more cash for their purchases, she said. 
The loan-to-value limits for HDB housing loans were tightened from 90 per cent to 85 per cent on Thursday. This means that buyers have to pay 5 per cent more in deposit that is not covered by the loan when they buy properties, whether in cash or Central Provident Fund monies.
OrangeTee and Tie is revising its price increase projections for the HDB resale market to 5 to 8 per cent next year, down from its initial forecast of 8 to 11 per cent.
Ms Sun said that demand for higher-priced BTO flats such as those in mature estates or those under the Prime Location Public Housing Model could be "reduced moderately" due to the reduction of the loan limit.
The Prime Location Public Housing scheme was announced less than two months ago to impose stricter ownership criteria for HDB flats in prime locations such as the city centre and towns surrounding it.
Mr Lee of Huttons Asia said that the plan to increase BTO flats by 35 per cent over the next two years will offer buyers more choices on top of those in the resale market.
He added that the price growth for resale flats may moderate from double digits this year to between 5 per cent and 8 per cent next year.
This is because some buyers may choose to wait for the price of a resale flat to drop or buy a BTO flat instead if the price gap between a BTO and a resale flat widens.