Private school grads earn 28% less than their peers from universities: MTI study
SINGAPORE — Graduates from Singapore's autonomous universities (AU) took home starting salaries that were 28 per cent higher than their counterparts from the private education institutions (PEIs), according to a study by economists from the Ministry of Trade and Industry (MTI) which was published in its annual economic survey.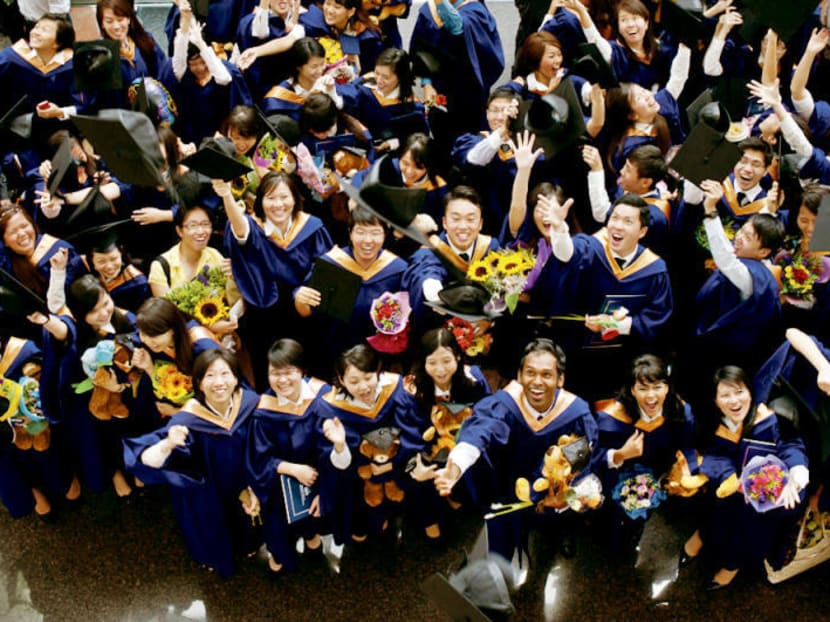 SINGAPORE — Graduates from Singapore's autonomous universities (AU) took home starting salaries that were 28 per cent higher than their counterparts from the private education institutions (PEIs), according to a study by economists from the Ministry of Trade and Industry (MTI) which was published in its annual economic survey.
This was after accounting for differences in academic abilities, demographic and socio-economic characteristics.
Four AUs were covered in the study: the Nanyang Technological University, National University of Singapore, Singapore Institute of Technology, and Singapore Management University.
According to the study, the largest gap in starting pay between AUs and PEIs was among humanities graduates, with AU graduates earning 39 per cent more.
The next biggest gaps in starting salary between the two groups of graduates were: Engineering (38 per cent), accountancy (33), mass communication (31), and business (24).
The smallest starting salary gap between the two groups was seen in architecture and building, and health sciences courses, which were pegged at 11 and 12 per cent respectively.
The study, which was released on Wednesday (Feb 14), consisted of a sample of 12,000 AU graduates and about 11,000 PEI degree holders from the 2014 graduating cohort.
Nearly all the AU graduates were full-time students, while 58 and 42 per cent of the PEI degree graduates studied full-time and part-time, respectively.
Full-time AU graduates took a longer time of about four years to complete their studies, while most PEI degree graduates took three years or less to graduate.
The study also included data such as the student's year of enrolment and graduation, whether they studied part-time or full-time, their L1B4 score, which school they attended and course of study. Other variables like wages, age, gender, and housing type were also included.
Business was the most popular course among PEI graduates, which the study said "reflects a high level of demand from students who wished to obtain a business degree, as well as the multitude of business degree courses offered by PEIs with overseas university partners."
While the study did not identify the main reasons for the difference in starting salaries between the two groups, it suggested that the wage gap could stem from "differences in institutional and course quality, as well as employers' perceptions of the degrees."
As the study only looked at starting wages, it acknowledged that it would also have to examine if the difference in wages would persist over a longer time frame.
Students looking to pursue a degree from a PEI or AU would also have to consider other factors such as "the amount of course fees to be paid, the opportunity cost in terms of the earnings foregone during studies, as well as any non-monetary benefits of education", said the study.
The study by MTI economists comes three months after the inaugural PEI graduate employment survey caused some unhappiness among the sector. The Singapore Association for Private Education (SAPE) took issue with its findings, which suggested that starting salaries of PEI graduates were not much higher than diploma holders, and lagged significantly behind those from AUs. For instance, the survey showed that PEI graduates drew an average starting monthly pay of S$2,550, as compared to AU graduates who earned S$3,325.
SAPE president Leon Choong had said then that there was "good evidence" that those who upgrade their academic qualifications through PEIs may enjoy an immmediate 17 per cent increment on their salaries and a "far higher return on investment than any financial institution is likely to give today".
However, most private schools TODAY spoke to stressed that salary was just one measure of comparison.
Dr Sam Choon Yin, dean of the PSB Academy (PSB), said that to measure a graduate's success, other factors such as career progression and personal development should be considered.
He also pointed out that PSB has produced graduates who are employed across the banking and finance, as well healthcare and cybersecurity sectors. According to PSB's independently commissioned graduate and employment survey in 2017, 89 per cent of its graduates found employment, and almost a third of graduates said PSB's programmes helped them acquire skills to perform better at their jobs.
Dr Sam said that PEI students appear to be "late bloomers", as he stressed that society should not "perpetuate the flawed impression that PEI graduates deserve a lower starting salary than their peers from autonomous universities." He also warned that such misconceptions could lead to situations of social exclusion, where graduates from public' funded education institutions may see themselves as socially more superior to others.
Agreeing, Ms Jesline Wong, senior director of communications at MDIS, said that salary is "but one facet of a graduate's employability". She added that the study would also need to consider the career opportunities in different industries, and progression in the different jobs. Such surveys might not have a "full representation" of the education landscape because of differing methodologies and response rates, she said.
Ms Wong added that the MDIS is focused on developing and nurturing their students' industry and soft skills, and that it would "continue to strengthen its university partnerships and ensure current and relevant curricula" in order to equip graduates with work-ready skills and competencies.
She said: "Such skill sets will stand them in good stead in the long run, rather than just focusing on starting salaries. Employers are also looking beyond qualifications and will choose the right candidate whether from AUs or PEIs."
Mr Choong, who is also president of Kaplan Singapore, said it would be useful to look at the "value-add that PEIs impart to their graduates".
He added: "This is something their graduates would not be able to find elsewhere if they could not secure a place at an AU, and if they were not able to benefit from the opportunity to study at a quality PEI, forcing them to rely solely on their previously held qualifications such as 'A' Levels or a polytechnic diploma."
Associate Professor Rhys Johnson, Kaplan Singapore's chief operating officer and provost, suggested a study be conducted "to understand the value-add at the employability stage between working adults from AUs versus PEIs" in order to move beyond just wage comparisons and to "provide a more holistic view with the emphasis on employability".