Project aims to quantify worth of forests and marine habitats
SINGAPORE — How much are Singapore's forests, parks, waterways, and coastal and marine habitats worth?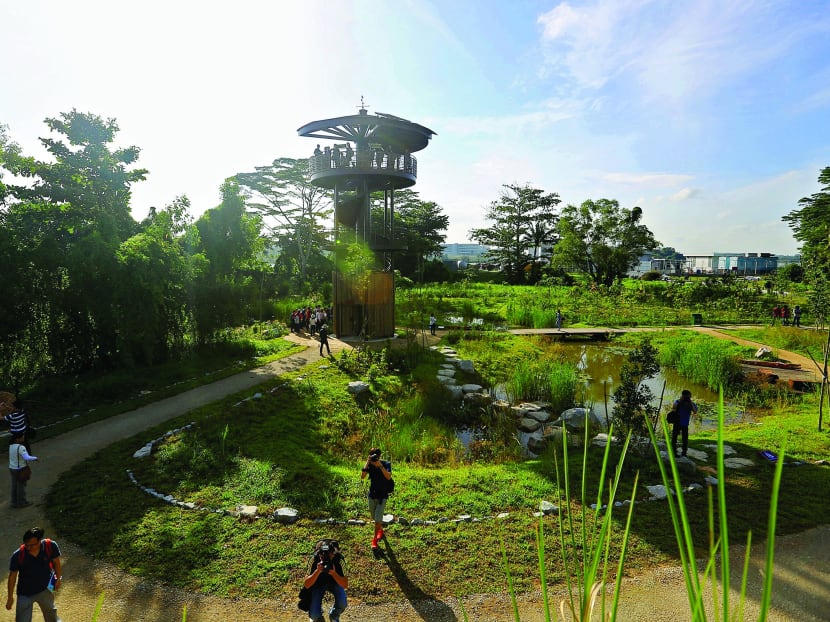 SINGAPORE — How much are Singapore's forests, parks, waterways, and coastal and marine habitats worth?
A team of researchers from the Singapore-ETH Centre (SEC) and the National University of Singapore (NUS) will try to put a value on nature through the first national assessment to measure and quantify the benefits of Singapore's environment or natural capital.
Natural capital are natural assets that include habitats, living things, water, soil and air. These assets provide "free services" such as carbon storage, coastal protection, food production, air purification.
Some economic and social benefits that countries have today would not be possible without the environment, said NUS Associate Professor Dan Friess at the launch of the three-year Natural Capital Singapore project on Thursday (Aug 16).
"But we don't often consider the environment as an asset because it is providing all these things for free. We tend to take it for granted, especially in accounting systems where it is easier to account for economic capital," said Assoc Prof Friess, the co-lead principal investigator of the project.
The project is funded by the National Research Foundation and also works with public agencies such as the National Parks Board (NParks), Housing and Development Board and the Urban Redevelopment Authority (URA). The team's researchers include biologists, ecologists, economists, architects, geographers and software engineers.
Dr Lena Chan, senior director of NParks' International Biodiversity Conservation Division, said policymakers need to know what types of ecosystem services Singapore has, the externalities and the free benefits that people are unaware of, among other things.
"Every minute we sit here, breathing in and out, we need oxygen. But do we ever measure the amount? What do we pay for our oxygen? Trees provide it but we don't have a value for it," she added.
The benefits of natural capital can be quantified in monetary terms and the socio-cultural value people place on nature, said NUS Assistant Professor Roman Carrasco, one of the researchers.
The monetary value would be based on people's preferences, the willingness to pay for the benefits of natural capital, and the cost of replacing a particular type of natural capital, for instance. The socio-cultural valuation would be derived from how people think nature defines their identity, community and help them lead a more fulfilling life, he added.
Given Singapore's small land area, urban development and planning decisions sometimes compromise the country's natural capital, said the Singapore-ETH centre in a press release.
The researchers for this project will look into terrestrial, and coastal and marine habitats here. They will study the current health of these habitats, whether the benefits of these places are accessible to all – for example, are there enough parks in an area where people are keen to use them – and prioritise certain ecosystems and areas to protect.
Their work will involve conducting surveys to gather people's views on these habitats, collecting field data and working with published literature. They will also use information on the Internet and social media to see how people are using green spaces. Photos of vegetation and trees found on Google Street View for instance, can determine how much shade they provide.
An interactive digital planning tool will also be developed to help planners and developers visualise data on the benefits of natural capital by the end of the project.
For policymakers deciding if they should redevelop a green space, the tool could provide information on the impact of different construction methods, and the thermal comfort of a place should the green space be removed, among other things, said ETH Zurich Professor Adrienne Gret-Regamey, who is also the project's co-lead principal investigator.
It should also be able to reflect the economic value of the green space and redevelopment works, as well as the social and cultural value Singaporeans place on the space.
A current prototype of the tool is able to use existing data to map out places that have sufficient or insufficient person to green space ratio, she noted.
This project is believed to be the first national-scale assessment of the benefits of nature in an urban tropical country. Similar studies have been conducted in temperate climates such as the United Kingdom.
Ms Hwang Yu-Ning, deputy chief executive officer and chief planner at URA, said the authority hopes the project will result in a more evidence-based approach to the value of greenery.
The Singapore Index on Cities' Biodiversity is one of the existing tools to manage natural capital. It is a self-assessment tool for cities to evaluate and monitor the progress of their biodiversity conservation efforts.
There have been other studies here that have tried to determine the monetary value of selected benefits provided by natural capital. For instance, scientists from NUS and Singapore-ETH Centre found that HDB units near parks or street trees commanded higher resale prices.