Property hunters rush to make buys as stamp duty hike looms
SINGAPORE — Some time during dinner hours on Thursday (July 5), the mobile phones of property agents across the island lit up with text messages and calls.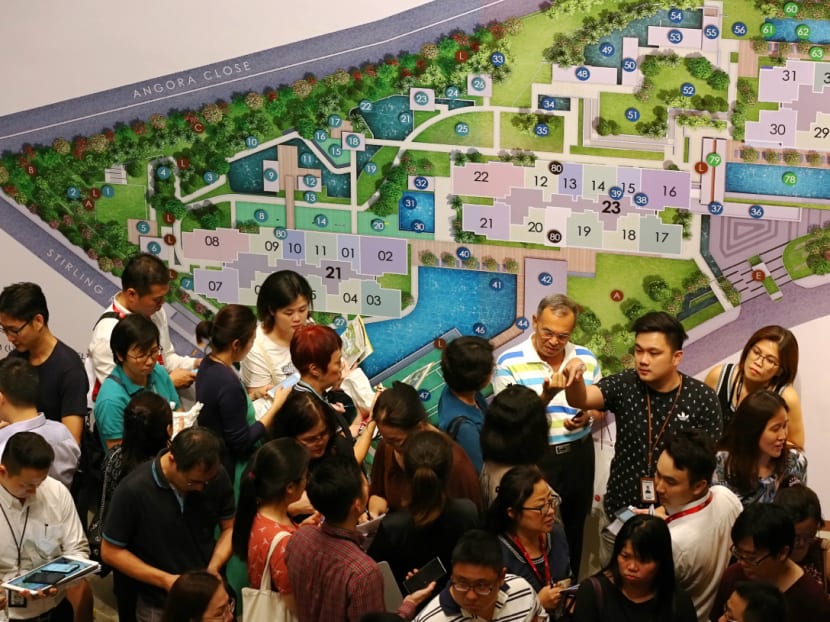 SINGAPORE — Some time during dinner hours on Thursday (July 5), the mobile phones of property agents across the island lit up with text messages and calls.
Some were frantically arranging with their potential clients to seal property deals, others were sharing pictures and videos taken at showrooms, which were packed with people.
On Huttons Asia's Facebook page, four posts went up depicting the bustling scenes at three different showrooms for 99-year leasehold condominium projects: Park Colonial near Upper Aljunied Road, Stirling Residences in Queenstown and Riverfront Residences in Hougang.
"Hurry! New ABSD rates take effect at midnight! Take advantage before prices increase!" one of the posts prompted.
On WhatsApp, a screenshot of a poster circulated among property agents that read: "Launching tonight! 5th July! Rush down to the showflat now."
The reason for this surge of activities? Property hunters were rushing to buy apartments to avoid paying more for stamp duty and the purchase price.
Earlier at 7pm, the Government made a surprise announcement that from Friday, the rates for the Additional Buyer's Stamp Duty (ABSD) will be raised by 5 percentage points for all individuals, and 10 percentage points for entities, as a cooling measure for the property market.
The duty is among the fees payable by those buying a residential property, depending on their residency status and how many such properties they already own here.
With the changes, ABSD rates for Singapore citizens buying their second home will be raised from 7 to 12 per cent, while those buying their third or subsequent home will go up from 10 to 15 per cent.
Permanent residents buying their second property will have to pay 15 per cent, up from 10.
ABSD rates for foreigners will increase from 15 to 20 per cent.
For Singapore citizens or permanent residents buying their first property, there is no change in rates, which is zero and 5 per cent respectively.
A 50-year-old man, who identified himself only as Mr Tan, said that he was finishing his dinner around the Ghim Moh estate when his property agent informed him that Stirling Residences is open for sales.
The new condominium project near Queenstown MRT Station was supposed to officially start sales on July 14, but property agents told TODAY that the developer did so on Thursday night, about an hour after the cooling measures were announced.
Only two of the three blocks at the 1,259-unit development were available for sale on Thursday.
For Mr Tan, who is self-employed, it will be his second property if he buys a unit there after Thursday, so he will have to pay the 5 percentage-point difference in stamp duty.
He said: "Should I buy today or tomorrow, the difference would be (from 7 to 12 per cent). It's not kopi (coffee) money... it's not small change."
He added that he was already considering this property, so it was not a rash decision to try and secure a unit.
At about 9.30pm when TODAY was there, a long queue had already formed at the two-storey showroom of Stirling Residences. The queue of at least 400 people took up much of the space on the ground floor, spilling out through the doors.
Every now and then, an announcement would be made through audio speakers to inform buyers which unit was sold.
Representatives of the property developer were too busy to be interviewed, but there were agents from various property firms waiting in line together with buyers.
One agent from property firm OrangeTee, who gave her name as just Ms Tan, told TODAY that she was on her way home from work when she heard the news about the ABSD.
"I rushed back (to work) because my buyers have to come here to buy (their units) before midnight," the 45-year-old said.
She has about six interested buyers, while some other potential clients could not make it because they already had prior appointments or had to catch a flight.
Ms Tan did not expect the Government to introduce the cooling measures so soon.
"Just yesterday, they talked about it, but we didn't expect they (would implement) measures that fast."
On Wednesday, Singapore's central bank chief Ravi Menon had advised developers, home-buyers and banks to exercise caution amid "euphoria" in the property market.
He told reporters at the release of the Monetary Authority of Singapore's annual report that a rapid increase in property prices raises the risk of a destabilising market correction later when additional supply comes on-stream.
"We're also telling individuals who purchase property to be careful, to be cautious, interest rates are rising, to be cautious of debt servicing burdens, so as to avoid taking on too much leverage when they buy houses," he added.
Just as taken aback by the quick turn of events was a 36-year-old banker, who gave her name as Pei Shan. She said that she had to rush down to the Stirling Residences showroom from her home after learning that the launch date was brought forward. She had been house-hunting since February and was keen on a unit there since it was located near a train station, among other factors.
"I was shocked, I didn't expect the developer to suddenly open a showflat at 8pm and sell houses like that," she said.
In the queue as well was PropNex Realty's associate group director Adam Tng, 39, who noted that unlike other property launches that used a balloting system, the units at Stirling Residences will be sold on a first-come-first-served basis.
He said that once the news broke, some of his buyers sent him phone text messages expressing relief that they had bought their units before the new measures were announced. Others asked if the developer would lower prices after the measures kick in.
Mr Tng joined the queue around 8.30pm because one of his clients wanted to buy an apartment before the change to the Loan-to-Value (LTV), which is tied to the maximum housing loan amount that a bank offers as a percentage of the property's value. This change was also part of the announcement on Thursday.
The LTV limits will be tightened by 5 percentage points for all housing loans granted by financial institutions. These will apply to loans for the purchase of residential properties where the Option to Purchase agreement is granted by sellers on or after Friday.
These revised limits, however, do not apply to loans approved by the Housing and Development Board.
Earlier in the week, real estate firms or their agents have indicated on social media that a one-bedroom apartment at Stirling Residences start from around S$790,000, with those at the 805-unit Park Colonial — located next to Woodleigh MRT Station — also selling from around the same price. At the 1,472-unit Riverfront Residences, apartments are priced from around S$580,000 onwards.
Past midnight on Thursday, there were still about 300 people in the queue at the showroom for Stirling Residences, while showrooms for Riverfront Residences and Park Colonial similarly opened late.
A Huttons property agent, Mr Paul Ng, 35, told TODAY that many of his clients are "still thinking very hard" about whether to make their purchase on Thursday since it was "a bit of a rush for them".
He could not give a figure but said that he saw several people buying units. Some others preferred to wait and see how the latest measures would affect the property market, he added. ADDITIONAL REPORTING BY JANICE LIM