New property portal, apps launched by three real estate agencies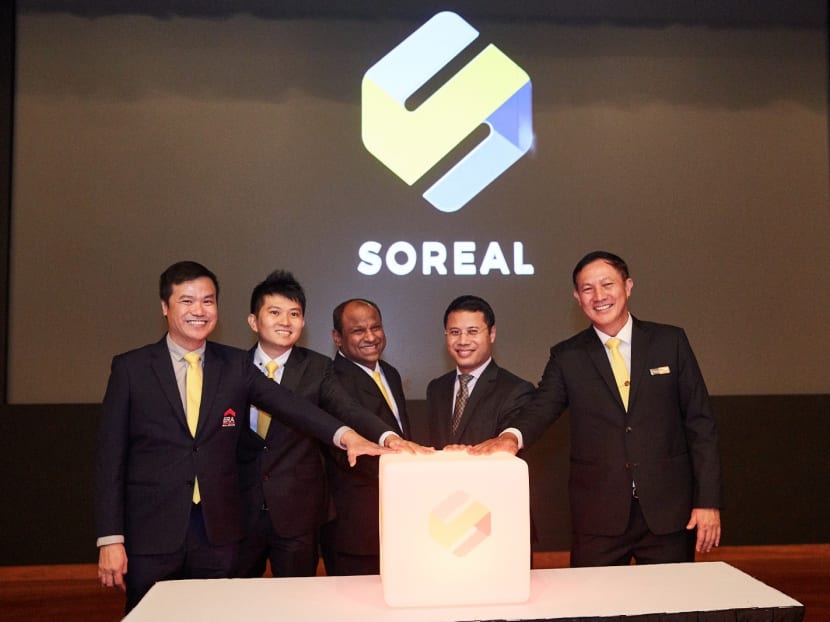 SINGAPORE — Bringing together a network of 16,000 sales agents, three real estate agencies — ERA Realty, Huttons Asia and PropNex Realty — have joined hands to launch new property listing apps and a portal which will allow consumers to rate the property agents, among other features. 
The agencies launched a portal called SoReal Prop, an app for agents called RealAgent and an app for consumers called RealHome on Monday (Mar 12). 
Through the SoReal portal and RealHome app, consumers can explore listings, communicate with the agent, as well as review and rate the agent after the transaction. The consumer-version is currently in beta mode and more improvements are planned in the next 2 months.
Agents can use the RealAgent app to manage client queries and schedule appointments. Other functions include receiving "tailor-made" reports suited for the agents, such as reports specific to buyers and sellers and the recent checklist on anti-money-laundering (AML) files in digital format, which will allow all agents to do their research on their mobile phones.
The agent directory will also be transformed into a portfolio where users can leave a review after using an agent's services.
There will be no charges imposed on consumers. 
Property agents will be able to use the RealAgent app free for one year, and it will be "priced affordably" thereafter. Fees collected will be used for research and enhancements to the platforms, said Mr Goh Kee Nguan, Huttons Asia chief executive, at a media conference on Monday (March 12).
PropNex Realty's chief executive Ismail Gafoor said most companies either currently go through backend support or refer to hardcopies of AML files. 
Other benefits of the RealAgent app include free transaction reports that will allow agents to track the last transacted price, asking price and selling price of similar units – a "huge value add" in the current market where prices are dynamic and transactions are robust, he said. 
The portal and app for consumers will require more time to set up because agents need to first populate them with listings, said Mr Ismail. "That is why it is phased," he said.
PROPERTYGURU DOES NOT EXPECT TO BE AFFECTED
The three agencies said the initiatives will "help lower existing cost of business for salespersons while also providing an alternative marketing channel for their sales activities".
Some existing portals do provide various buyers' and sellers' reports, but at costs of S$599 to S$4,000, said Mr Ismail. 
He stressed the agencies are not trying to oust any other portal, but aim to help their agents to be "part of the disruption" affecting the real estate industry.
Other agencies including Savills, HSR and CBRE have indicated their interest to collaborate and ERA Realty chief executive Jack Chua invited all to come on board.
Last year, thousands of property agents were angered by popular portal PropertyGuru's decision to increase prices to list on its platform. When contacted, PropertyGuru Group's chief business officer Lewis Ng congratulated the founders of the SoReal platform and said it values "good relations" with the three agencies.
"PropertyGuru has been investing and working for more than 10 years to deliver a great experience for both property seekers and agents. Through those efforts, PropertyGuru has gained the preference of consumers and gained 75 per cent market share in Singapore," said Mr Ng.
PropertyGuru said it has more than 200,000 listings at any given point in time and almost all active agents in Singapore are on its platform. 
On whether he sees the features of the new platforms as a threat, Mr Ng said: "While full details are awaited from what has been announced today, SoReal appears to focus on agent productivity tools and transaction data. In that capacity, we do not expect PropertyGuru to be affected. In fact, we now look forward to exploring avenues of collaboration with SoReal and its founding partners."
But Mr Ismail said there are no plans to invite other portals to join its programme "as of now". 
"It is not on the cards… unless there is such a strong value proposition moving forward," he said. According to the three agencies, the SoReal initiative was first considered in June 2016 to improve professionalism in the industry.
As of Jan 1, there were 28,571 registered property agents here, up from 28,397 agents the same time last year, figures from the Council for Estate Agencies (CEA) showed. 
The number of licensed property agencies as of Jan 1 was 1,269, down from 1,286 a year ago.
Mr Goh added that if other portals are to join, they "must be aligned (with) what we want to do. If they are profit driven, I don't think they also want to join us". 
The agencies said they do not have a target number of consumer sign-ups, and Mr Ismail said more will be done to raise the productivity and professionalism of the industry.
Second Minister for National Development Desmond Lee, who was at the launch, described the initiatives as "a timely and positive move for the industry". The emergence of property-related online portals and services is disrupting traditional players providing transaction services, and Mr Lee said more consumers are preferring "more efficient online services". 
The real estate industry transformation map announced last month included plans by the end of this year to enable homebuyers to view the transaction records of property agents before engaging their services. A framework to collect and publish consumers' ratings of agents is also on the cards.
The three agencies said their portal and apps are in line with the roadmap, and are pushing ahead with the initiatives first. "We will modify it eventually if CEA feels any other further endorsement or tweaking needs to be done," Mr Ismail.