Protein shakes and supplements are helpful add-ons for some, but should never replace real food, say experts
SINGAPORE — When Edward Foo's 77-year-old mother lost 20kg battling leukaemia and could not stomach protein-rich food during chemotherapy two years ago, he came up with a healthy protein-enhanced ice cream that was smooth on the palate and easily digested.
SINGAPORE — When Edward Foo's 77-year-old mother lost 20kg battling leukaemia and could not stomach protein-rich food during chemotherapy two years ago, he came up with a healthy protein-enhanced ice cream that was smooth on the palate and easily digested.
Mr Foo's homemade recipe turned out to be a hit with his mother, a retired teacher, who shared samples with other cancer patients during her treatments.
Mr Foo, 40, said "At her age, my mother wasn't comfortable with taking protein supplements. I had to think out of the box to get more protein into my mother's diet so she could put back the weight and muscles she lost during the treatment."
Having joined Nutrition Depot Singapore, a sports nutrition supplement company in 2015, Mr Foo picked up some experience there. In making the ice cream, he used whey protein.
While formulating the recipe, he sought advice from nutritionists. He said that getting the formulation right for the final product was tedious, but he eventually found a manufacturer to make the ice cream for retail.
His mother, who would consume small amounts of the ice cream two to three times a day apart from her usual meals, has since gained back the weight she lost during her cancer treatment.
Mr Foo believes that he has made what is Singapore's first commercial high-protein ice cream. He named it Woah!, and it is available at various retail stores in Raffles Place MRT Xchange and Heartbeat@Bedok, for instance, as well as online shopping sites such as Qoo10.
Launched in July, it is one of a growing number of protein-enriched food products available online and at retail stores here.
DEMAND FOR HIGH-PROTEIN PRODUCTS
Mr Foo, founder of Woah Protein and vice-president of Nutrition Depot Singapore, said that protein-enriched products and supplements have gone mass market in recent years as Singaporeans become more conscious about what they eat.
No longer just for athletes and bodybuilders, food products and supplements that are enhanced with protein are now finding their way into the diet of the average Singaporean, many of whom are buying into the idea that more is better when it comes to taking muscle-building protein.
Other examples of protein-enriched products that have recently hit the stores are Meiji's High Protein Milk and Milo Protein Granola, which has 40 per cent more protein than regular granola.
"There has been an increase in demand for high-protein-related products in Singapore. You can witness this at most major supermarket chains," Mr Foo said, adding that he hopes to get his ice cream selling at supermarkets soon.
"Even common products like milk, cheese, cereal and pasta now have protein-enriched options as consumers seek other sources for their protein intake besides the traditional foods of lean meat, fish or tofu."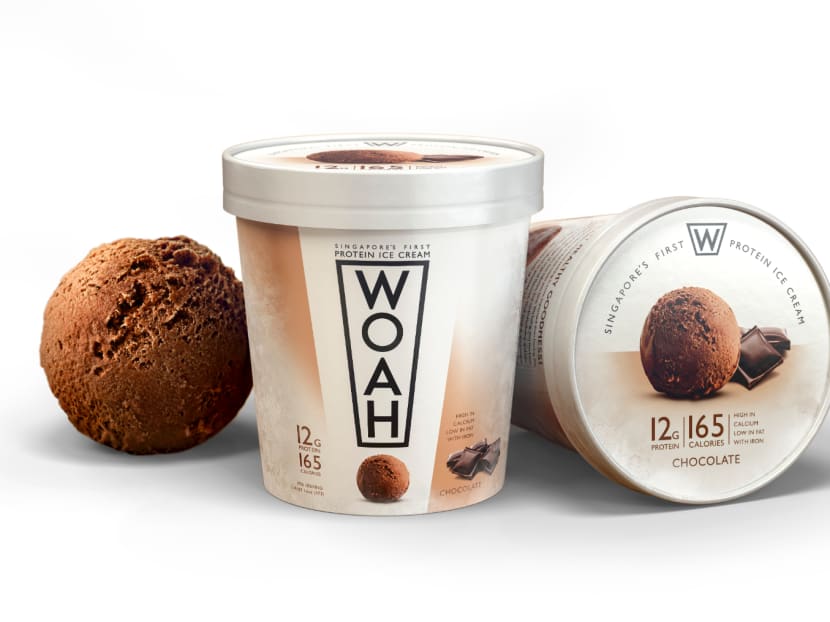 Like many food products and supplements marketed as "high protein", Woah! ice cream contains a higher-than-usual amount of protein than that of regular ice cream. At around 12g of protein per 100g, it has twice as much protein as most commercial brands.
It contains a form of branched-chain amino acid known as L-Leucine, which Mr Foo said helps to stimulate protein synthesis and build muscle mass. It is also higher in iron and calcium as well as low in fat, carbohydrates, calories and sugar.
Mr Foo estimated that there will be a 10 to 15 per cent — or more — growth in the market for protein-enriched products in the next three to five years.
HOW MUCH PROTEIN IS ENOUGH?
While protein-enriched products may be catching on, some experts feel that there is no need for healthy individuals to intentionally include them into their diet. 
Dr Teo Cheng Rong, a family physician with Healthway Medical Clinic, said: "While certain amino acids — the building blocks of protein structures — can be generated by the human body, other types can be obtained only from food. This is why we are encouraged to actively include protein in our diet. However, the recent trend of taking protein-enriched foods and supplements may be taking it too far."
Protein is integral for various bodily functions, growth and repair, but Dr Teo said that protein deficiency is uncommon in Singapore even though it can happen in certain groups of people, such as the elderly and those suffering from anorexia, an eating disorder.
The recommended daily protein intake is around 10 to 35 per cent of total calorie intake, which can be easily obtained from whole foods which may be less expensive than the protein-enriched versions, Dr Teo said.
"Assuming an average adult weighing 60kg requires 2,000 calories a day, the minimal calorie intake from protein should be 200 calories, or 50g, of protein a day. This is not difficult to obtain, especially taking into consideration the variety of food we can find in Singapore," he said.    
For example, a serving of chicken breast meat would yield an average of 30g of protein.
"If one maintains a balanced diet, such as the Healthy Plate (model recommended by the health authorities), hitting the minimal requirement for protein is fairly simple — so, no need for additional protein supplements," Dr Teo said.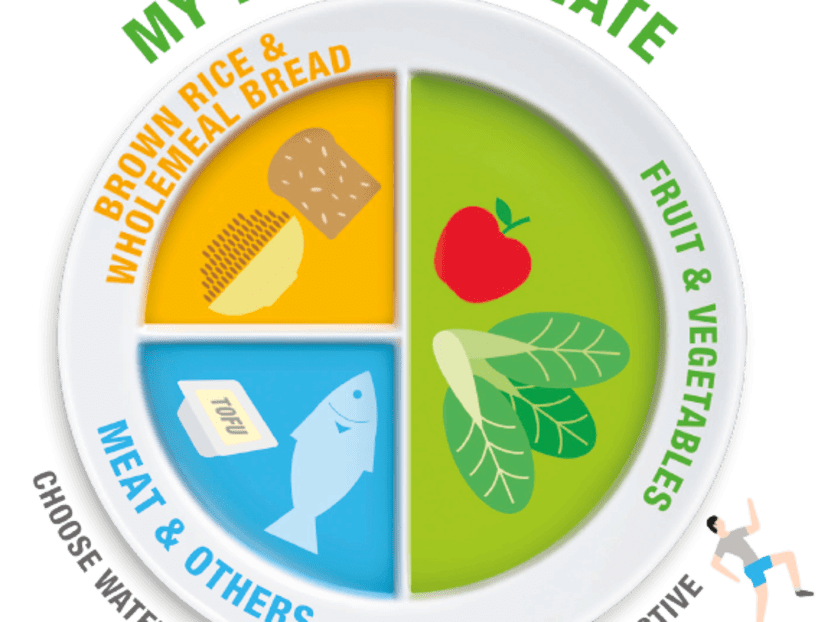 On the other hand, for fitness expert Chung Tze Khit, who is the managing director of Gold's Gym Personal Training, he believes that many Singaporeans may not meet the recommended protein requirements because their diet tends to be heavy on carbohydrates.
"Most people here tend to overload on fat and carbohydrates. Protein seems to be more of a side dish in Singapore. If you order sliced fish soup in the hawker centre, for example, you get only that few slices of fish which gives you say, 10g of protein, which is really little (protein in a meal)," he said.
Athletes and people who train for sports will have a higher protein requirement than a sedentary person to help them recover and build muscles. But the jury is still out on whether supplementation is truly necessary if they can get enough protein from natural food sources.
Ms Bibi Chia, principal dietitian at Raffles Diabetes and Endocrine Centre, said that compared to non-athletes, athletes may need anywhere from 1.2g to 1.7g of protein daily for every kilogramme of body weight. 
So an endurance athlete weighing 60kg will need at least 72g of protein, which is about two-and-a-half servings of meat or fish, or four cups of cooked lentils, for example. The requirement increases when the hours of training and intensity increase.
Dr Teo said that there is no high-quality evidence to show that protein supplements, whether in the form of shakes or tablets, are superior to a diet rich in meat, which is less expensive.
"Chicken breast meat is said to contain the equivalent of seven branched-chain amino acid tablets, which are commonly found in the (sports nutrition) market.
"For the non-meat eaters, legumes are a comparably good source of protein," he said.
IS IT BAD TO CONSUME TOO MUCH PROTEIN?
For those who are wondering if it is safe to be taking too much protein, Dr Teo said that it is uncommon for healthy individuals to experience adverse effects.
"There is some misunderstanding that a high-protein diet can lead to kidney failure and osteoporosis, but this is not the case.
"While patients with chronic kidney disease should be careful not to consume too much protein to prevent further damage to the kidneys, they still require a good amount of protein to maintain normal bodily functions," he said.
However, end-stage liver or kidney failure patients can sometimes have issues of protein overload as they are unable to effectively dispose of waste products from breakdown of protein, Dr Teo added.
If anything, overeating is the more common problem that could arise from consuming too much protein.
Mr Chung of Gold's Gym said: "Any food in excess, including protein-rich food, will cause you to put on weight due to the extra calories. And if you are taking protein-rich food that are high in fat (such as fatty meats), you'll run into a separate set of health issues."
Ms Chia said that some high-protein diets with restricted carbohydrate intake may result in nutritional deficiencies or inadequate fibre, which can cause problems such as bad breath, headache and constipation.
While some people may benefit from a protein boost, the experts said that it might be best to look to natural whole foods such as meat, eggs, fish and legumes first before reaching out for a protein shake. This also ensures that other vital nutrients required for health are not neglected.
"We need to look at our diet as a whole, our health status and activity level, and not just how much protein we eat. As long as you are eating a healthy balanced diet, you will achieve the amount of protein you need. Protein supplements are just convenient for individuals on-the-go," Ms Chia said.
WHO NEEDS MORE PROTEIN INTAKE?
Ms Chia also said that an individual's protein intake should change at different stages of life and his or her health status.
While the best source of protein is through a healthy diet, there are certain groups of people that could do with protein supplements.
They include malnourished individuals and the elderly. People who lack the ability to chew or swallow, and those with sarcopenia — the degenerative loss of skeletal muscle mass and strength associated with ageing — can also benefit from taking them, Ms Chia said.
For small eaters or those who do not fancy eating meat, liquid protein from supplements may be easier to consume, Mr Chung said.
He believes that protein supplements, such as whey protein powders, shakes and bars, can be part of a normal diet because they are ultimately from whole foods.
"For example, whey protein is from milk, which has its fat and carbohydrates removed. People may call whey a supplement, but I consider it to be from milk (which is a natural food source)," he said.