PSLE changes: Parents say they will be more careful when choosing secondary schools
SINGAPORE — Parents are taking a closer look at the major revamp of the Primary School Leaving Examination (PSLE) scoring system, now that the Ministry of Education (MOE) is preparing the ground for the changes that will take effect in 2021.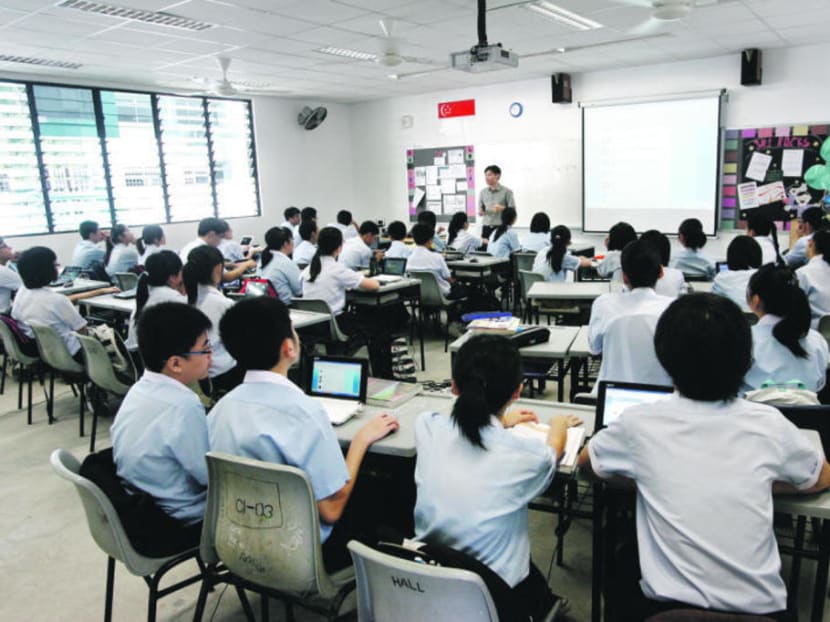 SINGAPORE — Parents are taking a closer look at the major revamp of the Primary School Leaving Examination (PSLE) scoring system, now that the Ministry of Education (MOE) is preparing the ground for the changes that will take effect in 2021.
One change that has drawn parents' attention is the addition of a new tie-breaker criterion for postings to secondary schools. It essentially means that if two students with the same PSLE score are vying for the final place in a school, the student who placed the school higher in his list of choices will get priority.
Students are required to nominate six secondary school choices in order of preference.
Some parents have told TODAY that as a result of the change, they will be more careful and will take into consideration both academic and non-academic programmes of secondary schools when listing choices on behalf of their children. They say the first choice of a secondary school will be potentially decisive under the changes.
On Thursday (July 25), the MOE unveiled measures to help smooth the way for the new PSLE system in 2021, which will use Achievement Level (AL) scores, in a move designed to shift away from an over-emphasis on academic results.
MOE also gave details of how the new AL system will be used for Foundation-level subjects, which are less difficult than Standard-level subjects.
Some parents have expressed concerns about how grades for Foundation-level subjects are to be pegged to AL scores.
CHOICE ORDER AS TIE-BREAKER
From 2021, when the AL scoring system is in place, a student's order of school choices will be used as one of the tie-breakers if there are two students with the same PSLE score vying for the final place in a school. This change was announced in 2016.
Currently, only citizenship and computer balloting are used as tie-breakers.
But with the change, a student who, for instance, puts a school as his first choice will get priority over another student who may have placed it as a second or third choice.
MORE SCHOOLS TO HAVE SAME CUT-OFF POINT
Associate Professor Jason Tan of the National Institute of Education said that the new scoring system would eventually lead to more schools sharing the same cut-off points.
To differentiate between the schools, parents will need to do more research to decide which schools to send their children to, said Assoc Prof Tan.
One parent, Dr Chinnu Palanivelu, agreed, saying that under the new AL scoring system, tie-breakers are more likely to be used.
The 42-year-old managing partner at Stamford Assurance said: "As a parent, I think now it's (the order of school choices) become critical, unlike when T-scores were used."
The AL scoring system categorises students into broader bands, whereas in the current T-score system students are differentiated by every mark.
"So there is a high possibility of many students having the same score, (which means higher chances) you have a tie-breaker. So then, the first choice becomes a critical factor."
Dr Chinnu, who has a nine-year-old daughter, has particular aims when choosing a secondary school. "I would choose schools that align with my child's strength… and interests, and then what the school's strengths are," he said.
A MORE CAREFUL APPROACH
Other parents whom TODAY spoke to also said they would adopt a more careful approach when it comes to listing their child's secondary school preferences under the new system.
Ms Mabel Ng, 36, a client coordinator with a daughter in Primary 4, said: "You now have a higher probability of getting your preferred choice than compared to the past system, so your first choice becomes more important."
Others said that they would consider non-academic programmes a school offers.
Madam Joey Toh, 42, said that she will advise her daughter, now in Primary 4, to "put in the choice you really want", rather than just going by the cut-off scores of the secondary school.
"Of course we will first look at if you're able to reach the score but given that choice is now a factor in a tie-breaker, we will look at the programmes of the school… what they offer academically and also their co-curricular activities," said Mdm Toh, a project manager.
Assoc Prof Tan said that parents will have to do additional research and comparison before deciding on the secondary school choices for their child, because more schools will share the same cut-off points.
But he said parents with a lack of time, or those who are unable to tap into social networks, may not be able to do the necessary research to learn about programmes offered by a school. In this regard, primary school teachers will play a crucial role in guiding parents and students on their secondary school options, he said.
Some parents TODAY spoke to said that regardless of what system is in place, they would put in a fair amount of research before deciding which secondary schools to pick for their children.
FOUNDATION-LEVEL SUBJECTS
The MOE on Thursday also revealed details of how Foundation-level subjects would translate into AL scores, and how these scores would align with Standard-level subjects.
Under the new AL system, the MOE announced on Thursday that Foundation subject grades will be placed into three broader bands — AL A, AL B and AL C. At the PSLE level, AL A is equivalent to AL6, AL B to AL7, and AL C to AL8. The AL scoring system will run from AL1, which is the best score, to AL8.
On average, about 10 per cent of each PSLE cohort takes at least one Foundation subject, said MOE.
Assoc Prof Tan said that the move will bring more transparency to how grades for Foundation subjects will translate into PSLE scores, and how this will affect a student's eligibility for a secondary school stream.
Under the current T-score system, it is unclear to parents how raw scores translate into aggregate scores, he said.
MOE said that in the current PSLE scoring system, the aggregate T score is calculated by adding together all the T scores for the examinable subjects taken by the students.
"For the purposes of Sec 1 posting, in the calculation of the overall PSLE aggregate, the T-Score formula is scaled for Foundation-level subjects to reflect the difference in the curriculum and assessment load for these subjects as compared to Standard-level subjects. This provides a common measure for all students, regardless of the subject level and combination taken," said an MOE spokesperson.
As a parent, Dr Chinnu said that he had concerns on how Foundation-level subjects are mapped. He said that students at the Foundation level are more likely to be in the second or third band, which is the AL 7 and AL 8 equivalent of Standard-level subjects.
"So, if you have two or more Foundation-level subjects, then it will be harder for students to move up to Express (stream)," he said.
This "narrow structure" in the Foundation level may not be such a good idea, as it harks back to the old system where the "weakest students go into N-Level, so there might not be much change," he added.
MOE said that subjects taken at Standard or Foundation level do not directly affect the secondary school courses a student is admitted to. Students taking Foundation subjects can continue to qualify for Express, Normal Academic or Normal Technical courses, as their eligibility for various courses depends on their overall PSLE Score.
Assoc Prof Tan said parents who are deciding on a combination of Foundation and Standard subjects will have to consider several factors such as their child's current performance, his potential to improve in given subjects by the time he sits for the PSLE and whether their child could cope with the level of study.