Unable to see his ailing mother for months before she died, student worked hard for PSLE to 'make her proud'
SINGAPORE – In October 2021, then 11-year-old Muhammad Haziq Alias saw his mother in person for the last time that year, before she was put in palliative care for her terminal cancer.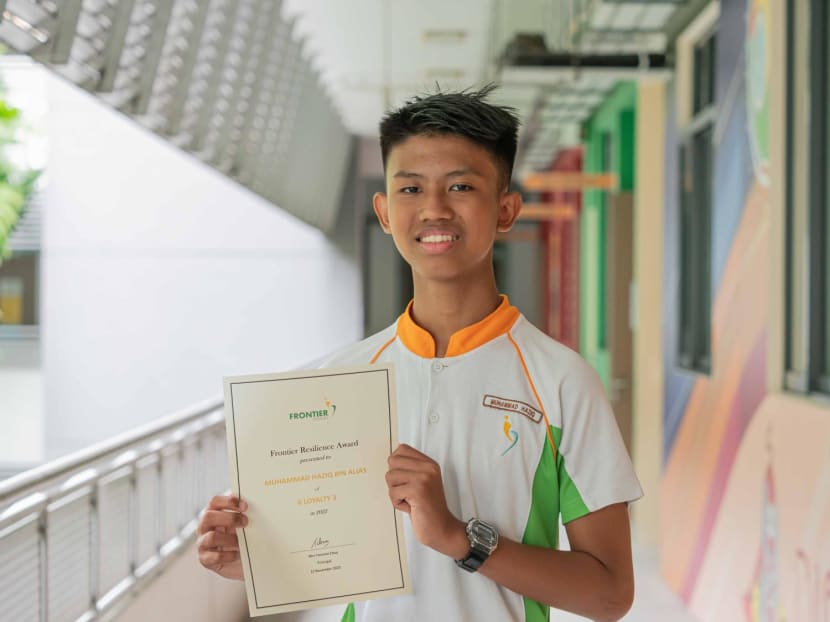 Muhammad Haziq Alias spent five months apart from his mother when she was in palliative care due to her terminal cancer
The primary schoolboy was able to see her for only three weeks before she died in March
Haziq's grades fell as he struggled to focus, and his teachers switched him to foundation subjects to help him cope
With support from his family, teachers and peers, Haziq scored straight Bs for his PSLE
SINGAPORE – In October 2021, then 11-year-old Muhammad Haziq Alias saw his mother in person for the last time that year, before she was put in palliative care for her terminal cancer.
The boy then spent five months apart from his ailing mother, his ineligibility to get the Covid-19 vaccine due to his age preventing him from being able to visit her.
Following months of communicating through video calls, mother and son were finally reunited in March this year after Haziq turned 12 and got his jabs.
However, the pair's reunion lasted just three weeks before his mother died.
It hit him hard, affecting his preparations for his Primary School Leaving Examination (PSLE), and he did badly in common tests.
Eventually, the Frontier Primary School student bounced back.
On Wednesday (Nov 23) morning, Haziq was among more than 37,000 students who sat for the examinations this year to collect their PSLE results.
He attained straight Bs for four foundation subjects and his Achievement Level score qualifies him for the Normal Technical stream in secondary school.
The Ministry of Education and the Singapore Examinations and Assessment Board said on Wednesday that 98.4 per cent of students who sat for their PSLE this year were eligible for secondary school. 
This is the second cohort of students graded under the new Achievement Level scoring system.
Ms Nellie Soh, Haziq's form teacher and the school's Primary 6 level head, told TODAY: "We're all very proud of Haziq, and it's not just in terms of his academics but also because of his behaviour.
"He is a role model and he is really resilient. He's always able to control his emotions relatively well and he's always there for his friends despite his own difficulties."
STRUGGLE WITH GRIEF
His teachers recounted how Haziq occasionally had breakdowns in class after his mother's death and had struggled to focus on his studies.
After he fared badly in his March common tests, his teachers switched his stream from four standard subjects to four foundation subjects to help him cope. Foundation subjects have an easier syllabus.
Despite his grief, Haziq was determined to bounce back. "I wanted to make her (his late mother) proud," he said.
As the year progressed, he was able to pick his grades back up again, improving with every exam.
Ms Soh said: "When he changed to four foundation subjects, I think it was kind of a relief for him because he could manage the syllabus much better. With that, confidence grew in him and that's why he could perform better."
Haziq's teachers also placed him in counselling sessions with the school counsellor to guide him through the turbulent time and offer academic guidance.
He quickly learnt to reach out and ask for help and support from those around him whenever he needed it, be it with schoolwork or processing his feelings.
He said: "In school, if I'm struggling, I will approach my teachers for help. At home, I will approach my father or my brother."
He is close with his father who works in the shipping industry and his 18-year-old brother.
"Without them, I would not have been able to make it to secondary school," Haziq added.
LOOKING AHEAD
For his exemplary behaviour, his school presented him with the Frontier Resilience Award.
Haziq is looking forward to a new phase in his life. He hopes to continue his studies at Bukit View Secondary School because of the school's "strong National Cadet Corps".
"It's not very near to my house but it's a good school," he said.
Asked what he would say to his mother if she were in front of him, Haziq said that he would tell her: "Thank you for pushing me through, so that I am able to go to secondary school."