Public to get sneak peek of 3 new Thomson-East Coast Line stations
SINGAPORE — The public will get a sneak peek on Saturday (Jan 11) of the three new stations comprising the first phase of the Thomson-East Coast Line (TEL) that start operations at the end of the month and feature new automated kiosks.
SINGAPORE — The public will get a sneak peek on Saturday (Jan 11) of the three new stations comprising the first phase of the Thomson-East Coast Line (TEL) that start operations at the end of the month and feature new automated kiosks.
Residents living near the new stations — Woodlands North, Woodlands and Woodlands South — are already looking forward to reduced travel times, and not having to squeeze onto feeder buses.
A new automated kiosk unique to this MRT line, known as an assisted service kiosk, will be featured in each of the three stations, and all future stations on the line.
Apart from using these kiosks to top up their fare cards, commuters will be able to make transit claims, redeem vouchers and rewards, and apply for auto top-ups, among other services.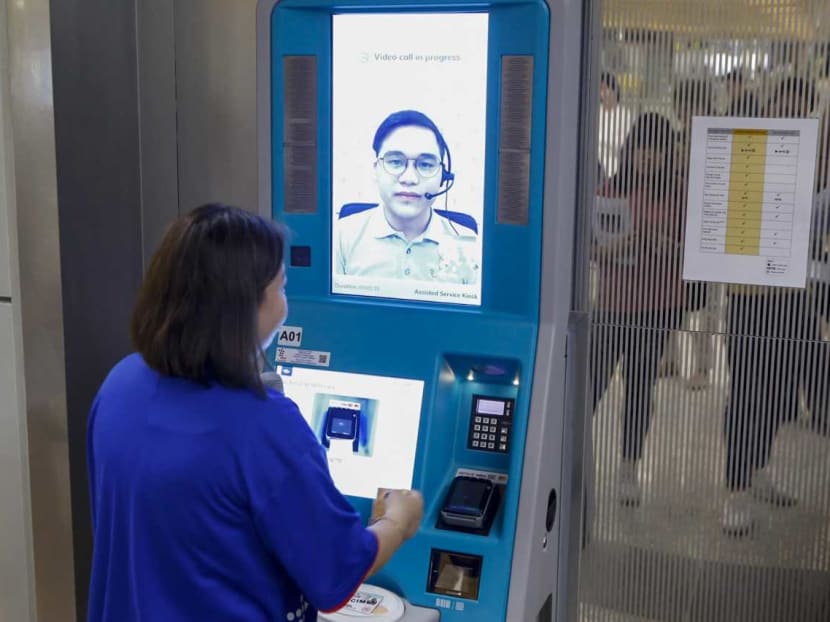 The kiosks also feature a contact centre function available from 8am to 6pm, allowing commuters to engage in a video call with an officer at the ticketing contact centre for help with transactions. For instance, with the commuter's permission, the officer will be able to help top up their EZ-Link cards or buy concession tickets.
There will be an average of one officer for every four kiosks, with all four national languages represented by those on duty.
Members of the public are being invited to have a sneak preview of the three stations on Saturday, when an opening ceremony will be held.
There will be a tour of the Woodlands station, and the public will also be able to ride the trains for the duration of the ceremony, officiated by Transport Minister Khaw Boon Wan.
While phase one of the TEL will open on Jan 31, the remaining three phases of the line will be opened in stages and completed by around 2024, comprising 32 stations stretching from Woodlands North to Sungei Bedok.
The 43km-long line will include eight interchange stations linked to the East-West Line, North-South Line, North-East Line, Downtown Line and the future Cross Island Line.
WOODLANDS STATION
Located between Woodlands Square and Woodlands Ave 2, Woodlands station has four entrances from the street level to the train platform, which is 24m below ground level.
The platform features green, brown and earthy tones for its interior which, TODAY understands, draws from the history of the area as a rubber plantation.
As an interchange station with the North-South Line, the platforms of both lines are about 250m apart and two to three minutes walk away, with part of the transit area featuring pillars that resemble tree trunks and branches, similarly drawing from the area's history.
WOODLANDS SOUTH STATION
Located along Woodlands Ave 1 near the junction with Woodlands Drive 16, Woodlands South station has five entrances and is 22m below ground level.
The station will benefit residents in the area, as well as students from neighbouring schools such as Woodgrove Secondary School, Singapore Sports School and Christchurch Secondary School.
One of its five entrances will open when the Woodlands Health Campus, which is now under development, starts operations.
Marsiling resident Michelle Chng, whose three sons study at Woodgrove Primary School, which is one bus stop away from the station, looks forward to the reduced travel time.
"When the station opens, it will be easier for my kids when it rains," the 39-year-old housewife said. "They just take the bus for one stop (to Woodlands South station) and then take the train home … It saves them about 10 minutes."
Her oldest son Aaden, who is 10, is eager to put the trips on the daily feeder bus behind him.
"When we try to take (the feeder bus), the queue is very long, so maybe when the station opens, the students can go from the MRT straight to school," he said.
Like Aaden, most Woodlands South residents approached by TODAY look forward to saving up to 15 minutes of travel time when heading out of their estate.
However, with just three stations open on the line, it means that those travelling from other parts of the island almost always have to change trains, which one resident said is still inconvenient.
Resident Shirlyn Tan, who works in Bugis, said that the opening of the new line, though a stone's throw from her flat, will have little effect on her commute time.
"I take the North-South Line home, so I still need to change train… to me it's not much difference," the 45-year-old, who works in customer service, said.
"Maybe when the rest of the line opens, it will be better."
WOODLANDS NORTH STATION
While both Woodlands station and Woodlands South station are 30m and 24m wide respectively, Woodlands North station is considerably wider, at 48m, and boasts a larger platform area than the other two stations.
Located 22m below ground level between Woodlands Ave 9 and Admiralty Road West, the station has only two exits and will primarily serve students from Republic Polytechnic. But future developments are slated for the area around the station.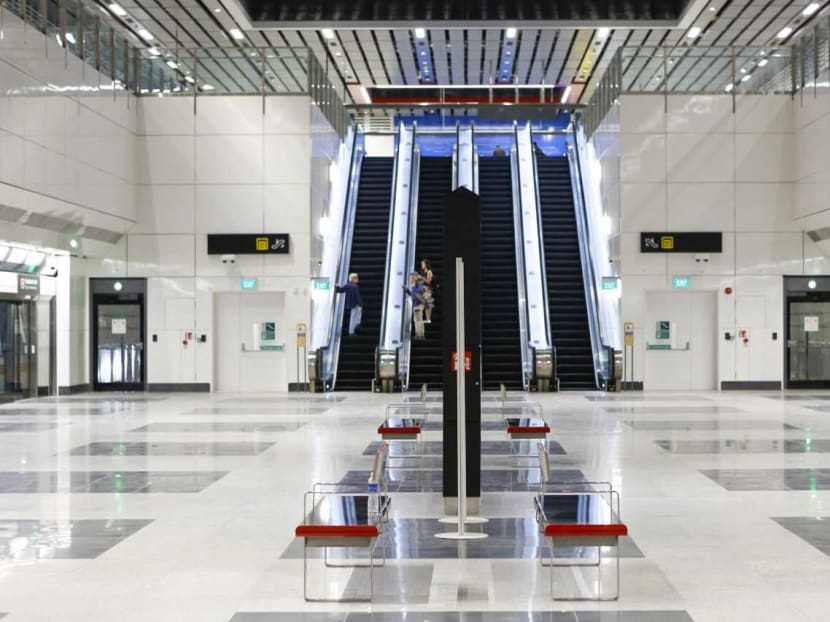 The Woodlands housing estate is being envisioned as Singapore's northern gateway, and over the next decade is set to house a business park and new residential areas.
On the cards is also a cross-border Rapid Transit System link between Woodlands North station and Bukit Chagar terminus in Johor Baru, Malaysia, which is expected to ferry up to 10,000 passengers an hour each way.
The project was meant to be completed by 2024, but is now behind schedule with Malaysia delaying confirmation of its joint-venture partner.
For Year 3 Republic Polytechnic student Roghan, the opening of the new station means a "more accessible" transport link to school.
"Before the station was built, there was no straight route to school. You have to walk about 5 minutes from Woodlands MRT Station to school," the 21-year-old, who goes by one name, said.
"With the (new) MRT station, it is right there at school. You cut short 10 minutes of travelling."