Punggol residents see more macaques near new housing project; human feeding a likely cause
SINGAPORE — Punggol residents have reported seeing larger numbers of long-tailed macaques, which some people believe is the result of both an increase in developments in the area and food left by humans.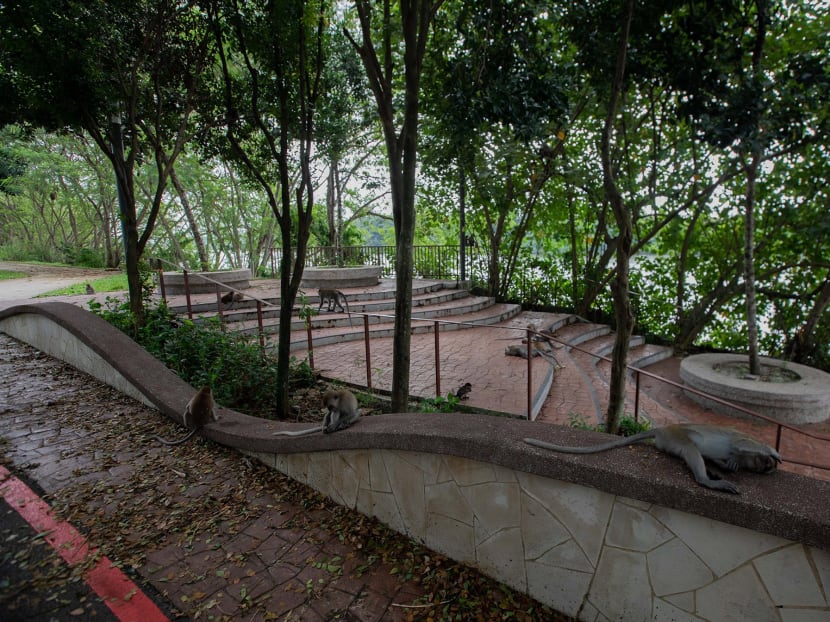 Punggol residents and park connector users said they've noticed an increasing number of macaques near the Waterway Sunrise 1 development
A primate researcher believes the macaques may have been driven out by habitat loss caused by ongoing developments, and irresponsible individuals who leave food out for the monkeys
While most residents do not mind the macaques' presence, some worry for the children's safety
SINGAPORE — Punggol residents have reported seeing larger numbers of long-tailed macaques, which some people believe is the result of both an increase in developments in the area and food left by humans.
Residents TODAY spoke to on Friday (Jan 15) said they have always been aware of a small number of monkeys along the stretch of the park connector network that runs opposite Coney Island.
But in recent months, they noticed that a larger number of them have gathered near the upcoming Waterway Sunrise 1 development that faces the Lorong Halus Bridge.
Mr Neil Humphreys, who has lived in Punggol for about a decade, said about six years ago there was a small forest all around that part of Punggol.
It has since shrunk to give way to development, said the 46-year-old author.
Mr Humphreys, who exercises regularly along the park connector, said he had not seen a single macaque until about 18 months ago.
"Now I've seen them on almost every single trip, and the numbers are going up," he said, adding that he believes they are being pushed out by developments.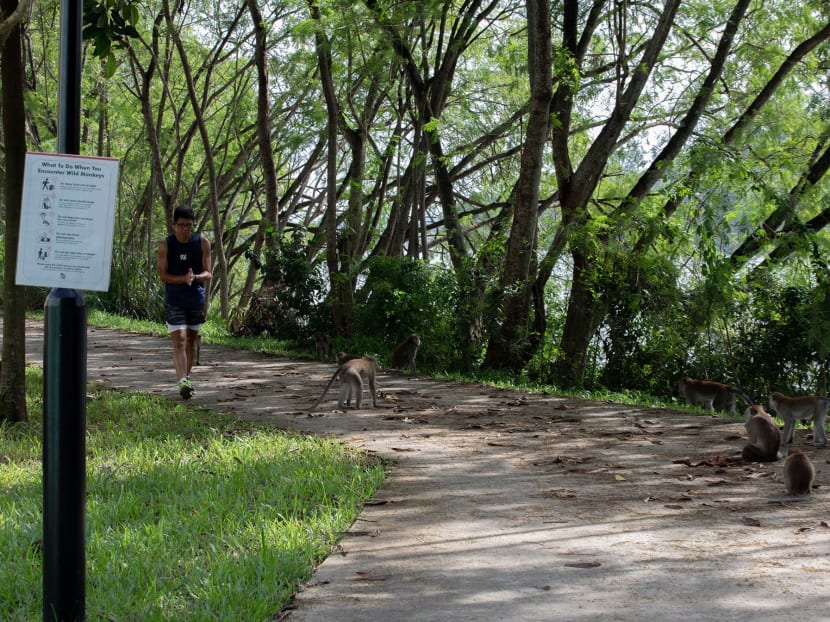 When TODAY visited the location on Friday morning, we spotted more than 20 macaques, with some climbing the construction hoardings of Waterway Sunrise 1, which launched in November 2016.
They were not aggressive towards the park connector users who had stopped to either admire or take photos of them.
The only exception was when a lady had unknowingly ran too close to one of the six baby macaques in sight, and was chased away by an adult monkey.
The woman, who declined to be named, said she suspects that the large number of macaques may have been drawn out by some individuals who feed them.
This is despite the numerous signs along the park connector that warn against feeding the monkeys.
When TODAY visited the area, there were beer cans and bags of food that had been seized by the macaques.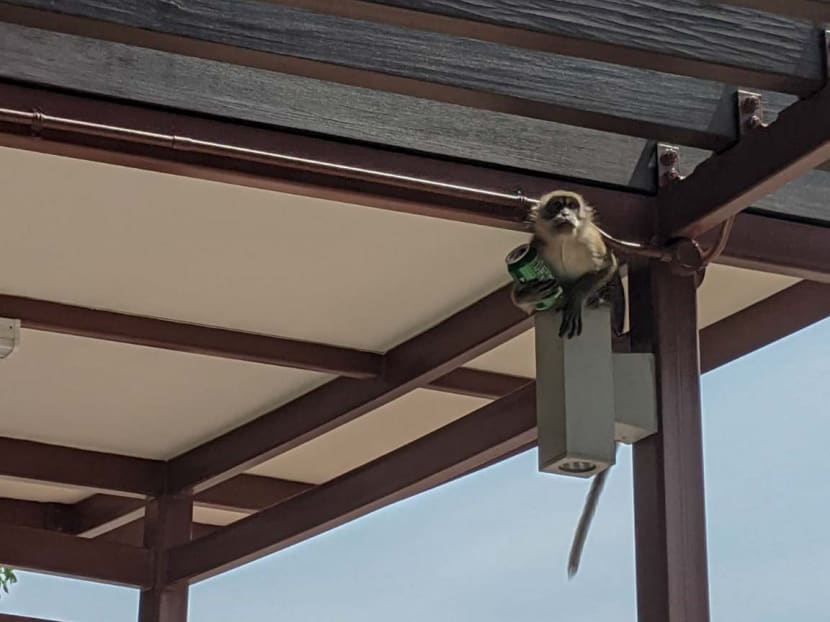 Most of the 10 Punggol residents and park connector users TODAY spoke to said they did not mind the macaques' presence.
One resident, who wanted to be known only as Mrs Tay, said the monkeys tend to hang about in big groups, and occasionally block the way when she takes her young children out for a walk.
"But we are interested to see them. They haven't attacked us so far," said the 33-year-old who has two children, aged one and four.
"We are glad the kids get to see animals and nature. That's why we like Punggol and the waterway," she said.
Mr William Wee, a 62-year-old retiree who was spotted "talking" to a macaque, said they are part of nature and have a right to exist. "Just be respectful. They don't disturb anyone," he said in Mandarin.
Yet, some did express concerns about potential human-wildlife conflict.
A 37-year-old mother, who wanted to be known only as Shi Hui, said she has noticed that the macaque population has bloomed recently, and is afraid for her four-year-old child's safety.
The freelance designer added that the monkeys have a tendency to "come very near" to children, and she is worried that children may get attacked.
Mr Andy Sng, an analyst in his 40s, said there is a blindspot where the monkeys gather, and he fears that speeding cyclists may collide into them.
Although there have been no incidents so far, Mr Humphreys said it takes just "one kid or adult to get knocked over or bitten", and there will be calls for the monkeys to be culled.
As it is, there are previous media reports of attacks by habituated macaques that lose their fear of humans.
However, Mr Humphreys believes taking drastic action would be unfair as the monkeys have already been pushed to the edge and have nowhere else to go.
"If we're going to have a city in nature, we're going to have to learn how to balance this," he said of the Government's initiative to green Singapore.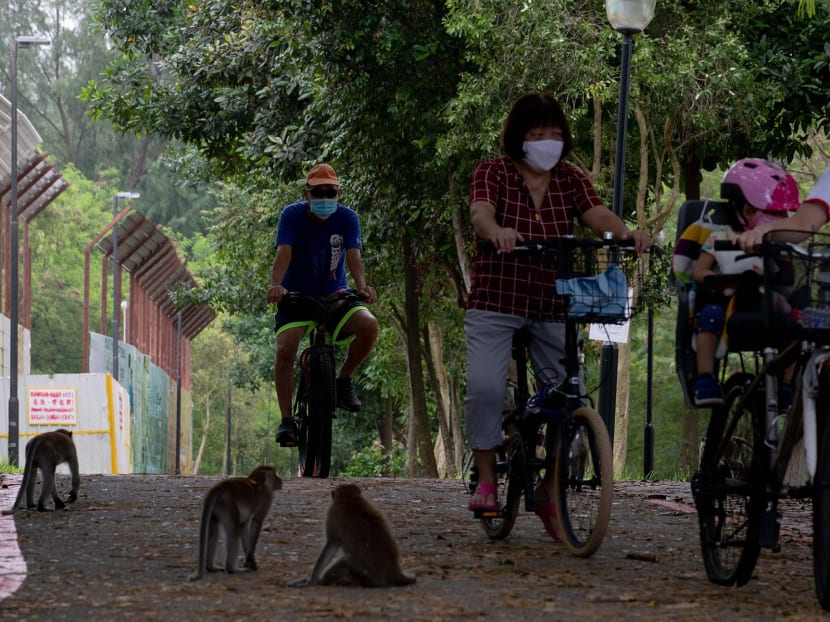 Aside from an increase in macaque sightings, there have been several reports of wild boars around the Punggol area as well, due to a combination of habitat loss and the feeding by humans.
As recently as Jan 13, eight people were charged in court for feeding wild boars and another 11 will be charged for the same offence over the next two weeks.
In November last year, The Straits Times reported that a woman was exercising at Sungei Api Api Park in Pasir Ris — just a few kilometers from Lorong Halus — when she was attacked by a wild boar.
It was reported that the 50-year-old suffered leg and facial injuries as a result.
DRIVEN OUT OF THEIR HABITATS
Primate researcher Sabrina Jabbar said an "obvious reason" why there are more macaque sightings in Punggol is due to the increase in developments in the area, which drives them out from their natural habitats.
New food sources also attract the monkeys, such as fruiting trees along the water's edge, as well as trash and deliberate feeding by humans.
She foresees that residents will be in contact with the macaques for the long term, but potential conflict could be mitigated with proper education.
For instance, she warns against staring or grinning at the macaques, as the primates deem both to be aggressive acts.
Park connector users should keep a 2- to 3-metre safe distance from the monkeys, and parents should ensure their children do not taunt the animals.
As for future residents of Waterway Sunrise 1 and 2, she said the authorities should warn them about the macaques and similarly educate them about the do's-and-don'ts.
In response to TODAY's queries, Dr Adrian Loo, group director of wildlife management at the National Parks Board, said the macaques likely came from Coney Island.
"Where necessary, NParks carries out monkey guarding with the aim of guiding the macaques away from residential areas towards the forested areas. Monkey guarding involves blocking the approach of monkeys and herding them towards the forested areas," he said.
Long-tailed macaques have ample food sources in their natural habitats, and do not require food from humans to survive, he added.
Human-macaque issues often arise when the animals are attracted by easy access to human food or are fed by members of the public, Dr Loo said.
In order for NParks' macaque management efforts to be effective, the agency urged the public not to feed the macaques.
Under the Wildlife Act, anyone caught feeding monkeys could be fined up to S$5,000 for a first offence, while repeat offenders face double the amount.
TODAY has sought comments from Dr Janil Puthucheary, the Member of Parliament for Punggol Coast, and the Pasir Ris-Punggol Town Council.