Putting the fun into playgrounds
Whenever 30-year-old Cheang Kar Wai tells people he is in the playground business, the response he invariably gets is an incredulous "Singapore has a lot of playgrounds (meh)?"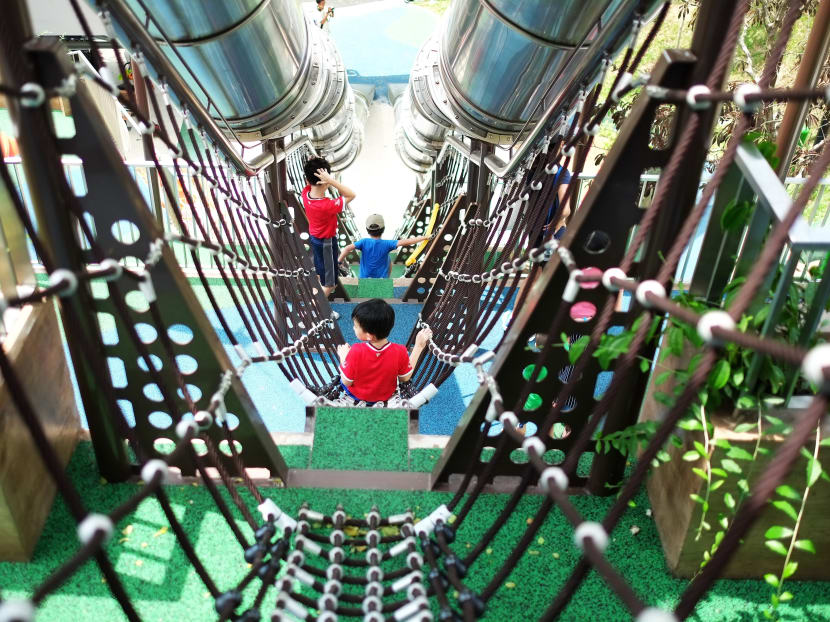 SINGAPORE — Whenever 30-year-old Cheang Kar Wai tells people he is in the playground business, the response he invariably gets is an incredulous "Singapore has a lot of playgrounds (meh)?"
To which he always replies, quoting his United States suppliers, that Singapore has one of the highest concentration of playgrounds in the world. Even though there are no publicly available numbers to back up this claim, it is not unimaginable, given that most families here live within a stone's throw from a public playground.
Due to wear and tear, the marketing director of the Republic's oldest playground contractor said most playgrounds need to be replaced around every six to 10 years. That has certainly created enough work to support at least two other homegrown playground contractors — CT-Art Creation and Playpoint — in the industry.
Semec Enterprise, set up in 1984 by his father, 64-year-old Cheang Lin Thiam, is no household name. But having provided playground equipment solutions for parks, schools, condominiums, childcare centres and homes, most people would have encountered at least one of Semec's projects.
Giving its first in-depth interview to TODAY, father -and-son duo Cheang Lin Thiam (left)  and Kar Wai (right) are behind Semec Enterprise, Singapore's oldest playground contractor. Photo: Semec Enterprise 
The company, which started off manufacturing and supplying sports and fitness equipment, ventured into playground equipment solutions in the early 1990s, with its biggest clients today being the town councils and the National Parks Board.
Unlike most of its counterparts, Semec Enterprise offers the full suite of services — from in-house design; endless rounds of revisions to configure the structure and ensure that it complies with safety standards; fabrication of the equipment through its partners in US, France, Germany and South Korea; installation, all through to maintenance and repair work.
This process could take a few months, with an average playground costing between S$50,000 to S$80,000. Customised projects could go up from S$80,00 to S$300,000.
The current 40-man strong team has two designers with expertise in industrial and product design, hailing from the Nanyang Academy of Fine Arts and the School Of Art, Design and Media at Nanyang Technological University.

Semec's crowning glory is Singapore's biggest slide park, which opened at Admiralty Park in October last year. Mr Cheang, who joined the family business in 2013, said the project gave them the chance to push the envelope for customised design at its 26 slides, such as its 9m-tall Double Barrel Slides and 32m-long High Adventure Roller Slide.

In the playground's opening month alone, hordes queued for at least an hour to have a go, and school children came by the busloads for excursions.

The response was so overwhelming that Mr Cheang said they had to assign staff daily to take care of crowd control — such as managing the lines and looking out for safety of the children — from morning till night at the "free outdoor theme park". The company also found itself in the spotlight following reports of adults sustaining injuries on the slides.
"It was so crazy … The greatest joy after building the playground  project is when it's well received by so many people, who come down and play … You feel a sense of pride because you did something well," said Mr Cheang.
Citing another project his company did to revamp the Circle Green Park's playground in Woodlands in 2016, its 9m-tall Double Dome playground proved such a hit that residents complained about children shouting and playing till late in the night, and the town council even suggested blocking after-hours access with a gate.
"It's a good complaint in the sense … We were eager to inject new life into the previously deserted old building structure and turn it into a brand-new adventure experience for the children in the neighbourhood", said Mr Cheang.
As a young child, the Nanyang Technological University mechanical engineering graduate recalled viewing every playground as a haven, where "kids being kids", would play on the swings with the other neighbourhood children,  or set "booby traps" in the sand pit for unsuspecting visitors.
At first, it was his "love for playing with dogs" at his father's factory, located in a sprawling warehouse at the  industrial district of Block 22 Woodlands Link, that led him to spend time there during the weekends and school holidays.
Later in his teenage years, Mr Cheang would tag along with his father to site visits and overseas trade shows to learn the ins and outs of the industry.
Recalling how in the past, playgrounds were made of basic materials like wood, concrete and fiberglass, the projects of today comprise varying materials, said the older Mr Cheang.

For instance, there is now more advanced laser cutting and bending in the use of galvanised steel, rope play elements which offer more "more challenging" and flexible play, and availability of rotationally molded plastic components such as slide and roofs.

Customised playgrounds are also the hottest trend in the market, with clients now wanting something "unique and different" for each project.

Noting the "ever evolving" industry, Mr Cheang is also excited about bringing electronic interactive playgrounds into the Singapore market, though it is still early days yet.

Citing one app-based playground he spotted during a visit to the Netherlands, Mr Cheang feels these have the potential to bring parents and children closer together.

"Instead of conventional playground where kids slid down and play by themselves and parents stand outside to supervise them… Here, they can solve questions together and play (technology) games together… That's the trend that I'm seeing and I hope to bring it to the local market, " says Mr Cheang.