Putting the 'tok tok chiang' back in local Chinese opera
SINGAPORE — The name Nick Shen probably reminds most people of the former Channel 8 actor. But the 40-year-old is more at home these days belting out Teochew Chinese opera than acting in television drama series.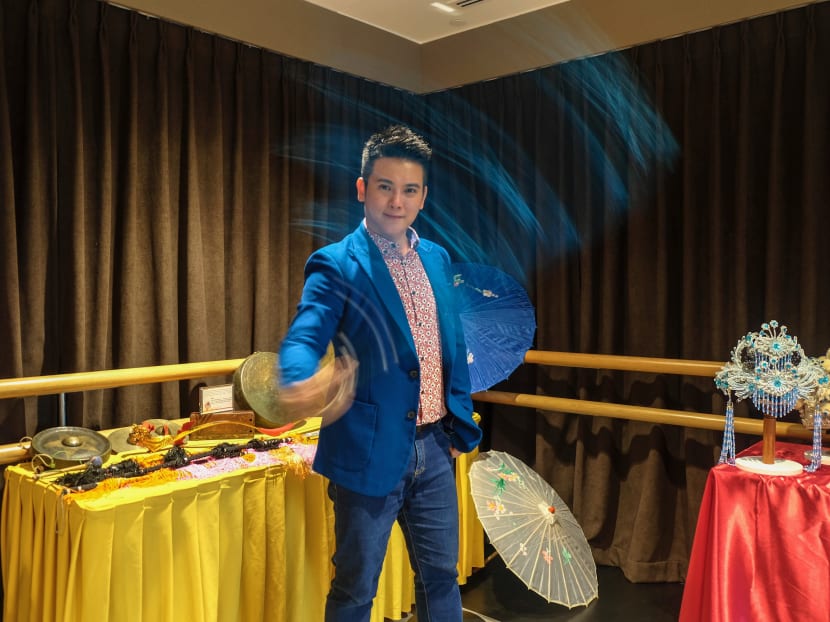 SINGAPORE — The name Nick Shen probably reminds most people of the former Channel 8 actor. But the 40-year-old is more at home these days belting out Teochew Chinese opera than acting in television drama series.
Since 2011, the former Mediacorp actor, who catapulted to fame after winning the 1999 Star Search competition organised to scout for Chinese language-speaking acting talent, has been dedicating his effort to reviving and preserving the dying art of Chinese opera. Through it, he hopes to reconnect Singaporean youths with their cultural roots and instil moral values.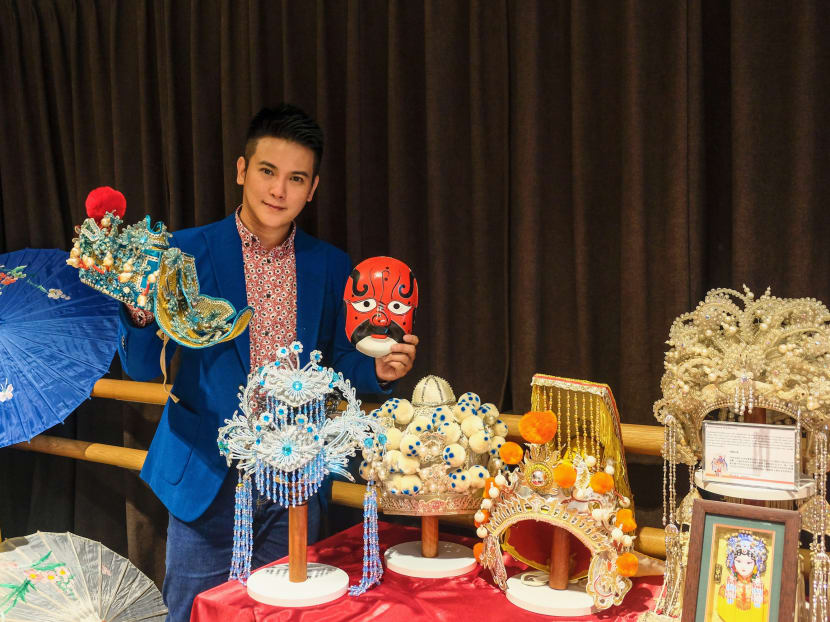 Through collaborating with schools, and adding bilingual storylines and magic tricks to the performances, he widened the reach of the ancient art form by involving youths.
Without revealing figures, the 40-year-old told TODAY that his acting event management company Tok Tok Chiang — which he founded after leaving Mediacorp — now receives a "healthy" income, enough to support the more than 30 performers and musicians under his employ.
This is despite monthly operational costs of at least S$10,000, which includes the rental of two store rooms — one the size of a five-room Housing and Development Board (HDB) flat and another just slightly bigger than a HDB rental flat — to store all their costumes, props and equipment. The costs will double when they have more performances.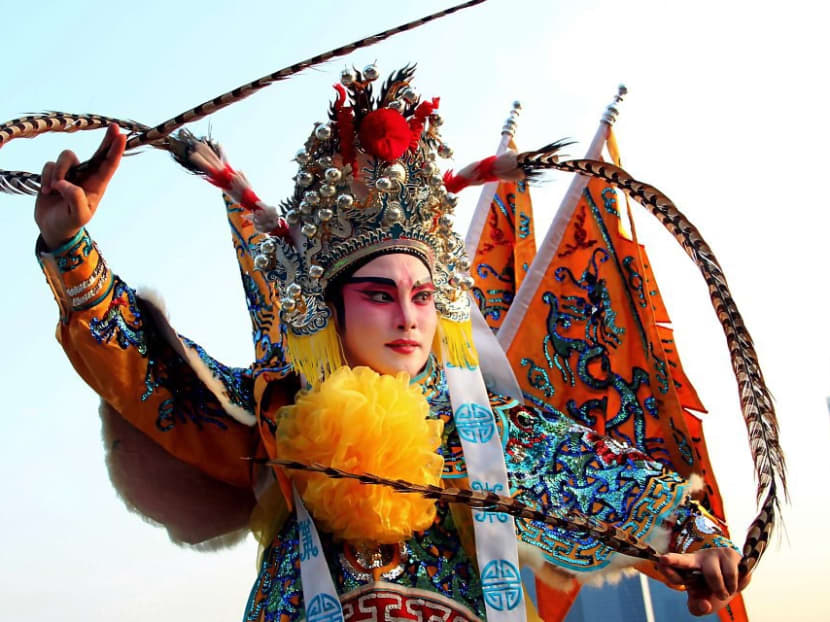 In 2015, Mr Shen was invited to Germany to perform Chinese opera, after he clinched the 10 Outstanding Young Persons of the World Award organised by Junior Chamber International for his outstanding achievement in the culture scene.
In recent years, he has also received commissions to perform at company events as well as schools, museums and government events.
"We have had westerners and government agencies who employed our services … I realised that Chinese opera has a huge market in Singapore, especially during Chinese New Year and other traditional Chinese festivals," Mr Shen said.
On quieter months, they get bookings for two to four shows, going up to a peak of more than 20 shows during the busiest months when traditional Chinese festivals such as Hungry Ghost Festival are on.
This, however, has not always been the case.
ROUGH START
When he quit his full-time job to focus solely on Chinese opera, some friends persuaded him to "think twice". Some said Chinese opera would not go far in Singapore market, while others commented the name he chose — Tok Tok Chiang — sounded like a name for Chinese funeral company.
In his first year of operations, public interest in the art form was tepid. Other than the usual clientele of museums or clan associations, asking for performances to mark certain traditional Chinese festivals or deities special days, there was no demand for his services.
Not only did Mr Shen have to dip into his own savings to keep the company running, but he also chalked up other costs such as more than S$100,000 pumped in over the years to buy opera-related costumes and props, as well as another S$30,000 in business management course fees to help him get ready to run his own company.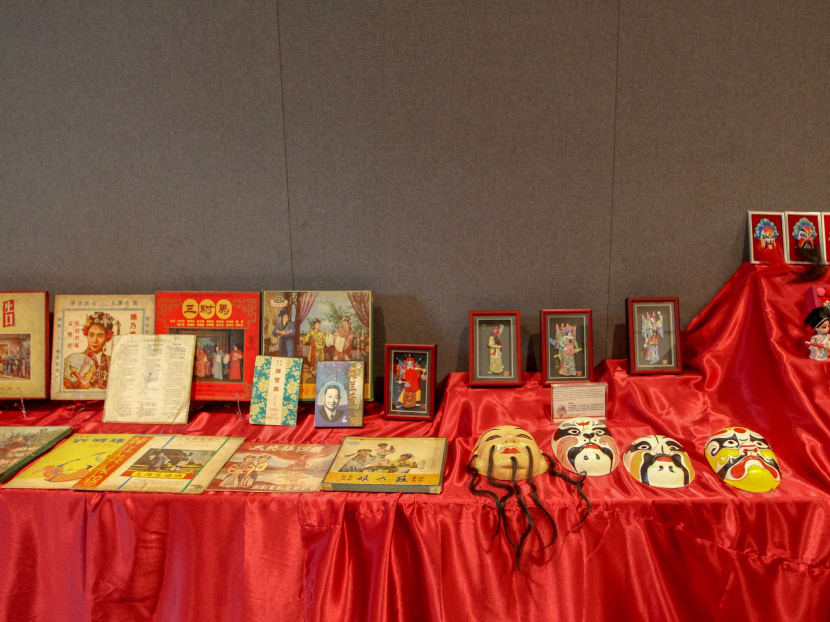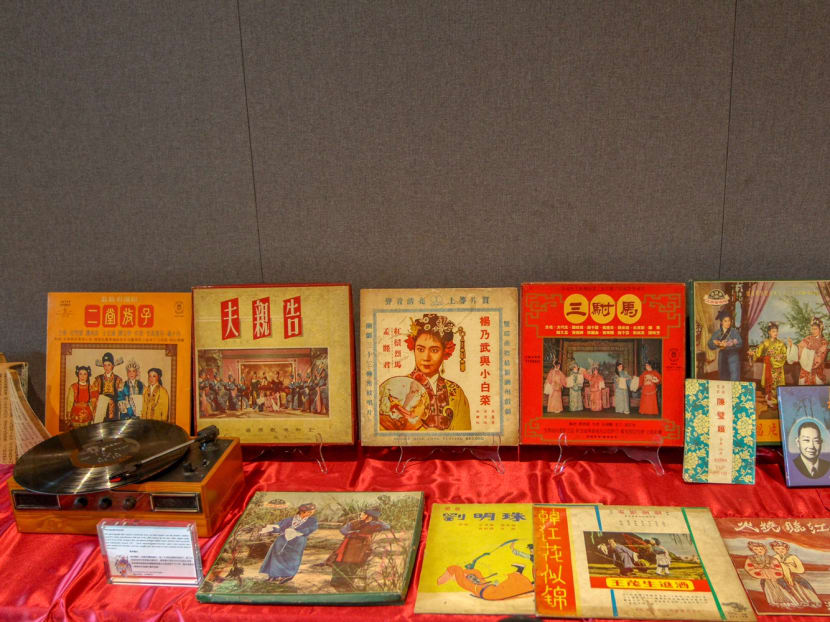 In spite of the challenges, he pressed on. From collaborating with other opera troupes and freelancers, his company now has two troupes under its wings.
In May last year, he took over one of Singapore's oldest Chinese opera troupe, the 154-year-old Lao Sai Tao Yuan Teochew Opera Troupe. This was the troupe which his grandfather, who used to play the drums, used to perform with.
The owner, seeing his interest in the art form, approached him to take over the troupe. Another owner of a traditional puppet troupe called Lao Sai Bao Feng Teochew Puppet Troupe also bequeathed him their troupe which is more than 70 years old.
With no experience handling a street opera troupe, which had more than 30 members, some of whom had been performing with it for decades, he said: "No one believed that I could make it. Many of them already made the firm decision to quit, but I pleaded with everyone to stay, and tried to accommodate to everyone's needs. Perhaps it was because of the resilience that was built by my dad, I sustained."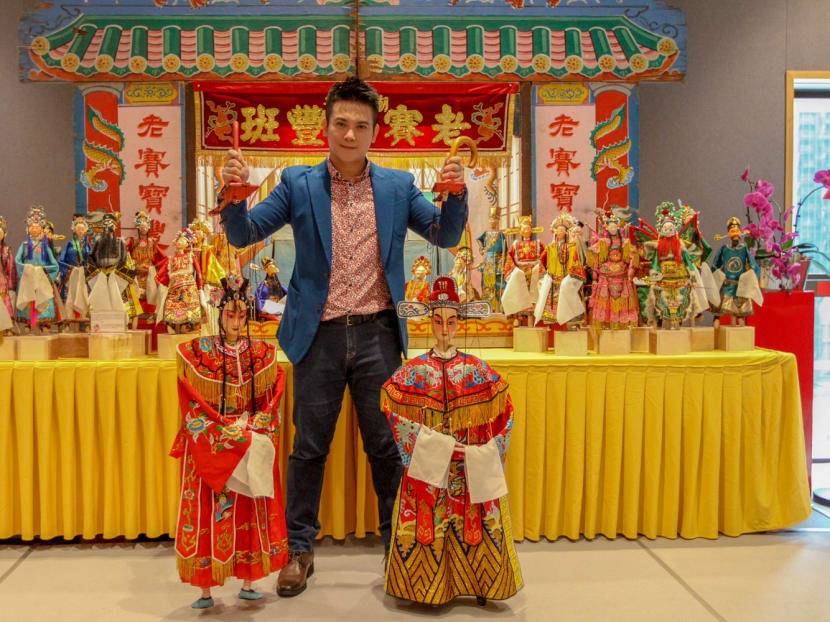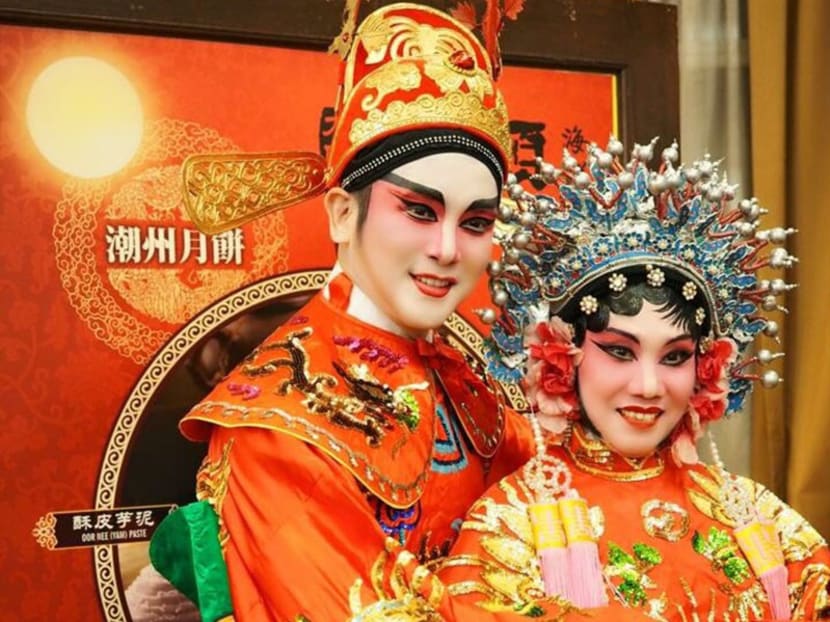 ONCE A 'SHAME' TO THE FAMILY
Mr Shen's love for Teochew opera stemmed from his childhood days. His grandfather was a drum player for Lao Sai Tao Yuan, and his grandmother used to take him to watch the opera performances in their Tanglin Halt neighbourhood, and taught him moral values.
He loved it so much that he wanted to become an opera performer. His father was dead against it.
"My father was worried that I won't have a future if I become a opera artist, and it is like a 'shame' to the family," he said. "The more he disagreed, the more I persevered. He built the resilience in me."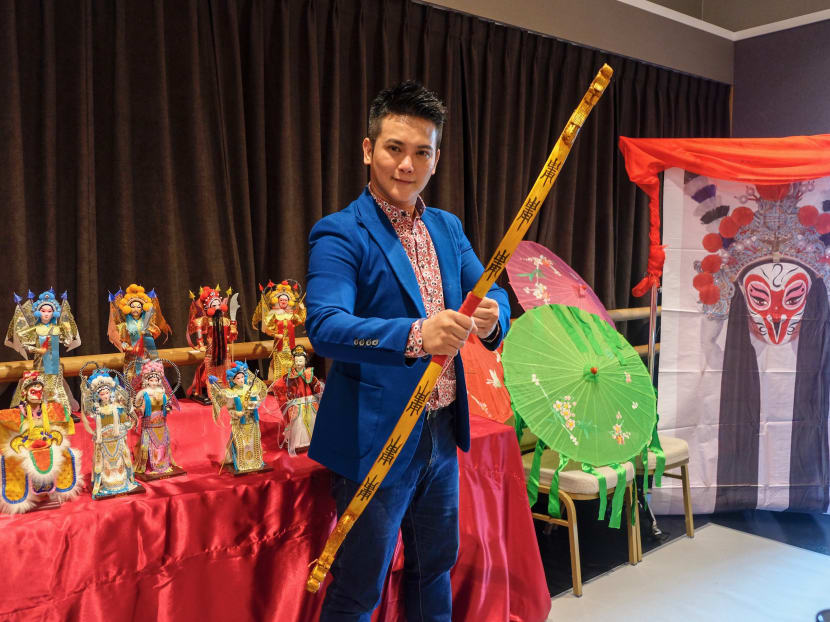 The young Nick used poster colour to paint his face and draped a towel over his arm, pretending it was the elongated sleeves of the opera costume.
When he turned 13, he ran away from home for a month to "intern" at a opera troupe during the school holidays. There, he learnt it takes one hour for an opera performer to put on his make-up, and four people are needed to help a performer put on his costume.
Then there was the challenge of having to memorise and recite the lines in Teochew dialect which use phrases not commonly heard in daily conversations.
"It was a dream come true, I finally had a chance to perform with my idols," he recounted.
Despite being paid only S$3 for the whole day's work, and having to don the bulky opera costume in Singapore's hot and humid weather, he had no regrets. In fact, that stint made him love opera even more.
"(It was) best period of my entire life, given a chance I'll still run away from home," Mr Shen said with a laugh.
RETURNING TO HIS FIRST LOVE
But he needed to show his father that he could stand on his own feet. So when the Star Search opportunity came along, he leapt at it.
"There are similarities between being a Chinese opera actor and TV actor. Both require acting skills, and I wanted to gain exposure to different mediums. It was also a very rare chance, especially after I won Star Search. Plus, I had to fulfil the two-year contract too."
TV acting kept him busy until many years later, after talking to his entrepreneur friends and mentors, he plucked up the courage to pursue his first love — Chinese opera — again.
Today, his father has changed his mind about his son's involvement in the art form. The older Mr Shen would even help him put on his costumes and even cheer him up when he meets with setback in his new career, Mr Shen said.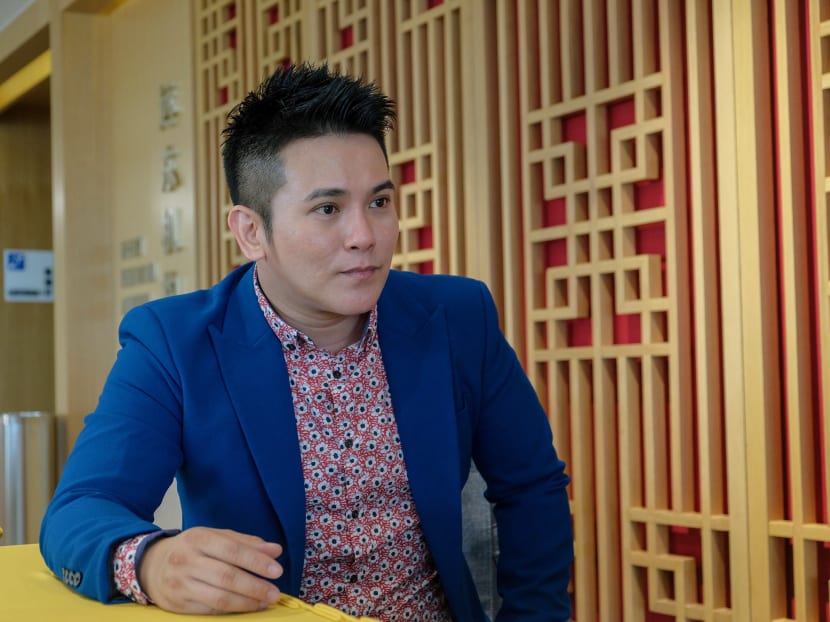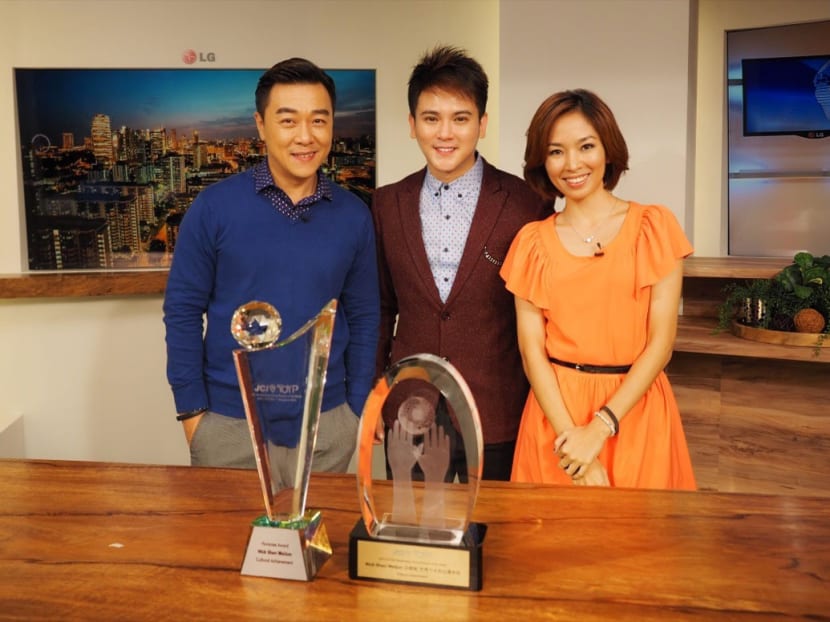 And getting to perform in Germany after winning the 2015 award was great encouragement to him. He said: "(Opera) was something that my dad looked down on, something that my classmate used to laugh at me for. I never thought that one day I could represent Singapore on the world stage to share my passion for Chinese opera."
His plans for the coming years are to make a film about Chinese opera and to take his troupe members to perform on international stages.
He said: "I hope to take them all around the world to perform … all these old performers who dedicated their youth to street opera performance, if they have a chance to represent Singapore and go overseas to perform, they will feel very proud and happy, this may be one of their biggest achievements in life as a local artist."
CLARIFICATION: An earlier version of this story stated that the Lao Sai Bao Feng Teochew Puppet Troupe is more than 30 years old. Mr Nick Shen has clarified that the troupe is more than 70 years old.