Singapore's 'quail man' could lose decades-old farm amid industry shake-up
​SINGAPORE — It is one of the oldest surviving farms in Singapore and the bigger of two quail egg producers here. But in three years' time, Mr William Ho may lose the decades-old business started by his father, pioneering poultry farmer Ho Seng Choon, who died in August at the age of 95.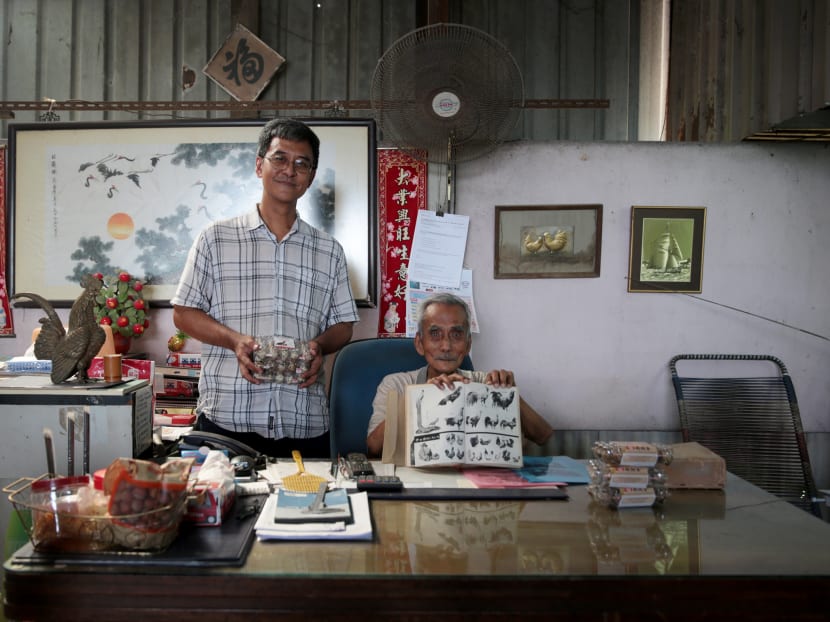 SINGAPORE — It is one of the oldest surviving farms in Singapore and the bigger of two quail egg producers here. But in three years' time, Mr William Ho may lose the decades-old business started by his father, pioneering poultry farmer Ho Seng Choon, who died in August at the age of 95.
Mr Ho, 52, failed to secure either of the two land parcels in Lim Chu Kang awarded last Friday (Dec 21) by the Agri-Food and Veterinary Authority (AVA) for quail egg farming.
The lease of his current 2.7-hectare farm runs out in December 2021, after a two-year extension given by the AVA last year.
When an AVA officer called him last Friday about the results of the tender, Mr Ho had just finished hosting an educational tour for a group of kindergarteners. "My face changed," said Mr Ho, who is affectionately known as "Uncle William" in the tight-knit Kranji farming community.
The news came as a "big blow", he told TODAY on Friday night. "I put in so much effort into the industry and now (I get) nothing."
He hurried to the AVA's office with his 61-year-old brother — one of five other siblings who are also involved in the business — but learnt that the authority's decision was final.
Mr Ho's Lian Wah Hang Farm had bid for both land parcels, which cost a total of S$977,000 and were launched for public tender on June 26 together with five vegetable-farming plots.
The two successful bidders were Chi Agri Holding — the smaller quail egg farmer here — and chicken egg farmer N&N Agriculture.
The AVA said its tender evaluation committee evaluated all proposals based on production capability, innovation and sustainability, relevant experience and qualification, as well as track record. "Successful tenderers were assessed to be productive, have the relevant experience and track record, and have satisfied the (committee) that they can deliver on their commitment," said the AVA.
INDUSTRY SET FOR A SHAKE-UP
The AVA's tender decision will mean a shake-up of the quail egg farming industry here, but the dust has yet to fully settle.
Chi Agri, which currently produces 18,000 quail eggs a day, is thinking of withdrawing and forfeiting its S$24,000 deposit, said a source from the company, who declined to be named as it has not made a final decision.
The source said it had not expected N&N to secure the other land parcel and felt N&N's established distribution network for hen eggs — which it would be able to tap for quail eggs — would take competition to a level that "does not make business sense" for Chi Agri.
The cost of Chi Agri's planned set-up is S$2 million, the source said.
N&N's chief executive Ma Chin Chew said his company plans to invest S$6 million for its quail egg farming set-up.
Mr Ma told TODAY his intention was "not to chase anybody out". He saw a business opportunity and wanted to try his hand at increasing demand for quail eggs during non-festive months outside of Chinese New Year and Hari Raya.
N&N plans to sell processed quail eggs — such as hard-boiled eggs on skewers — instead of fresh raw ones, said Mr Ma, whose company is behind the Egg Story brand.
He intends to supply about 60,000 quail eggs a day and projects annual sales to be worth S$2 million to S$2.5 million.
Mr Ma said he is keen to tap Lian Wah Hang's expertise and is open to working with Mr Ho in future. "William has been doing some good work, especially in the area of education. (What he does) is good for kids in Singapore. We can possibly work together," he said.
'I PUT MY WHOLE BODY INTO THE WATER'
Mr Ho, who joined the business about 30 years ago, said Lian Wah Hang used to produce 60,000 quail eggs a day.
But since Singapore began importing quail eggs from Malaysia around January 2017, he has cut his supply to about 24,000 quail eggs per day.
With the most experience in quail egg farming here, he had felt so confident of securing land parcels that he nearly paid a contractor a deposit to realise the concept of the new farm, estimated to cost S$5 million.
He had wanted both plots for better economies of scale to compete with cheaper eggs from Malaysia, which he said contributed to a 60 to 70 per cent drop in his farm's monthly revenue of S$90,000.
In an interview during the tender process, Mr Ho said AVA officers had stated their preference for automated processes. But he had said his methods were not obsolete despite not featuring conveyor belts or state-of-the-art tools. 
The bases of cages at his farm are angled at 15 degrees to allow freshly laid eggs to roll onto a collection tray. Brooders – heated enclosures to raise baby birds – are made from household items such as light bulbs and black plastic sheets, but incubators are from a reputed Belgian brand.
Mr Ho said he is open to newer technologies and intensifying land use by going vertical, and had planned for the new farm to feature sheds with improved cooling systems powered by solar and wind energy.
Expressing his disappointment, he said: "I put my whole body into the water. I even almost went bankrupt. Now, (the authorities seem to be) telling me, 'You don't need to swim. Stay on the shore. Forget about this race'."
Asked about his future plans and what would happen to the 200,000 quails on his farm, Mr Ho said he would try to appeal for the authorities to allow him to continue operating at his current premises for another 10 to 15 years.
Responding to queries, the AVA said people in Singapore consumed 37.1 million quail eggs last year, or about seven eggs per person. About 20 per cent was imported from Malaysia.
The authority said Singapore's food comes from diversified overseas sources and local farms, in order to ensure a wide variety and stable supply. "All suppliers, including local farms and importers, will have to compete with other suppliers on an open market," a spokesperson said.
The AVA did not comment on whether more land parcels would be released for quail egg farming.
Farms of the future should be able to "maximise space and resources to result in highly intensive and productive farms that operate on minimal manpower", the spokesperson said.
The Government supports farms' productivity efforts through the Agriculture Productivity Fund and strategic research collaborations, among other ways, she said.