Rape suspect smears faeces on self, courtroom's glass panel; previously exposed genitals to High Court judge
SINGAPORE — A 49-year-old man standing trial for his alleged rape of two 14-year-old girls defecated in his pants, smeared faeces on his white top and is also believed to have left a trail of faeces along a passageway at the Supreme Court before his court hearing began on Tuesday (Jan 14).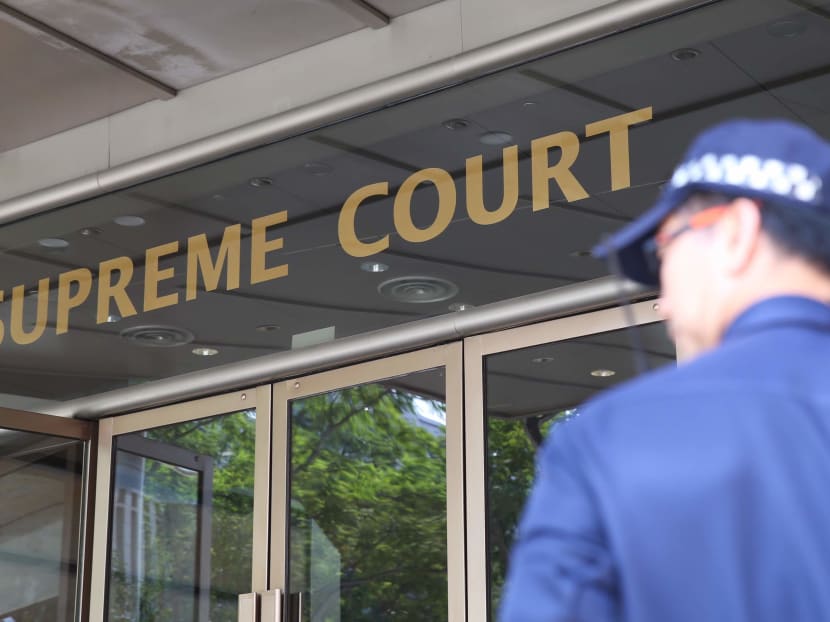 SINGAPORE — A 49-year-old man standing trial for his alleged rape of two 14-year-old girls defecated in his pants, smeared faeces on his white top and is said to have left a trail of faeces along a passageway at the Supreme Court before his court hearing began on Tuesday (Jan 14). 
Isham Kayubi, a part-time deliveryman, had already urinated in his pants and exposed his genitals before High Court Judge See Kee Oon at a previous court hearing last August. 
On Tuesday, prison officers tried to get Isham to wash up and change into a fresh set of clothes several times but he refused to cooperate.
As the court had established during a September hearing that Isham was not suffering from any mental health issues and was just "malingering", Isham's actions left the court no choice on Tuesday but to start the hearing after a short recess, so that his wooden seat at the dock could be cleaned and covered with a plastic sheet. 
SMEARED MORE FAECES ON GLASS PANEL, HIMSELF
A foul smell still lingered in the air-conditioned room as Justice See began the hearing by addressing his behaviour. 
"We have waited over an hour to commence this trial today. I am still prepared to give you the benefit of the doubt and asked... to ascertain if there are any biological issues that needs to be addressed, or medical issues that may affect the control of your bowels," he said. 
"But… if you are found to be perfectly in control of your physical faculties, then all this behaviour… is not acceptable… Now I wish to warn you to behave yourself appropriately."
Justice See continued: "If you choose to be obstructive and interfere with court proceedings, this will go on record. Once again, I warn you that unless there are some indications that you are not in control… these will all be taken into account."
Despite the warning and being shackled, Isham smeared more faeces on his shirt when the first witness was giving his testimony and proceeded to smear some of it on a glass panel cordoning the dock. 
It prompted the judge to ask if the court translator needed a face mask as they continued the trial.
Then before the hearing adjourned for lunch, Justice See noted that a photograph of the smeared faeces should be taken since "consequential action may be needed". 
Deputy Public Prosecutor (DPP) James Chew revealed that more charges are being considered and Justice See said: "This has taken place in the face of the court. It is clearly contemptuous. I already warned him (but he) paid no heed or was unable to understand it." 
Justice See also asked if Isham could be handcuffed to a bar at the dock as an added measure after the lunch break, given the antics that he had exhibited so far.
SUSPECT ALLEGEDLY THREATENED VICTIM
Isham was in court on Tuesday to face four rape charges and two sexual assault charges. 
In an opening address to the trial, DPP Chew laid out that Isham, a member of a motorcycle gang known as Black Pirate, threatened his victims by saying that he would call his friends or gang members over if they refused to have sex with him. 
To one of the victims, Isham apparently made clear that he meant to subject her to a "gang-bang", referring to a gang rape.
The victims, who are both 16 years old now, cannot be named due to a court order.
The offences are said to have taken place at his house in Jurong. He had lured the girls in by promising one of them S$150 in return for cleaning his house, and the other, a mobile phone if she helped him "take care of his house", DPP Chew added.
Summing up Isham's acts as "a series of heinous sexual offences", DPP Chew said: "The accused, being significantly older, exploited (the) vulnerability (of two young victims) by luring them to his house on false pretences. 
"In his house, he raped them and forced them to fellate him. Things did not stop there, and he video-recorded these sexual acts against the victims in his mobile phone, adding insult to injury."
Over the course of the trial, the prosecution will be adducing evidence from 16 witnesses. 
Video recordings retrieved from the accused's mobile phone of the said sexual assaults, as well as footage retrieved from his lift's surveillance camera and police cameras will also be tendered as evidence, DPP Chew said.
Isham is not represented by a lawyer — the lawyers assigned to him under the Criminal Legal Aid Scheme discharged themselves in January 2019. He did not present any case on Tuesday, only uttering incoherent mumblings under his breath.
LURED TO HOME, ASSAULTED AND FILMED
The prosecution said that Isham's alleged two victims did not know one another. 
The first victim was contacted by Isham in September 2017 after a friend used his phone to call the girl. Isham kept the number logged in his phone and followed up by sending her a text message that he had seen her at a birthday party. 
They met shortly after on Oct 15 with the girl thinking that she was to clean his house in return for S$150 but was instead raped at his home. 
When the abuse was over, he gave her a helmet, a Bluetooth earpiece and S$20, DPP Chew said. Surveillance camera footage showed that the girl was at his housing block between about 7.30pm and 10.30pm.
The second victim was introduced to Isham in person at the void deck of her then-boyfriend's block of flats barely two weeks later on Oct 29, 2017.
That same night, Isham asked if she could help take care of his house for him. In return, he allegedly said that he would buy her a mobile phone and she agreed, DPP Chew said. 
Again, once she was there, he sexually assaulted her and raped her twice. 
Besides threatening to call his friends to gang-rape her if she refused the sex, he recorded the assault on his phone and told her that he would expose the videos if she told anyone about what happened. 
When the assault was over, he gave her a lift home on his motorcycle and gave her S$20.
Closed-circuit television records showed that the girl arrived at his block at about 10pm and left at about 1.30am the next day. 
SECOND ATTACK ON SECOND VICTIM
A few days later, on Nov 2, he approached her carrying a hockey stick when she was with her then-boyfriend and a friend below her then-boyfriend's flat. 
He told her he wanted to talk to her, about her telling people about what had happened between them on Oct 29, DPP Chew said. 
However, after the talk at a coffee shop, Isham told the girl that they needed to talk at his house. There, he allegedly raped the girl again in the early hours of Nov 3, similarly threatening to call his friends if she refused to have sex with him. Surveillance camera footage showed that the girl was at Isham's flat between 12am and 12.50am.
The girl's then-boyfriend went looking for her and this eventually led to Isham's arrest on the morning of Nov 3, DPP Chew said. 
She was later examined by a doctor at KK Women's and Children's Hospital who found fresh tears at her hymen, he noted. 
Vaginal swabs taken from the girl were later examined and Isham's DNA was found on the swabs, he added.