#trending: Redditor's map of community cats in Singapore raises question on whether it is helpful or could be misused by abusers
A Redditor created an interactive map that tracks the location and profile of community cats. Some cheered on the idea but many raised some concerns over 'dedicated' cat killers who might use it with ill intentions.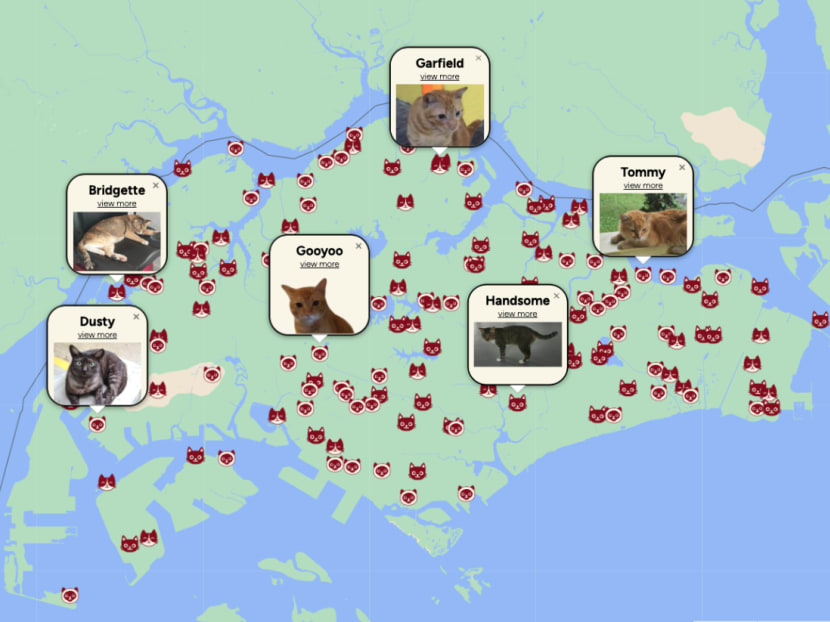 A Redditor created a website that tracks community cats in Singapore, a move welcomed by others on Reddit
The website features an interactive map that indicates the rough location of the cats, their name, sex, community, likes, dislikes and unique personalities
However, some have raised concerns as they felt that the map may pose a danger for the featured community cats as 'dedicated' cat killers may use it to find the felines
SINGAPORE — A crowd-sourced interactive map that tracks community cats across Singapore has divided opinions online on whether it is a useful initiative or a tool that could be exploited by those who harbour intentions to harm strays.
On Monday (Jan 16), Redditor "T-Rekt_Games" announced on the subreddit r/Singapore that he or she had created a website with a map of community cats island-wide. 
"I made this website to raise more empathy for community cats in SG."
"I thought it will be good for people to know more about some of the wonderful cats that live with us, as well as their different personalities," wrote the Redditor, who called for submissions to the map.
While the map had other Redditors cheering on the idea, many raised concerns over whether "dedicated" cat killers could possibly use it with ill intentions. 
Less than a day later, the website — which had 20 cats at the time of the Redditor's post — was quickly populated with crowd-sourced information of close to 100 cats on Tuesday (Jan 17). 
The website features a map of Singapore dotted with cat icons, indicating the rough location of the community cats.
Users who click on the cat icons will be able to find the name, sex, community, likes, dislikes and unique personality of each community cat.
Our personal favourite might just be Cloudy, a white cat which "always looks like it is going through an existential crisis".
Redditors were "litter-ally" in love with the website.
"It's so nice to know that these kitties have people looking out for and thinking of them," said one Redditor.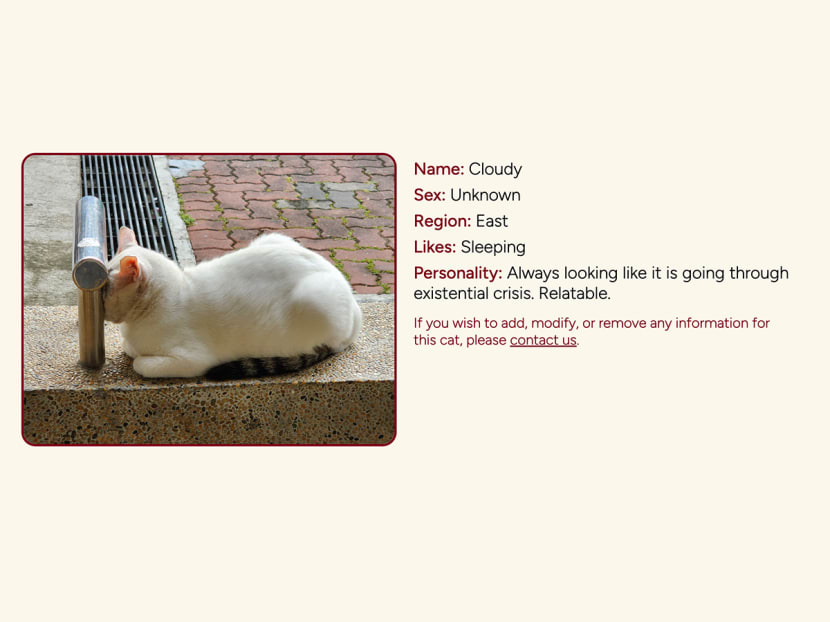 CONCERN OVER 'DEDICATED' CAT KILLERS 
Despite the website having the best intentions for community cats, some Reddit users voiced concern for the safety of the felines.
Many worry that the website will be weaponised by cat killers to search for cats to harm.
"I used to be very active in the cat rescuing scene and you'd be surprised how dedicated some cat killers are to lurk in Facebook groups meant for community cat discussion and rescuing just to find out the locations of cats," said one concerned online user.
"Many feeders and rescuers have reported their community cats going missing after posting about them."
Although "T-Rekt_Games" clarified that the locations of cats posted are not exact and a randomised location within the borders of a community is used to position the cats, some Redditors still questioned it.
"It's very easy to figure out the exact location of the cats like this. Singapore isn't a big country and it doesn't take much to pinpoint where the cats are," pointed out one user.
Another added: "It may seem bizarre but there are some strange people out there, who have a ton of time on their hands to do the most depraved things.
"They could use the background of the cats' pictures to identify the location of the cats, and spend an indefinite amount of time finding them."
One Redditor suggested the Redditor work with authorities for the interactive map: "Have you reached out to SPCA (Society for the Prevention of Cruelty to Animals) or any of the local agencies for input? They may help out or spread word to members, or give you some pointers to avoid."
TODAY has contacted SPCA for comments. 
In response to the online feedback, the creator of the interactive cat map told TODAY on Wednesday (Jan 18) that some changes have been made to further protect the community cats. 
Instead of displaying the community of each cat, the website now shows the broader region each cat belongs to, namely the North, North East, East, West, or Central areas.
Backgrounds of images that could give away the exact location of cats are also blurred. 
Writing to the Reddit community "T-Rekt_Games" said: "In my original website, I chose to display the communities (for instance Bedok) of different cats as I believed it would help people relate with and empathise with them, as well as increase their legitimacy."
"However, many people provided feedback that disclosing the community could still be risky...To further ensure the safety of the cats, I decided to remove all the communities and make the locations on the map even more inexact."