Remove a breast tumour or replace a joint — at a heartland mall
SINGAPORE – A newly opened operating theatre (OT) is drawing a different kind of crowd to a sleepy surburban mall along MacPherson Road.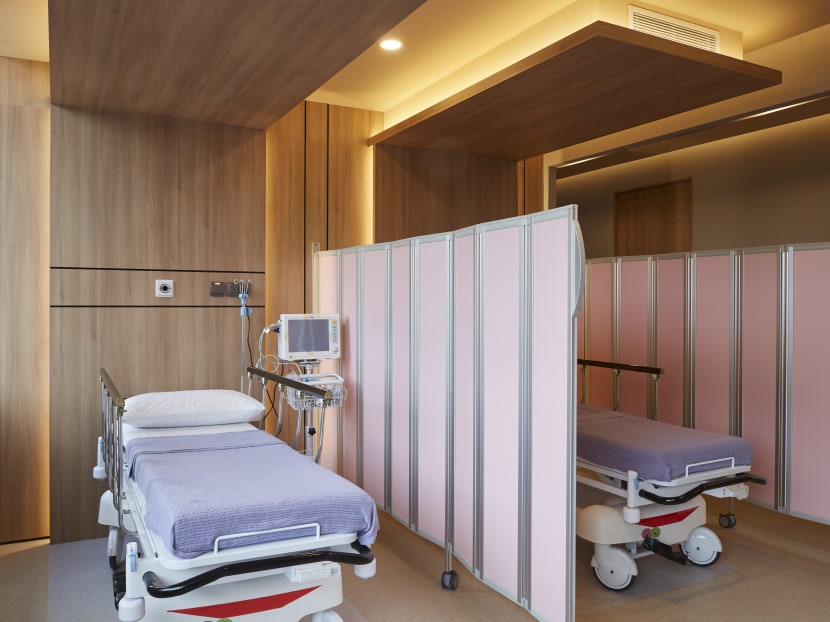 SINGAPORE — A newly opened operating theatre (OT) is drawing a different kind of crowd to a sleepy surburban mall along MacPherson Road.
Women head to surgical group practice FeM Surgery's breast clinic at MacPherson Mall to screen, diagnose and have their breast conditions treated within the day.
Common surgeries performed at the centre include the removal of lumps and bumps, tissue biopsies, drainage of abscesses, piles and hernia surgery, breast cancer surgery without reconstruction, and cosmetic surgery, said Dr Felicia Tan, a breast surgeon and director of FeM surgery group.
The 3,000 sq ft facility with a fully equipped OT officially opened on Feb 11, and charges fees that are lower than what patients would pay at private hospitals. It has on-site pathology services to analyse blood, tissue and other samples, and is equipped to handle breast surgeries carried out via mini incisions.
FeM Surgery's OT at MacPherson Mall is one of several that have opened in the last three years outside hospital premises. Novaptus Surgery Centre at Camden Medical Centre is another that started operations this year.
Also known as ambulatory surgical centres, these same-day surgery centres are equipped to handle procedures requiring sedation or general anaesthesia. As of Feb 1, there are 20 of such Ministry of Health (MOH)-approved ambulatory surgical centres.
Dr Tan said the main aim of opening a centre outside the prime districts of Orchard and Novena was to keep costs relatively low for patients.
"I was frustrated with the high medical costs for surgeries and multiple articles on social media pointing to doctor fees as the main cost. This is not the case as hospital facility fees often make up more than two-thirds of the total surgical fees, and this was on the upward trend," said Dr Tan.
Independent ambulatory surgical centres are an alternative to hospitals for some price-conscious patients, said Ms Wong Ngee Lan, who manages three such centres — Novena Surgery Centre, Aptus Surgery Centre and Novaptus Surgery Centre.
Without compromising on quality and care, the facility fee at the centres may be around 30 per cent lower than that of a private hospital, said Ms Wong. This excludes charges such as surgeon or anaesthetist fees.
Novaptus Surgery Centre — a multi-million-dollar undertaking with four state-of-the-art operating theatres, recovery lounges and private suites — is equipped for a range of surgeries such as plastic, dental and eye surgery. It is also able to do joint replacement, hand, laparoscopic surgery and endoscopic diagnostic procedures.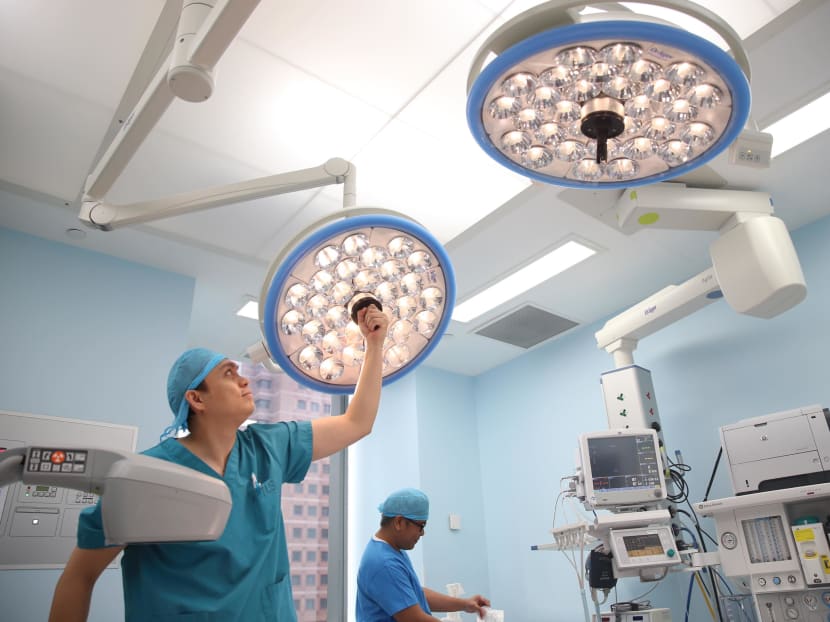 The three-year-old Aptus Surgery Centre at Paragon Medical Centre offers robotic-arm assisted surgery for partial knee and hip replacements.
LESS COMPLICATED SURGERIES
The concept of private ambulatory surgical centres first started in the United States, where there are currently over 5,000 of such centres, said Ms Wong.
The centres in Singapore are usually a partnership between local surgeons and investors, said Dr Lim Beng Hai, a hand surgeon and chairman of the board of directors for Novaptus and Aptus Surgery Centres.
Surgeries performed at ambulatory surgery centres are usually less complicated than those that require an overnight hospital stay.
Patients at these centres are normally healthy or have mild diseases without substantial functional limitations. They may require minor or major surgery, but are able to be discharged within the same day, said Dr Tan.
"Major surgeries requiring patients to be warded for anything more than 12 hours will have to be performed in a hospital setting for safety reasons," she said.   
While the majority of surgeries are still conducted in hospitals, Ms Wong has observed a rising trend of local patients who opt for a day surgery centre. For example, the proportion of Singapore patients at Aptus Surgery Centre has increased from 30 to 50 per cent of its total patient load in the last three years.
"Patients who use our facilities are generally conscious about escalating hospital costs and don't want to wait too long. Compared to admission time, which may take around two hours in a hospital, the waiting time here for admission to the OT is around 30 minutes," said Ms Wong, the director of Aptus Surgery Centre.
Besides more efficient use of time for both patient and surgeon, the nosocomial infection (infection acquired in a medical facility) rate at such centres is also lower than in hospitals, said Dr Lim.
"The chances of acquiring infection in the centre is very low as we are selective with patients. We don't deal with the high-risk cases such as the very young, or those who are very sick with multiple chronic conditions or infectious diseases and need specialised care in a hospital," said Ms Wong.  
There has not been any case of centre-acquired infection at Novena Surgery Centre since it started operations about a decade ago, she said.  
STANDARDS TO MEET
The operating standards of ambulatory surgery centres are similar to that of hospitals here.
Clinics need to comply with the additional regulatory requirements and standards in MOH's Directives for Private Ambulatory Surgical Centres Providing Ambulatory Surgery, said a Health Ministry spokesperson.
The standards include maintaining the necessary trained personnel, facilities, equipment and documentation for proper management of patients before, during and after operations, proper infection control measures, as well as a proper quality assurance framework.
Dr Tan said her centre is fully-equipped and has standard operating procedures in place to deal with surgical emergencies. This includes access to emergency blood supplies, ambulance services and tertiary hospital facility for any serious complications that may arise.
Among her first patients to use the OT was a 46-year-old woman who had a breast nodule removed.
The patient, a manager who works in the public sector, chose to have her surgery there due to the shorter waiting time. She checked in for her procedure at 8.30am and was discharged around lunchtime.
"I'm an impatient person and didn't want to wait to get my treatment done and over with due to my work schedule. Initially, I was quite shocked by its ulu location but when I went there, I was impressed with the clinic's setup and had a lot of confidence in the team," she told TODAY.
POSSIBLE RISKS IF SOMETHING GOES WRONG
However, some doctors noted the constraints of ambulatory surgical centres in certain scenarios.
Should unexpected events occur, there may be a delay in support, said Dr Desmond Wai, a consultant hepatologist and gastroenterologist at Mount Elizabeth Novena Specialist Centre.
For instance, a patient may develop chest or abdominal pain an hour after a scope carried out in a centre located a distance away from a hospital, he said.
"The endoscopist would have left the venue and returned to the hospital, and there may be delay in medical care if the ill patient has to wait for the doctor to go back to the endoscopy centre in the heartland from the hospital," said Dr Wai.
Approximately one in 20 scopes that Dr Wai performs are at an ambulatory surgical centre. The choice of location is usually up to the patient, if the procedure is simple and the patient is young and fit with no other medical concerns.
"For scopes that are complex, like bleeding, or if the patient is unwell or elderly, it is safer to do them in a hospital setting. Just imagine if I need help during the scope, I won't be able to get help if I am some distance away from a tertiary hospital," said Dr Wai.
"If for example, a patient deteriorates suddenly and I need to send the patient to the intensive care unit (ICU), it will take a lot of effort to bring an ill patient from (the day surgery centre) to hospital ICU," he said.