Residents at Hougang block begin 2-day Covid-19 testing, those living nearby worried about possible spread
SINGAPORE — As people from 116 households at a housing block on Hougang Avenue 8 go for Covid-19 swabs on Friday (May 21) and Saturday, other residents in neighbouring blocks are also getting anxious and cautious about the disease spread.
All residents in the 116 flats of Block 506 Hougang Ave 8 will have to take Covid-19 swab tests
A few cases had been detected in the block
MP Gerald Giam of the district said there were worries among residents about their own health
Residents said they would take more precautions, stay at home more
SINGAPORE — As people from 116 households at a housing block on Hougang Avenue 8 go for Covid-19 swabs on Friday (May 21) and Saturday, other residents in neighbouring blocks are also getting anxious and cautious about the disease spread.
All residents of Block 506 have to go for the compulsory tests as mandated by the Ministry of Health (MOH) after a few cases were discovered there.
Several residents in the area wore two masks when they left their homes and some said that they will avoid speaking to their next-door neighbours for a while. Others told TODAY that they will hunker down at home even more than usual.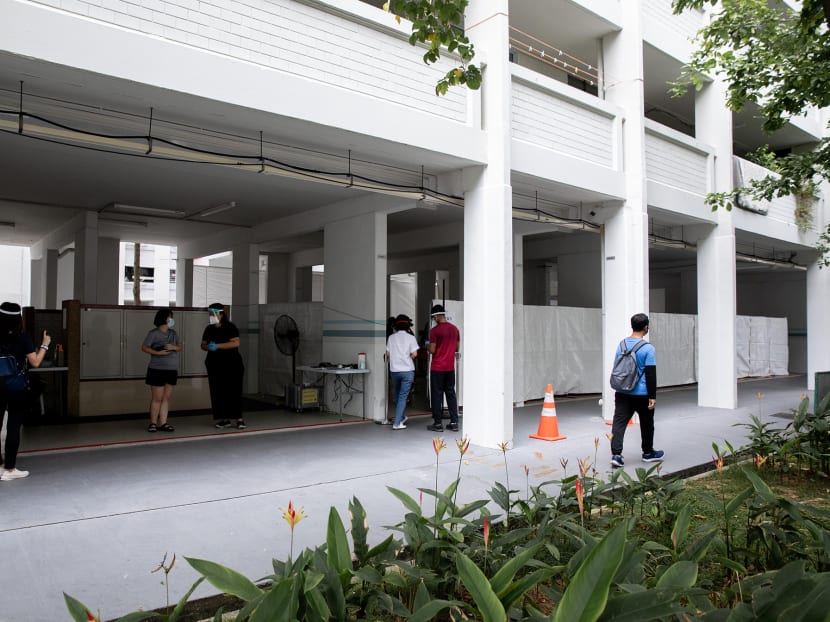 Mr Alvis Lee, 29, an interior designer living near the block, said: "I just read the news this morning and it's very concerning. I think I'll stay home more and avoid social interactions with other people for a while."
The news of the testing operation was announced the day before by MOH as a precautionary infection control measure.
Residents were also advised to monitor their health closely and consult a doctor immediately if they feel unwell.
The ministry did not say exactly how many people living in the public housing block had contracted the coronavirus and how. 
The last time residents of a housing block had to be tested was July last year in Tampines, involving 58 households. The difference is that this latest "special operation" is a must for all.
All residents were given a time slot to go for their tests through phone text messages. The tests started at 1pm on Friday and will end at around 4pm on Saturday.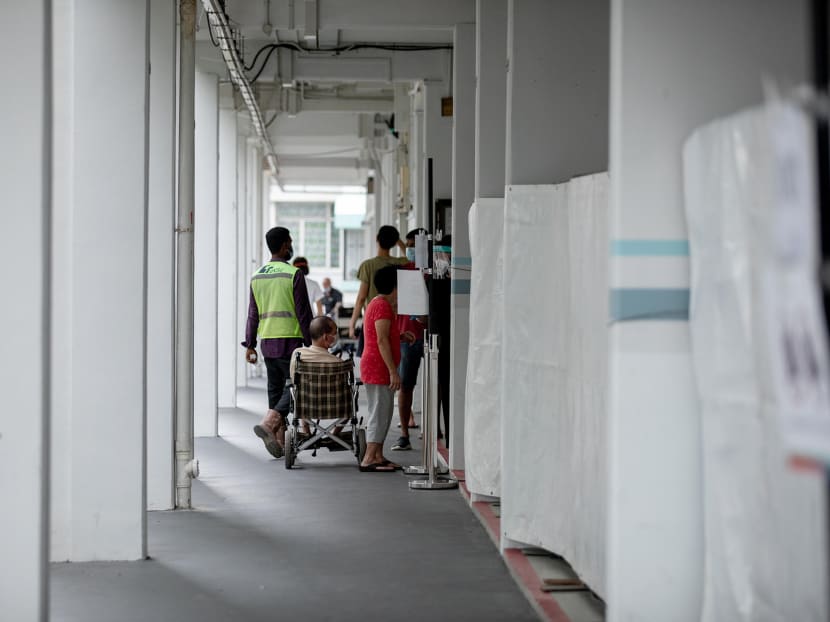 At around 10.30am, the Member of Parliament (MP) of the zone, Mr Gerald Giam from the Workers' Party, as well as Mr Pritam Singh, party chief and fellow MP of Aljunied Group Representation Constituency, were making their rounds in the block to speak to residents, shopkeepers, as well as the Health Promotion Board (HPB) team that was setting up the swabbing site.
Mr Giam told TODAY that he and Mr Singh interacted with only a small number of residents, given the prevailing health guidelines on limiting physical interactions.
A team of conservancy workers from the Aljunied-Hougang Town Council were also undertaking a "thorough wipe-down" of the block, Mr Singh said in a Facebook post.
Speaking to reporters present on-site, Mr Giam said that pre-allocated times were given to residents to avoid overcrowding at the void deck and the tests should be done by the next day.
Mr Giam said that he was not privy to why MOH had made it compulsory to do the tests.
"There is only a small number of people found to be Covid-19 positive, so as a precautionary measure, they want to swab all the residents and I believe it is to minimise the spread from (the infected) residents."
The official advice is also for everyone in Block 506 to stay at home and not have physical contact with other people outside of their homes. Once swabbed, they are encouraged to stay home since it takes time — a day at least — for the test results to be known, Mr Giam added.
"They are not going to be quarantined but they should stay home as much as possible in case they are a positive case."
GETTING CLOSER TO HOME
Residents who spoke to him were taking things in their stride, Mr Giam said, though they were worried about their own health because they do not know how many people in their neighbourhood have the virus.
"I've assured them that the number of cases is small and they just need to comply with the instructions given by the officers over here and MOH," Mr Giam said. He himself does not know the identities of the infected people or the number of cases in the block.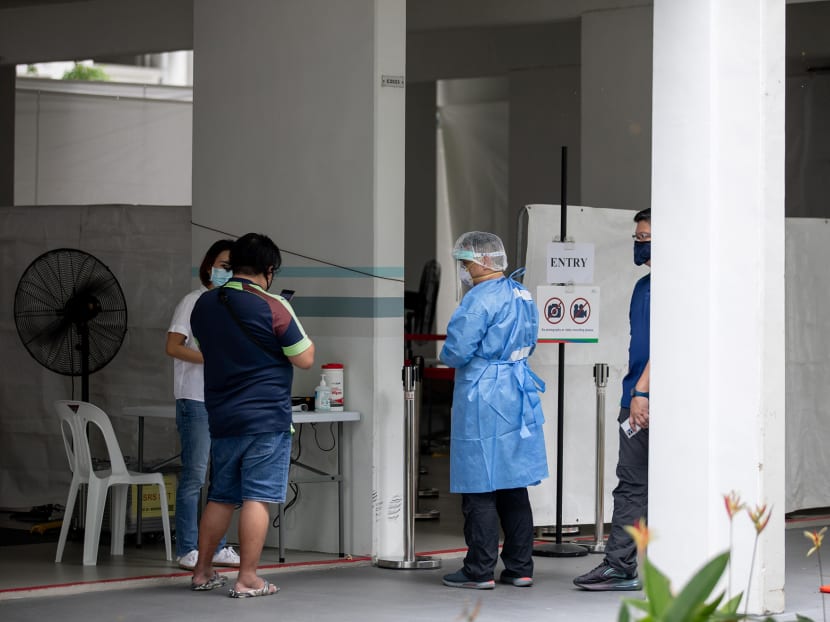 More than 10 residents who spoke to TODAY from a safe distance were slightly worried that Covid-19 is hitting closer to home and that even though the numbers may be low, the test results may show up more.
Block 506 is located in the centre of a cluster of eight Housing and Development Board (HDB) blocks, consisting of mostly three- and four-room flats.
There are several HDB shop units in the void decks of some of the blocks, including a laundromat and a PCF Sparkletots preschool.
Security guard S Selvanayagam, 66, who lives in Block 506 with his wife and two children, said that he was shocked to hear the news of cases among his neighbours on Friday morning, as well as the requirement to be tested.
Gesturing at the teams of medical personnel at the block's void deck, he said: "Seems very exciting, but also quite worrying. We saw an ambulance come last Sunday to pick up some of our neighbours and (have been wondering since) if it had anything to do with this.
"It's better that they are testing everyone, but what should I tell my boss? Should I still go to work after I'm tested?"
He added that his employer told him to report back to the workplace after completing his swab test.
TODAY understands that those who are tested may still go about their day as usual, though they are advised to stay home. They do not have to quarantine themselves.
HOPE THINGS DO NOT TURN UGLY
Some residents such as Madam Tan Gek Yang, 63, a masseuse who lives and works nearby, said that it will be difficult to interact with people from Block 506 without making them feel unwelcome in the neighbourhood.
"Have you seen that video where the neighbour splashes soap at the nurse? That's not right and I hope that doesn't happen here with the people from Block 506, too," she said, referring to the case of two Singaporeans living in Punggol charged with harassing their neighbour, a Sengkang General Hospital nurse, and calling the nurse a "Covid spreader".
If the disease starts spreading in the neighbourhood, Mdm Tan is concerned about how it will affect her massage business — which is still permitted to operate while complying with safety regulations.
Madam Jenny Teo, a cashier at SKT Mini Super Market located next to Block 506, said: "Frankly speaking, I am a little concerned about my safety. I don't know whether customers are coming from the (affected) block or not. 
"I've asked the MP (Gerald Giam) to do more cleaning of the void deck, and I will also take more precautions myself," the 60-year-old said, pointing to the reusable mask that she wore on top of a surgical mask.