Residents of leasehold properties sitting on freehold land face an extra poser in seeking collective sale
SINGAPORE – Many homeowners of the 325-unit Spring Grove condominium are keen to put the prime Grange Road property up for collective sale.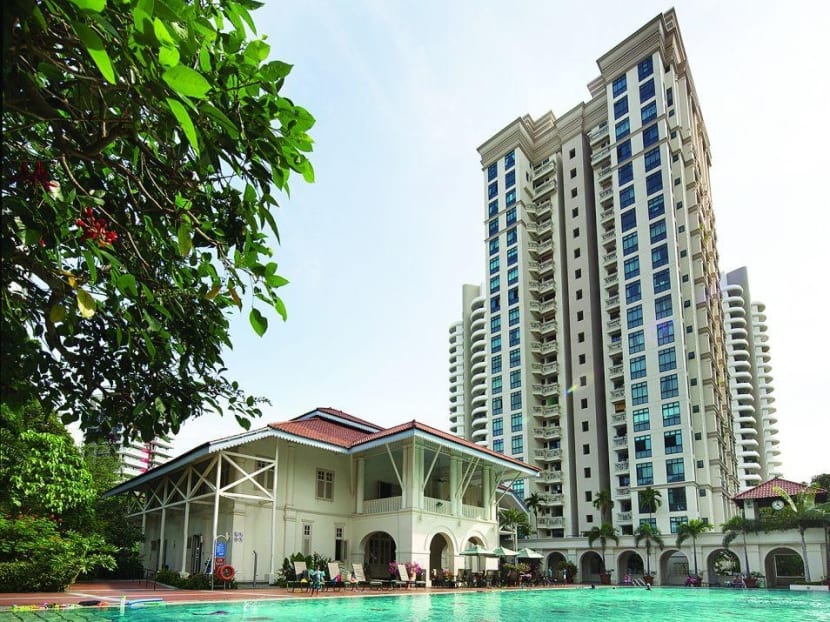 SINGAPORE — Many homeowners of the 325-unit Spring Grove condominium are keen to put the prime Grange Road property up for collective sale.
 
Besides a looming deadline to gather the requisite agreement of 80 per cent of owners, their attempt to push for an en-bloc sale potentially faces another unusual hurdle.
 
The District 10 plot sits on freehold land owned by the United States government but comes with a 99-year lease, and it is unclear how much any potential buyer will have to pay to top up the lease.
Spring Grove is one of only a handful of properties in Singapore with such an unusual lease arrangement.
On Monday (Sept 10), National Development Minister Lawrence Wong revealed in Parliament that there are about 3,000 private residential properties in Singapore that are built on land with freehold and 999-year tenures, but sold on shorter leases.
These units make up 0.8 per cent of the total private residential units, he said, in response to a question by Fengshan Member of Parliament Cheryl Chan.
Mr Adrian Loh, chairman of the Spring Grove collective sales committee, said that 71 per cent of owners have agreed to go through with the sale.
The committee has two more months to get more owners to say yes, before a one-year deadline to do so lapses.
Spring Grove, which has about 72 years left on its lease, is built on the site of a former United States diplomatic residence.
The US government sold the 264,000sqf site to developer City Developments in 1991 for S$80 million on a 99-year lease.
A previous attempt at an en-bloc sale in 2014, with a reserved price of S$1.39 billion, was not successful. The price included S$245 million payable to the US government for topping up the lease to 103 years.
Mr Loh said that the previous bid failed as the market sentiment had turned by the time the development managed to gather 80 per cent of owners to agree to the sale.
This time round, the owners are looking for at least S$1 billion, not inclusive of any payment to the US government to top up the lease.
Such a payment would likely have to be discussed between the buyer and the US government.
He added that the unique lease arrangement is not the reason why some owners are not willing to go ahead with collective sale, adding that there is "no difference" between Spring Grove and another leasehold condominium built on land belonging to the Singapore Government.  
"(For Spring Grove), the developer has to deal with the US government. For other leasehold properties, developers have to deal with the Singapore Government. It's not much of an issue," he said.
Instead, the property cooling measures announced by the Government in July that have resulted in a sharp slowdown in en-bloc sales are more likely why some owners may be reluctant to go for it, he added.
 
LEASEHOLD RESIDENTIAL DEVELOPMENTS ON FREEHOLD LAND
 
Spring Grove is believed to be the oldest leasehold private residential development sitting on freehold land. Most other private residential projects with such a lease arrangement were launched only in the late 2000s.
In 2009, real estate developer Far East Organisation made the rare move of selling the 408-unit Shore Residences on a 103-year lease. It acquired the site in the East Coast area from the collective sale of the former Rose Garden, a freehold development.
Thereafter, it started selling other leasehold properties carved out of the freehold sites it owns — such as the 119-unit Cabana at Yio Chu Kang in 2009, the 231-unit The Scotts Tower in the Orchard Road area in 2010, and the 62-unit Greenwood Mews in Bukit Timah in 2011.
The Chui Huay Lim club — a 173-year-old club set up by Teochew businessmen — also carved out a plot of its freehold site off Newton Road to sell on a 99-year lease in 2008.
 
A 129-unit private condominium, Rochelle, developed by property developer Sim Lian Group, now sits on that site.
Leasehold residential projects have also been built on land owned by the Islamic Religious Council of Singapore (Muis) and those donated by other Muslims for religious or charitable purposes — known as wakaf properties — to be managed by Muis.
The Red House Bakery in Katong, which has been redeveloped into a mixed development with a 99-year tenure starting in 2012, is one iconic example. Others include the six-unit cluster development Alias Villas in Bukit Timah in 2014, as well as the 40-unit East Bay Gardens in Telok Kurau in 1995.
Mr Ku Swee Yong, chief executive officer of property consultancy International Property Advisor, said that carving out leasehold projects from their freehold sites is a very good way of "keeping a long-term asset in (the land owner's) books".
"They not only receive a lump sum of cash upfront, but for every year that passes, the land gets credited back into their balance sheet again," he said.
However, this rare lease arrangement may throw up complications for residents looking to launch a collective sale.
While Mr Loh from Spring Grove believes that the en-bloc sale process at his estate would be similar to other attempts by other leasehold condos, another resident — who did not want to be named — felt that there will be more hurdles to cross given that the land belongs to the US government.
"It depends on ...the price to the US government. It's anybody's guess what will happen," he said. The condominium's unusual lease arrangement did not deter him from buying his unit close to three years ago, he added, because this was outweighed by its location close to Orchard Road and the spaciousness of its units.
At East Bay Gardens, which has 76 years left on its 99-year lease, residents there told TODAY that the development is showing signs of wear and tear.
Mr Rahim Atan, 56, who moved in three months ago, said that there was talk some years back of an en-bloc sale, but residents eventually decided not to go ahead.
He added that there were uncertainties over how an en-bloc transaction would take place there, given that Muis is the land owner. It is uncertain, for instance, if Muis would agree to extend the lease.
Even if 100 per cent of the residents vote for an en-bloc sale, "but the land owner says no, it is a waste of time, effort and energy," he added.
Another East Bay Gardens resident, who wanted to be known only as Ms Foo, said that Muis will be the only party residents can pitch to for a collective sale, because developers will probably not be interested in the small plot of land.
She also wondered if the lack of competitive bidding might mean that the owners are at a disadvantage.
NO PRECEDENT
Analysts said that there is no precedent of a leasehold property built on a freehold land that has successfully gone through a collective sale.
Mr Desmond Sim, real estate consultancy CBRE's head of research for Singapore and South-east Asia, said that private land owners have the freedom to decide how they would want to price their land and the extension of leases.
These land owners can decide whether they want to follow the guidelines set by the Government, he added. 
The Singapore Land Authority's Leasehold Table is one tool used to compute the extra premium that property developers have to pay when topping up leases. The authority said that the Government generally allows leases to expire without extension, because it needs to recover land to meet changing socio-economic needs.
Extension of leases are considered on a case-by-case basis and in the case of residential plots, the Government may allow lease extension if "it results in land use intensification, mitigation of property decay and preservation of community", the authority said.
Property developer Kingsford Huray Development, for instance, had to pay S$231.1 million to the state for a fresh 99-year lease when it bought Normanton Park, located near the Buona Vista area, last October. The 661,000sqf plot was built in the mid-1970s.
Mr Sim said it comes down to the meeting of price expectations between the sellers and the land owners, because the collective sale of a leasehold property on freehold land is not guided by a set of concrete processes.
Knight Frank's executive director Ian Loh, who handled Spring Grove's previous en-bloc sale attempt, declined to comment on the specific terms of that earlier deal. But he said that any such deals boil down to whether the land owners are receptive to a lease top-up and agreeable to the price. 
Property firm JLL's head of research and consultancy Tay Huey Ying said there is still a question mark over how such deals can be carried out, due to the lack of precedents.  
She added that there is a "higher risk" when buying leasehold properties on freehold sites, given that the objectives of the land owner may change over time.
"You cannot take one land owner's decision as a benchmark for another," she said.