Residents in Malaysia, including Singaporeans living there, recount ordeal of 'once in 100 years' floods
SINGAPORE — Pools of water had formed on the roads last Friday (Dec 17) evening from the pouring rain as Ms Rahmalisa Rahmat was on the way back from dinner to her sister's home in Selangor, Malaysia. 
Torrential rains in Malaysia caused some of the country's worst floods in years
Tens of thousands of people have been displaced from their homes and at least seven died
Two Singaporeans and two Malaysians shared their experiences of how the flood took them by surprise
SINGAPORE — Pools of water had formed on the roads last Friday (Dec 17) evening from the pouring rain as Ms Rahmalisa Rahmat was on the way back from dinner to her sister's home in Selangor, Malaysia. 
Her sister told her that it has never flooded in the 10 years that she has lived in Hulu Langat, a district about a half-hour's drive from Kuala Lumpur. 
After midnight, when the floodwaters started rising quickly to almost neck-level and up the stairs to her sister's second-storey unit of a townhouse, Ms Rahmalisa started preparing for the worst.
Ms Rahmalisa, 39, a Singaporean who flew to Malaysia earlier this month to visit her family, told TODAY on Monday (Dec 20): "We really didn't do anything until my sister started to hear from the neighbours from the other side of the neighbourhood that the waters were starting to come in, and then we finally saw water pouring onto the street where we were.
The communications manager who works in the United States added: "We didn't really have a plan besides trying to get emergency services. We tried to call the hotline that was given but couldn't really get through to it. So we just stayed put and thankfully, the waters didn't come up any further."
Tens of thousands of people have been displaced from their homes and at least seven died after torrential rains in Malaysia caused some of the country's worst floods in years.
Among the states where roads have been closed are Kelantan, Terengganu, Pahang, Melaka, Negri Sembilan and Perak, as well as the country's capital city Kuala Lumpur, the Malay Mail newspaper reported.
TODAY spoke to two Singaporeans and two Malaysians who shared their experiences of how the flood — described by a Malaysian official as a "once in 100 years" event — took them by surprise.
Ms Rahmalisa's family lost their two cars, but they did not have to evacuate. Her neighbours living on the ground floors, however, had almost all of their furniture and belongings destroyed. 
On Friday night, her sister invited three of the neighbouring families to seek shelter in her second-storey home and had about 20 people, including two infants, staying with her that night.
"They continue to stay with us because obviously, their entire homes got flooded. All the furniture is destroyed so they can't really stay at home right now," Ms Rahmalisa said on Monday.
"During the day, they are just working to clean up their homes but at night, they will come here to sleep."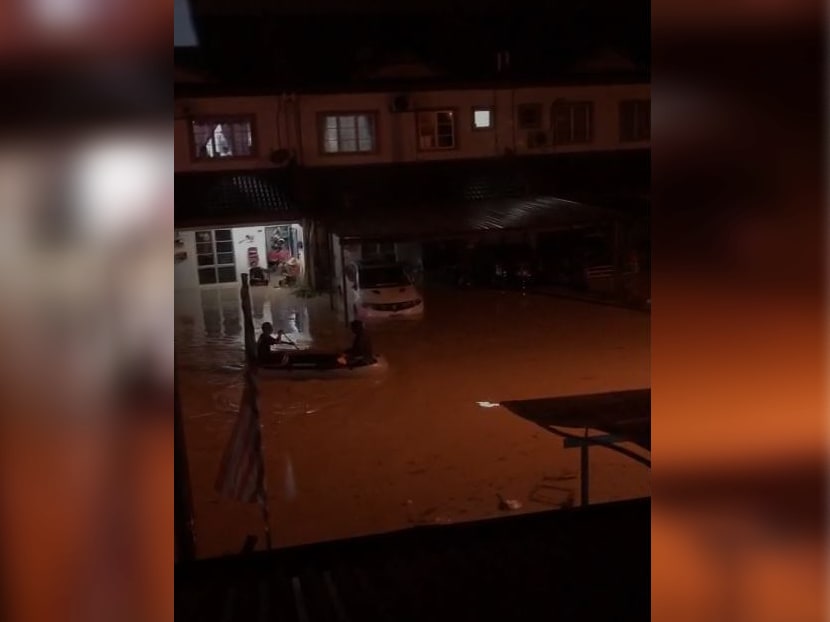 Ms Nurul Atiqah Md Suhaimi, 33, who runs a construction company in Malaysia with her husband and lives in Kajang, Selangor, counted herself lucky to be living on the 22nd floor of a condominium. 
When heavy rain that started on Friday went on into Saturday night, the river in front of her home was so heavily flooded that only the top of the trees was visible.
"At first, I just froze. This has never happened to me in Singapore before and I never encountered this. I didn't know how to react," Ms Atiqah, a Singaporean, said.
It took her a while to process what had happened and she began seeing on social media and in the news how other families were badly affected by the flood.
She came across a Facebook post about a collection centre that opened up near her home and decided to start to raise money for supplies to donate.
"I'm using my husband's pick-up truck to do this. We have the vehicles, so I thought of doing this instead of just sitting around," she said.
Ms Atiqah has since raised RM10,000 (S$3,235), mostly from her friends and family in Singapore.
HIGHWAY EXIT CLOSED
In Shah Alam, about a 45-minute drive from Kuala Lumpur, a highway exit was closed on Saturday due to the flood. 
Among the commuters stuck in their cars looking for an alternate route was Ms Audrey Ooi, 36, who was on the way to her Kuala Lumpur home from her friend's place in Setia Alam, Shah Alam.
Ms Ooi, a Malaysian social media influencer and co-owner of a co-working space, said that she was stuck in the jam for two hours from around 3pm but eventually managed to find an open road back to the city.
"Another friend who was stuck on the highway ended up detouring to a golf course because she needed to use the bathroom, but she ended up stranded because all the roads were flooded," Ms Ooi said.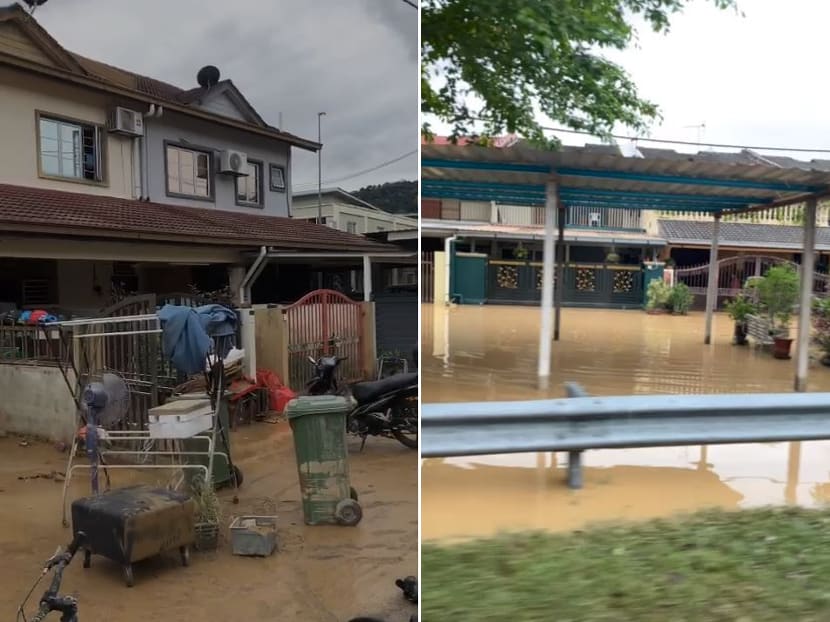 Another Malaysian who was also taken by surprise by the floods was Ms Alice Y, a 31-year-old who works in the digital entertainment industry and wanted to be known only by her first name.
She lives in Shah Alam, about 15 minutes away from Sri Muda, which was badly flooded.
The weather leading up to Sunday had been "quite chilly and gloomy", she noted.
"It was raining almost every day and I even got a pretty nasty cold just staying home." 
Although she did not think that the rain was out of the ordinary in the lead-up to Sunday, she woke up to news on the day that most highways had been closed due to the floods. 
Her immediate neighbourhood was not flooded because it is located on higher ground, but areas further out were.
"On the way to get lunch, I saw really bad floods that reached the second floor of some apartments. I saw families stuck on the roof of their homes," she recalled.
"It was quite surreal that this was happening in our neighbourhood. Apparently, this was one of the worst floods to hit our state in the last 80 years and it affected quite a number of urban areas and general highways, too.
RALLYING TOGETHER
Alice said that she has been heartened by how Malaysians have rallied together to help each other during this period.
During her visits to two evacuation points near her home on Sunday, she observed residents contributing their own boats or kayaks to help those stranded in the floods to reach dry areas, and other residents contributing food to evacuees.
The families who were rescued included many elders, babies and even animals.
"I'm still in shock that this happened in my suburb. I've lived in this area for more than 30 years and have never experienced anything like this."
In Kajang, water levels in some areas are still at around knee-level as of Monday afternoon but Ms Atiqah said that some shops have already reopened.
In Hulu Langat, even though the floodwaters have fully receded since Saturday afternoon, Ms Rahmalisa said that residents in the neighbourhood are still busy sorting their damaged property to find what can be salvaged, with mattresses, sofas and trash lining the entrances of their homes.
Over the past few days, she said that she has seen the community come together to distribute water and food to the residents in the neighbourhood.
"It's very devastating for my sister's neighbours who pretty much lost everything," she added.