Reusable masks that can filter bacteria to be distributed to S'pore residents at end-May: Chan Chun Sing
SINGAPORE — Every resident in Singapore will be able to collect a new type of reusable cloth mask that the Government will be distributing at the end of this month, Trade and Industry Minister Chan Chun Sing said on Wednesday (May 6).
SINGAPORE — Every resident in Singapore will be able to collect a new type of reusable cloth mask that the Government will be distributing at the end of this month, Trade and Industry Minister Chan Chun Sing said on Wednesday (May 6). 
This mask comes with filtration capabilities, unlike the ones distributed earlier in April before the start of the circuit breaker, which was meant to protect the wider community from the spread of Covid-19, he said during a virtual interview held via the Zoom video conferencing platform.
Residents will be able to collect the masks at community centres and residents' committee centres — just like the last round of collection — or get them from vending machines, which will allow for collection after working hours and negate the need to rush for them.
The masks in the vending machines are made by textile company Ghim Li.  
More details on the mask collection will be released closer to the end of May, he added.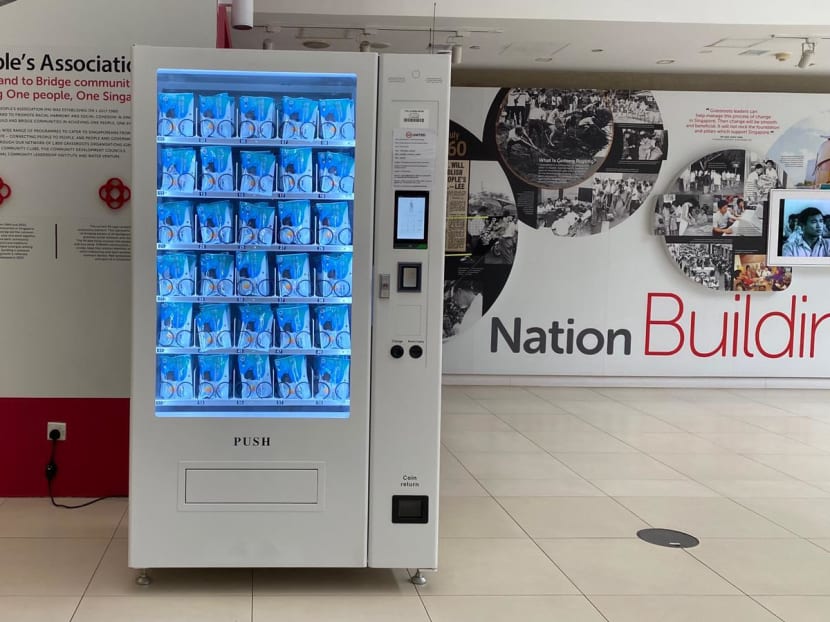 Besides the reusable cloth masks that were given out in April, the Government also distributed four surgical masks to each household in Singapore in February in the initial phase of its fight against the coronavirus.
Mr Chan said that the Government had all along planned to distribute a second round of reusable masks, because reusable cloth masks are not "reusable for eternity", even though they are a more sustainable option.
Tests done in April by research agency A*Star showed that the reusable cloth masks distributed earlier do help to prevent the spread of the coronavirus as they act as a barrier for the wearer's saliva and droplets from infecting other people.
That is why manufacturers have been constantly sourcing for new and better materials and A*Star was roped in to test the materials as part of a continuing process to research and improve the quality of the masks, he said.
In a separate media release on Wednesday, A*Star said that it worked with another Singapore textile company, Ramatex, to design reusable masks. Production began in April, and these masks may be among those distributed to the public.  
In addition to the new filtration capabilities, Mr Chan said that this new batch of reusable masks will allow wearers to breathe better, so that they can wear them longer, though he reminded users that no mask is 100 per cent foolproof.
Producing reusable face masks requires an optimal balance between breathability and filtration capabilities, he added.
Mr Chan declined to reveal the material used to make the new reusable masks, adding that it is "proprietary knowledge".
"When this thing works, there will be demand for it and we want to make sure our supply lines are not disrupted," he said.
In response to queries from TODAY, A*Star said that bacterial filtration efficiency (BFE) tests can determine how well a mask can filter droplet sprays of about 3 microns. These droplet sprays could carry organisms such as bacteria and viruses. 
With a BFE of 98.5 per cent, this means that the mask by Ramatex can block 98.5 per cent of droplets sprays. 
Assuming that the virus is transmitted via droplets, the BFE test is a "suitable proxy" to predict how efficient the mask is at preventing such a transmission, the agency said. 
When asked to compare the new masks by Ramatex with the ones distributed earlier, Professor Alfred Huan, executive director of the Institute of Materials Research and Engineering at A*Star, said that the earlier version was focused on preventing community spread and is still useful in that aspect, but it was not tested for bacterial filtration.
He said at the same virtual interview with Mr Chan that the new masks made by Ramatex can be washed at least 20 times, with some being tested by up to 30 washes.
"At that point, it still retains sufficient efficacy in bacterial filtration," he added. 
A*Star said that tests conducted by German testing company Tuv Sud showed that the masks' BFE is 98.5 per cent when new, and remains close to 95 per cent after 30 washes. The outer layer of the mask is also able to repel fluid after 30 washes. 
The masks' breathability is also comparable with medical masks, the agency said. 
Prof Huan recommends that wearers wash the masks gently and the frequency of washing will depend on how often the new mask is being used and whether it was used in a crowded or open area.
Ramatex's director Chris Ma said that former seamstresses have come out of retirement to help make these reusable masks. 
"An added benefit is that it has created new jobs in this challenging period," he added.