Rider of 44.2kg e-scooter admits killing cyclist in collision at Bedok; defence seeks probation
SINGAPORE — While speeding on his 44.2kg electric scooter along a shared cycling path, Hung Kee Boon could not stop in time and crashed into 64-year-old Ong Bee Eng.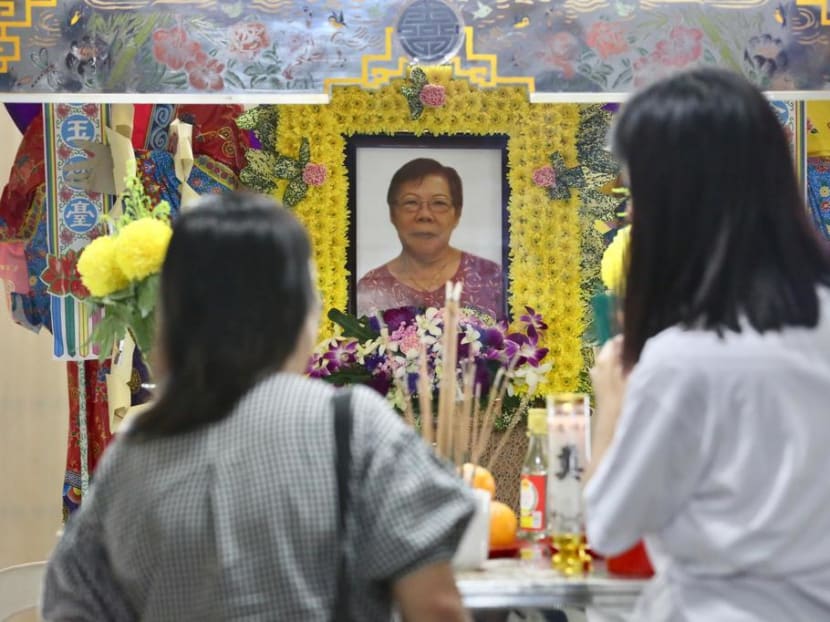 Hung Kee Boon's unregistered personal mobility device weighed 44.2kg
He was speeding at an estimated 27 to 43km/h when he crashed into Ong Bee Eng, 64
The cyclist died from her severe injuries in hospital four days later
It was the first death arising from a collision with a PMD user
Hung is set to be sentenced on May 20
SINGAPORE — While speeding on his 44.2kg electric scooter along a shared cycling path, Hung Kee Boon could not stop in time and crashed into 64-year-old Ong Bee Eng.
Ong, a logistics assistant, suffered multiple traumatic injuries, such as rib and collarbone fractures, and would have likely remained in a persistent vegetative state if she survived surgery. 
She never regained consciousness and died in Changi General Hospital four days later. It was the first death arising from a collision with a PMD user.
On Tuesday (May 4), Hung, now aged 22, pleaded guilty to one charge each of causing Ong's death by a rash act and riding a non-compliant personal mobility device (PMD) on a shared path.
Principal District Judge Victor Yeo will take into consideration a third charge of Hung riding an unregistered PMD for sentencing on May 20. 
Hung, a Singapore permanent resident originally from Malaysia, remains out on bail in the meantime.
The prosecution is pressing for three months' jail while his lawyers, assigned through the Criminal Legal Aid Scheme, asked for a report to be called to assess his suitability for probation. The judge has not ruled on this.
The case was cited in Parliament when the Government announced a ban on the use of e-scooters on all footpaths from Nov 5, 2019. Riders may now use such devices only on cycling paths and park connector networks.
WHAT HAPPENED
The court heard that Hung bought his e-scooter from e-marketplace Carousell for S$2,000 in October 2018, about a year before the fatal accident.
It weighed 44.2kg — more than double the maximum weight of 20kg as stipulated by the Land Transport Authority — and its handlebars measured 72.5cm across. Its maximum speed as specified by the manufacturer was 75 to 80km/h.
Under LTA regulations, PMDs cannot exceed 70cm in width. The maximum speed on public paths is also 25km/h.
On the evening of Sept 21, 2019, Ong was cycling near a coffee shop at Block 539 Bedok North Street 3. She had just bought some drinks for her family at a nearby supermarket.
Her bicycle had attached baskets at the front and rear but no headlights, and she was wearing a light-coloured top and dark shorts.
At the same time, Hung was riding along a cycling path beside the block. He knew he was riding above 25km/h due to the speedometer attached to his PMD, Deputy Public Prosecutor (DPP) Dillon Kok told the court.
Hung continued speeding along the path as he approached a junction, but did not reduce his speed despite the presence of rumble strips — grooved markings that cause vibrations to alert riders or drivers of potential danger.
At this point, Ong rode along the pavement, intending to ride perpendicularly across the cycling path to the zebra crossing.
Hung's view of the pavement was partially obscured by a lit signboard but he noticed Ong entering the cycling path. However, he could not stop in time due to his speed and collided into Ong, flinging her off the bicycle.
An analysis by the Health Sciences Authority after the accident showed that he was travelling between 27km/h and 43km/h before the collision. Ong was cycling at 6 to 10km/h.
Members of the public rushed to Ong's aid and found her unconscious and bleeding from the head. Hung had also sustained injuries but was conscious.
They were taken to the hospital in separate ambulances.
Doctors found that Ong had sustained a severe traumatic brain injury and multiple fractures, including to her ribs and skull. Surgery would be of high risk given the severity of the injuries.
DPP Kok told the court: "Even if the deceased had survived the operation, there is a high likelihood that she will remain in a persistent vegetative state, unable to communicate, fully dependent for activities of daily living and possibly be ventilator dependent. 
"In view of the grim prognosis, the deceased's family decided against surgical intervention."
She succumbed to her injuries on Sept 25, 2019.
Hung suffered a forearm fracture and was discharged from CGH that same night.
HUNG WAS 'MENTALLY PREOCCUPIED': DEFENCE
In seeking jail time, DPP Kok noted that Hung was a young offender but that the "multitude of aggravating factors demands the imposition of a stiff and deterrent sentence".
This included Hung buying the non-compliant e-scooter after regulations and restrictions on such devices had come into effect.
He had also chosen to ignore the rumble strips which were a "clear indication of impending hazards and an obvious sign to riders to reduce their speed", said DPP Kok.
The prosecutor accepted that Ong's bicycle did not have headlights and she did not stop at the junction where the collision happened, but said that an accident would have occurred anyway given Hung's speed.
Ong also would not have expected Hung to "come barrelling towards her" on a path in the midst of a housing estate, he said.
In mitigation, Hung's lawyers — Ms Kimberley Pah and Mr Ng Shi Yang — urged the court to call for a probation report.
Probation is usually offered to first-time offenders between 16 and 21 years old. This does not result in a recorded criminal conviction, and allows young offenders to continue with their education or employment while serving their sentences.
The lawyers told the court that he had been "mentally preoccupied" as his father had just committed suicide. He was left to settle the older man's estate matters alone and had learned of "troubling circumstances" of the suicide from his father's girlfriend, Ms Pah said.
They disagreed with DPP Kok that Ong's lack of headlights and her cutting into the cycling path did not contribute to the accident.
He had also tried to pay respects to Ong at her funeral, sending his friend ahead as he knew her family may not want to see him, but was turned away.
Since the accident, he has suffered "considerable psychological trauma" in the form of suicidal thoughts, sleeping difficulties and "overwhelming feelings of guilt", Ms Pah added. 
For causing death by a rash act, Hung could be jailed for up to five years or fined, or punished with both.
For riding a non-compliant PMD, he could be jailed for up to another three months or fined up to S$5,000, or both.