Rising sea levels: Not urgent or too close to home? Residents in the east give their views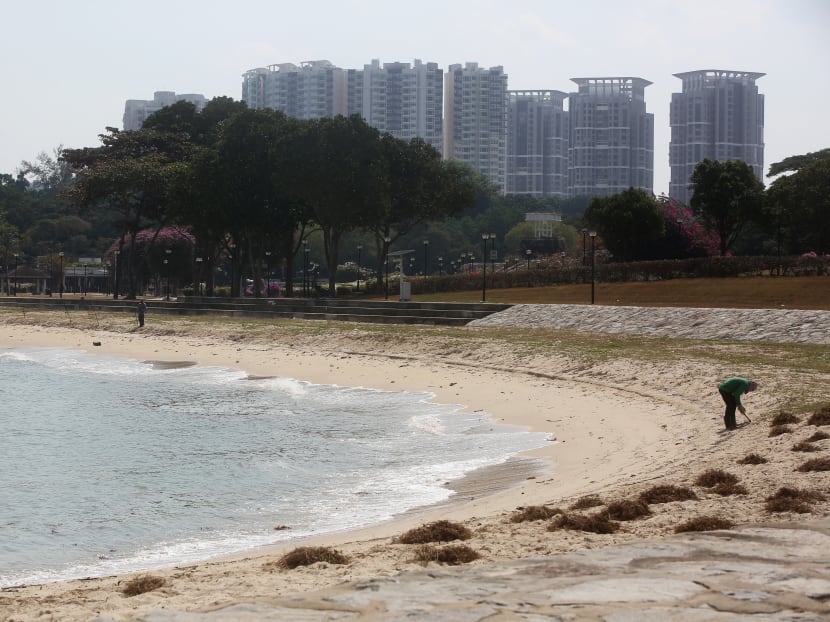 SINGAPORE — One was so assured that she would encourage her children to live near Singapore's eastern coastline even 50 to 100 years from now.
Another wondered if construction work being done to deal with rising sea levels would block the views from his flat.
In getting a quick gauge of how residents living in the eastern part of Singapore think about the future impact of climate change, TODAY found that for some of them, climate change was too far down the road to be a cause for worry.
Others were impressed that the environmental issue was finally getting national attention, but all were generally supportive of the measures to counter the problems related to it.
In his National Day Rally speech last Sunday (Aug 18), Prime Minister Lee Hsien Loong had addressed the consequences of climate change, calling it a "life and death" matter.
He also warned that the areas along the east coast from Changi to the city, as well as Jurong Island, are "more vulnerable" to rising sea levels.
In an email to TODAY, the Ministry of the Environment and Water Resources (MEWR) said that these areas are up to 4m above sea level and will increasingly be at risk when sea levels rise.
For instance, the city to East Coast area, which cover Changi Airport, Marine Parade and the Central Business District, will see a higher risk of flooding.
"If these areas are not properly protected, they would be severely impacted in the event of a flood," its spokesperson said.
PM Lee said that the Government is studying several options — which could cost S$100 billion or more — to build coastal defences against rising sea levels. One of these is to build dykes and polders along the coastline.
Another option is to reclaim a series of islands from Marina East to Changi, and then connect them up with barrages and create a reservoir similar to Marina Reservoir.
'I DON'T KNOW IF I'll STILL BE AROUND'
Among the 10 residents living in the east approached by TODAY, Mr You Hun Wei, 44, a freelance consultant, said he does not think that rising levels will occur in the next few years.
"I don't know if I will still be around by the time (sea levels rise in 50 to 100 years' time), so my concerns are more immediate," the Marine Terrace resident said.
For example, the possible construction work in the area. He wondered if the solutions proposed by the Government could result in a "barricade" which would obstruct the views from his flat.
"It may also take very long to construct a reservoir, and I don't know how that might impact those of us living in the neighbourhood," Mr You added.
PM Lee had talked about the building of polders, which are tracts of reclaimed land that are low-lying or lie below sea level. It is encircled by dykes and water levels are controlled by man-made systems and pumps.
Ms Lim Choo Hin, 57, who lives along Marine Drive, said it is a good idea that the Government is considering these solutions, but she hopes that the infrastructure would still allow for residents to continue with their usual activities such as swimming.
The Government should consult with residents before going ahead with any changes, the office manager added.
With the weather getting hotter in recent years, she also hopes that the authorities will build covered walkways to shield residents from the heat.
Ms Angie Ng, 61, is another resident who did not view rising sea levels as a threat in her area. The transport operator used to live at Jago Close before moving to Bedok South earlier this year.
She has faith that the area will "feel safe" even 50 to 100 years from now and would encourage her children to still live in the east coast area. "It's a nice place, very close to the sea and the air is very fresh. (You) can do a lot of exercising."
'BIGGER FISH TO FRY'
Younger residents such as undergraduate Varun Santosh Ambike, who lives along Tanjong Rhu Road, said it was good that the issues of rising sea levels and climate change are coming up in conversations now.
"At least over the next few decades, we can make the necessary preparations for it," the 22-year old said.
Mr Rishvinder Singh, 25, a teacher who lives in Bedok South, is confident that the Government's plans would bear fruit. The proposed solutions, such as the plan to construct a reservoir, were "tried and tested", as proven by the effectiveness of Marina Barrage and reservoir, he said.
Simei resident Tay Zi Hang, a 23-year-old undergraduate, is glad that there are some solutions "in the pipeline" and it is reassuring to know that he would have a "liveable space" in the east of Singapore in the future.
However, several of the interviewees believe that more could be done by the Government to tackle climate change.
Mr Tay said that "mitigation measures" aside, alleviating the root of the problem and joining the global action against climate change was "the bigger fish to fry".
"There needs to be more debate, more discourse and more action which hopefully lead to more investment, research and bigger-scale decisions that will help to make a difference."
Mr Alvin Tan, artistic director of theatre group The Necessary Stage, said that it should not be viewed merely as a concern affecting only those living in the east.
"Climate change is a problem that is national and global. It won't hit the east, it will hit the whole island…It's one problem that everybody faces together and the world has to transcend our differences and respond to it collectively," the 56-year-old Telok Kurau resident said.