Robots in pre-schools 'make lessons interactive, fun'
SINGAPORE — Telling stories and singing songs, robots could be your child's next learning companion in pre-school if a pilot by the Infocomm Development Authority of Singapore (IDA) proves successful.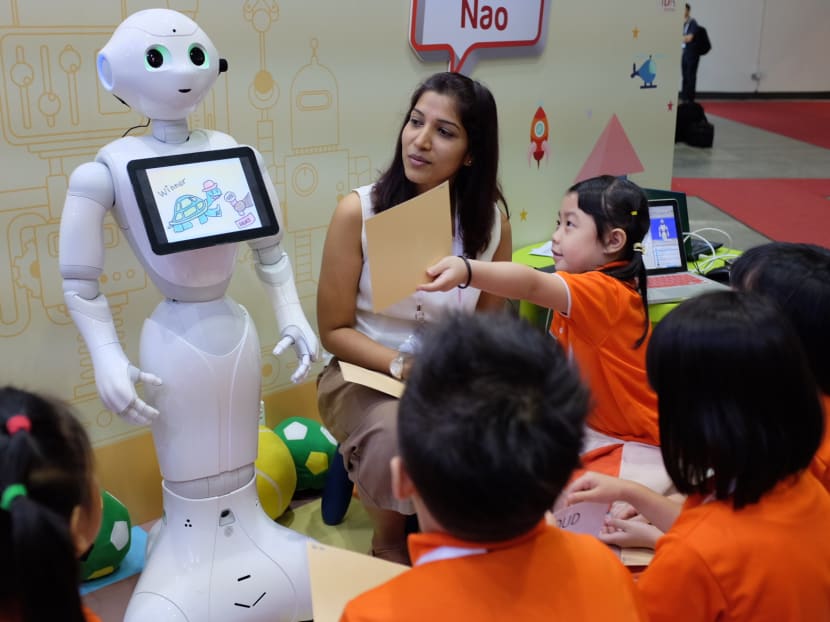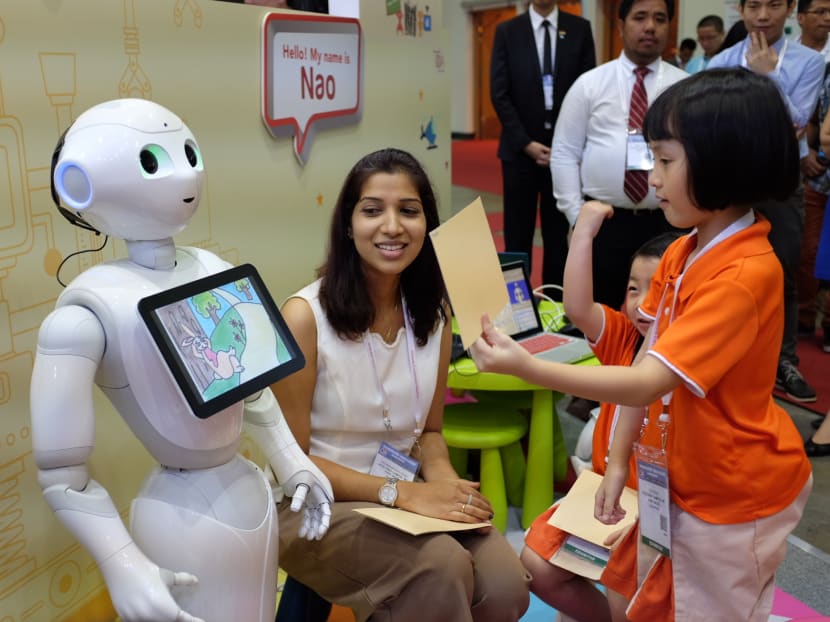 SINGAPORE — When Pepper the robot was first rolled into a classroom at My First Skool at Jurong Point, the six-year-old children were agog with curiosity. "They asked Pepper a lot of questions like: 'Where did you come from, where is your family, how will you grow, what's your favourite colour, how do you sleep?' … One even asked if he had come all alone from Japan. They treated him like a human, rather than just a robot," said teacher Archana Mandar Godge, 35. 
The children were provided with books and videos to get them used to the idea of the robot being the "teacher's assistant", rather than just a tool to play with. Now, they look forward to lessons conducted with Pepper, which can tell interactive stories, play memory games, and even perform songs and dances. Robots like Pepper could become a more common sight in classrooms, should a pilot by the Infocomm Development Authority of Singapore (IDA) prove successful. 
Trials with social robots have been underway since April, with Pepper at My First Skool Jurong Point, and its smaller counterpart NAO at MY World Preschool at Bukit Panjang. The pilot, which runs till October, is conducted by partners such as SoftBank Telecom Singapore and the Nanyang Technological University Robotics Research Centre.
Aimed at stimulating creativity and problem-solving skills, the team will study the impact of robots on early education through collaborative play and interactive storytelling. Teachers will then develop lesson plans that incorporate these robots.
In music lessons, for instance, Pepper can simulate different sound effects and rhythmic patterns to make music, while during maths lessons about counting money, Pepper is able to instantly tabulate answers, thus saving time, says Ms Archana.
Robots can also help improve children's social skills, in helping to coax shy children out of their shells and make them more vocal. Said Ms Archana, "We've seen normally timid children who would start to put up their hands, start to volunteer to come to the front to (interact) with the robot and give opinions in front of their peers."
Pointing to the IDA's PlayMaker programme, where technology-enabled toys were introduced to 160 pre-school centres to foster creativity and problem-solving skills, IDA assistant chief executive Khoong Hock Yun said this spells the "next step forward" with social robots. 
"One of our concerns is that the young nowadays like to play with tablets, which is a one-to-one experience, so they don't quite deal with each other .... With this learning opportunity, you get children (interacting more with each other)," he said. 
He said: "We also need to start with the young and help them learn skills for the future, (such as) computational thinking, coding, design thinking and also story-telling … We believe that coding, story-telling and design are core skills that will stand our young in good stead to seize future opportunities and to succeed in a digital-enabled world."
The trial could be rolled out to other pre-school anchor operators in the future, said Mr Khoong.