Roofing contractor jailed 7 weeks for forging URA approval over renovation works
SINGAPORE — After completing renovation works to the balcony of a freehold landed property in the Seletar area, Lee Xiu Qi learned that its management did not approve of the structure.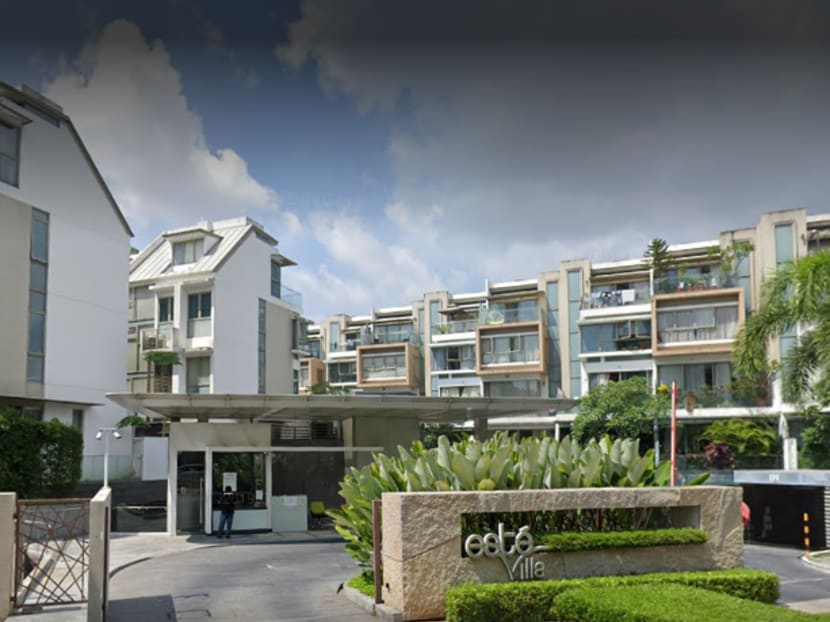 Lee Xiu Qi had already finished building a balcony roof at a strata title landed home 
He then learned that the management of the development did not approve of the stucture
His initial renovation application had been approved by the management in error, his lawyers said
Lee then forged letters from URA purporting to give planning permission for the renovation works
SINGAPORE — After completing renovation works to the balcony of a freehold landed property in the Seletar area, Lee Xiu Qi learned that its management did not approve of the structure.
Lee, the director of Ah Qi Trading and Construction, later forged two letters from the Urban Redevelopment Authority (URA) to avoid having to dismantle the works and disappoint his client.
On Tuesday (April 6), Lee was sentenced to seven weeks' jail after pleading guilty to a forgery charge. The 36-year-old will begin serving his sentence in two weeks' time.
He had set up his company, which specialises in roofing and decking works, in 2007 and had over a decade of experience in the industry when he committed the offences.
The court heard that Lee's client lived in a house at Este Villa — a 121-unit freehold, strata title landed housing development along Nim Road.
She first approached Lee in March 2018 about building a roof to cover the first level balcony of her unit, among other works.
After agreeing to the renovation works, which cost S$24,500, Lee submitted a renovation application to Este Villa's management office. It was subsequently approved.
Lee commenced work on the unit and completed his job in five days, receiving full payment from his client in April 2018.
However, she soon told him that the Este Villa management did not approve of the structure due to certain pillars in it, and asked him to help obtain URA approval.
He assured her that he had applied for such approval before and that she would succeed. He subsequently submitted the application to URA for a proposed roof covering.
NEEDED TO PAY DEVELOPMENT CHARGE
On April 10, 2018, an URA officer told Lee that the gross floor area of the unit would change, given that the roof covering was more than 2m.
Because of this, Lee would have to engage a qualified person — either an engineer or architect — and get a letter signed by the management's secretary or chairperson, confirming that the management council had given a 90 per cent approval by resolution for the proposed works.
In addition, there could be development charges payable to the Government. This is a tax levied on property owners when planning permission is granted to carry out development projects that increase the land value.
While Lee did not know the exact quantum of the development charge at the time, URA has since clarified that it amounted to S$39,650.
Lee then withdrew his application and refunded the processing fee, but did not tell his client or the Este Villa management of URA's response.
Instead, he forged a letter from URA purporting to grant planning permission for the renovation works.
He used genuine URA approvals from his previous projects and edited the text to that of the Este Villa unit.
He printed the letter out and gave it to his client to submit to the management.
In May 2018, the management told her that the proposal in the letter did not set out the wooden pillars that had been constructed.
Lee then forged another document, which purported to show that URA had granted approval for the pillars, and passed it to his client to submit to the management.
In January 2019, the associate director of Este Villa's managing agent sought clarifications from the URA about the forged letter.
The authorities then revealed that they had not granted planning permission for the works.
On Jan 25, 2019, the managing agent then told Lee's client to remove the renovation works within seven days.
Lee offered to dismantle the roof covering free-of-charge on Sept 1 last year, which his client accepted.
He also gave her a cheque for S$9,000 — the estimated cost of the contentious roofing.
INITIAL APPLICATION WAS APPROVED IN ERROR: LAWYERS
Deputy Public Prosecutor (DPP) Cheng You Duen sought at least 10 weeks' jail, while Lee's lawyers — Mr Cory Wong and Mr Josephus Tan from Invictus Law Corporation — asked for a high fine or two weeks' jail.
The prosecutor argued that Lee had circumvented the entire regulatory framework before planning permission could be issued, and that the forgery of documents issued by public institutions "erodes the public's confidence in said institutions".
"(Lee's) fraud defeated the statutory purpose of the development charge and statutory regime and effectively defrauded the Government of S$39,650.80. Public interest mandates that a deterrent sentence be imposed on the accused," DPP Cheng added.
In mitigation, Lee's lawyers said that he did not intend to cheat URA and only meant to mislead his client and the Management Corporation Strata Title (MCST).
They also noted that the MCST had erroneously approved Lee's initial application, though they said they were not trying to find an excuse for his crimes.
For forgery, he could have been jailed for up to 10 years or fined.