'Sadistic' dog abuser seen in viral videos torturing pet jailed 8 months, banned from owning animals for a year
SINGAPORE — A man seen repeatedly beating and torturing his pet dog in a series of viral videos was on Thursday (Oct 7) jailed eight months and disqualified from owning an animal for 12 months.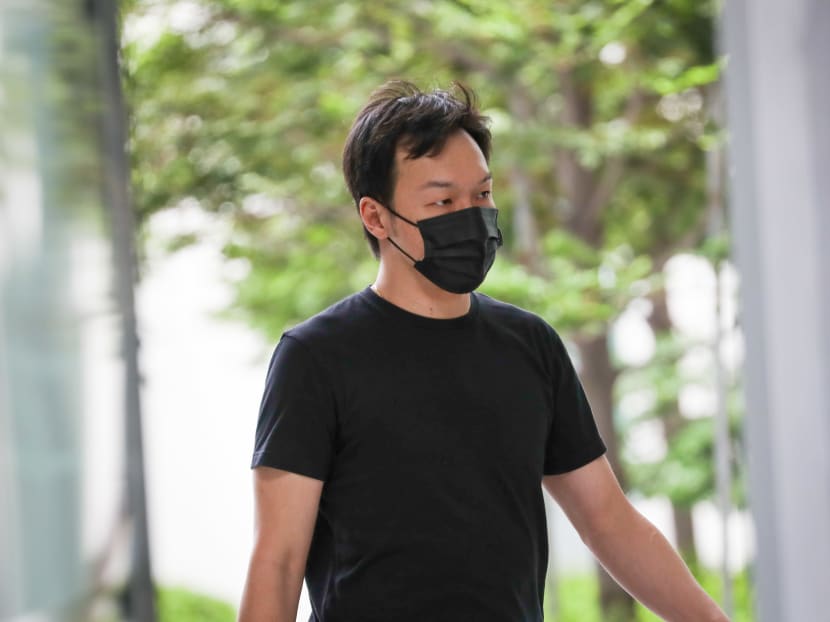 Six video clips of Clement Chia Tian Xiang torturing his poodle, named Leslie, circulated online last year
The 42-year-old was jailed eight months and disqualified from owning a pet for 12 months
Chia produced a medical memo stating he had a mental condition, but admitted he did not need any treatment for it
The judge called his actions "inhumane and vicious"
SINGAPORE — A man seen repeatedly beating and torturing his pet dog in a series of viral videos was on Thursday (Oct 7) jailed eight months and disqualified from owning an animal for 12 months.
Clement Chia Tian Xiang, 42, pleaded guilty earlier to four charges under the Animals and Birds Act of cruelly torturing an animal. 
Two other charges were considered during sentencing, including failing to take reasonable steps to ensure the dog was protected from injury or disease, namely a skin lesion and skin and ear infections.
The clips were filmed between October 2016 and November 2017 in Chia's flat on Farrer Park Road, either by himself or his cousin Chia Yong-Quan. The videos were between 25 seconds and about 1.5 minutes in length.
More than three years later, the clips surfaced online and went viral, leading to his arrest and prosecution in court.
COURT GETS OLD MEMO
On Thursday, Chia's lawyer Foo Ho Chew told the court that Chia's father had died about two months before the offences in 2016, which had affected his judgement at the time.
Mr Foo then tendered a memo to the court and said that he had just been informed by Chia outside the courtroom that he has been "nursing a mental condition" for 10 years.
The memo was issued by Tan Tock Seng Hospital Medical Centre dated April 19, 2012, stating that Chia had chronic schizophrenia. 
The court heard that the memo had previously been tendered to the family court because of a divorce case involving Chia.
When questioned by District Judge Lorraine Ho, Chia admitted that he did not return to the medical centre for any follow-up treatment because he felt fine afterwards.
In response, Deputy Public Prosecutor (DPP) Norine Tan told the court that there was little information that can be gleaned from the memo that would suggest that his condition had any contribution to the present case.
She urged the court not to let the death of a family member be used as an excuse for an offender to get let off with a lighter sentence.
"This was not a case where he was frustrated or depressed… he appeared to have derived joy from what was, to him, casual activities."
Animals have no voice of their own, so abuse cases are hard to detect, DPP Tan added.
"When a case like this comes to the court with such clear evidence, a clear signal should be sent that such actions should not be condoned."
'SADISTIC PLEASURE'
District Judge Ho said that a strong deterrence sentence was necessary to deter like-minded offenders from similar "abhorrent" offences, adding that the poodle looked mentally distressed in the videos.
"The acts of cruelty committed here were not only inhumane and vicious, but he derived a sadistic pleasure (from them)", she said.
Chia was allowed to start his sentence next Monday so that he can take his mother to hospital over the weekend.
DPP Tan earlier told the court that Chia had bought the dog, a male poodle named Leslie, for S$2,000 in 2016. The canine was about four years old at the time.
In one of the clips, which was taken by his cousin Chia Yong-Quan, now aged 38, he had bound the dog's mouth shut with string before beating it with a closed fist several times and holding it down by its neck to prevent it from escaping.
It struggled and could be heard whimpering.
Chia Yong-Quan was fined S$4,500 in July for failing to stop the torture.
In another clip, Chia held the dog up and struck it in mid-air. Its mouth was bound shut with string again. 
In a clip that Chia recorded himself, he could be seen posing and smirking at the camera, then pulling the dog up by its ears and repeatedly punching its face.
Another video showed him forcing the dog to stand up in front of a fan after binding its front legs together. It shivered and almost fell over with its eyes watering.
The clips were circulated in July last year when they were shared by various Facebook users.
Several members of the public alerted the Animal Veterinary Services, a unit under the National Parks Board.
In court, DPP Tan revealed that Chia was given 18 months' probation for rioting in 1996. He was also found guilty of rioting and disorderly or indecent behaviour in 2015.
Other past offences where he was convicted included theft, possession of obscene films, transmitting a false message and failing to stop after a traffic accident.
Those convicted of cruelly torturing an animal can be jailed for up to 18 months or fined up to S$15,000, or both. They can also be disqualified from owning an animal for up to 12 months.