Saying goodbye: Owners go the extra mile for their pet's final journey
SINGAPORE — When Mylo the Jack Russell died two years ago, its body was placed in a specially-modified white coffin lined with cushions, transported in a hearse, and carried into the cremation hall by men dressed in black-and-white formal wear.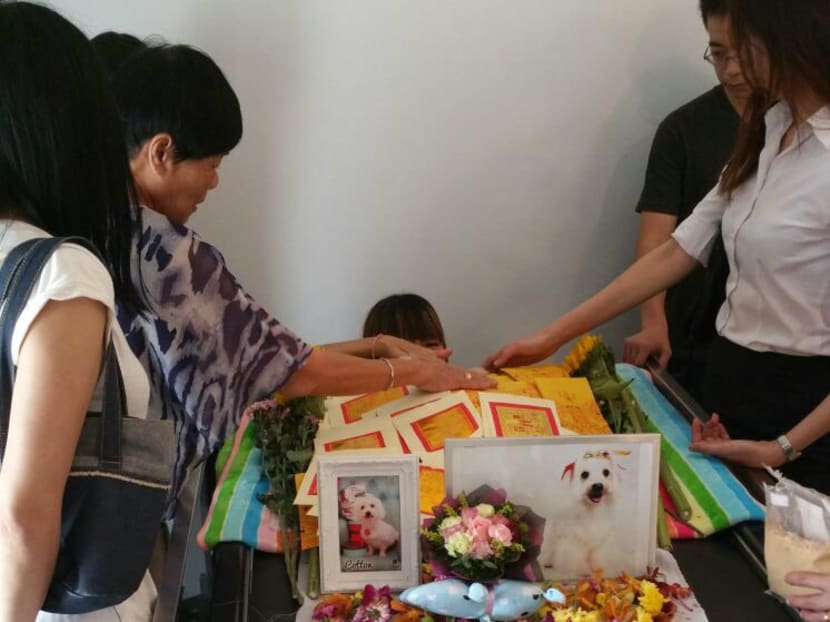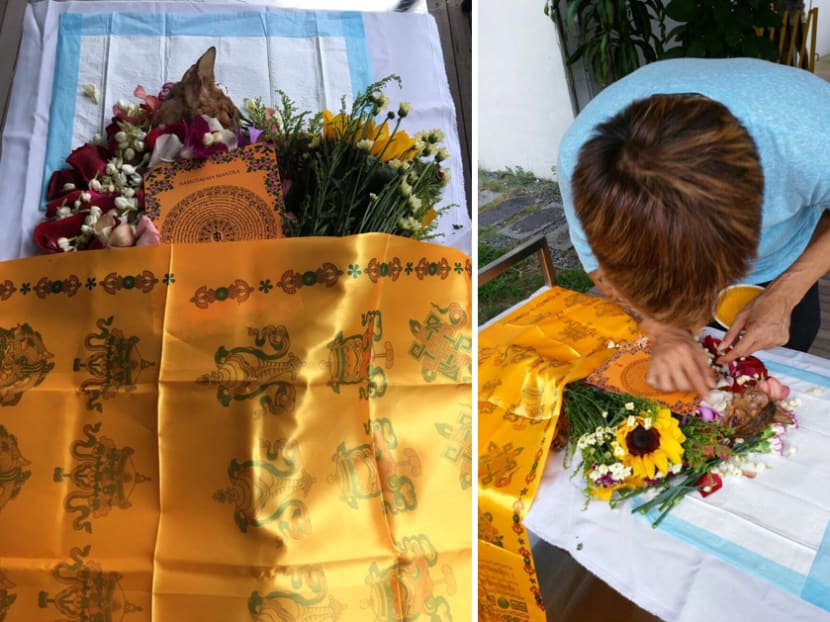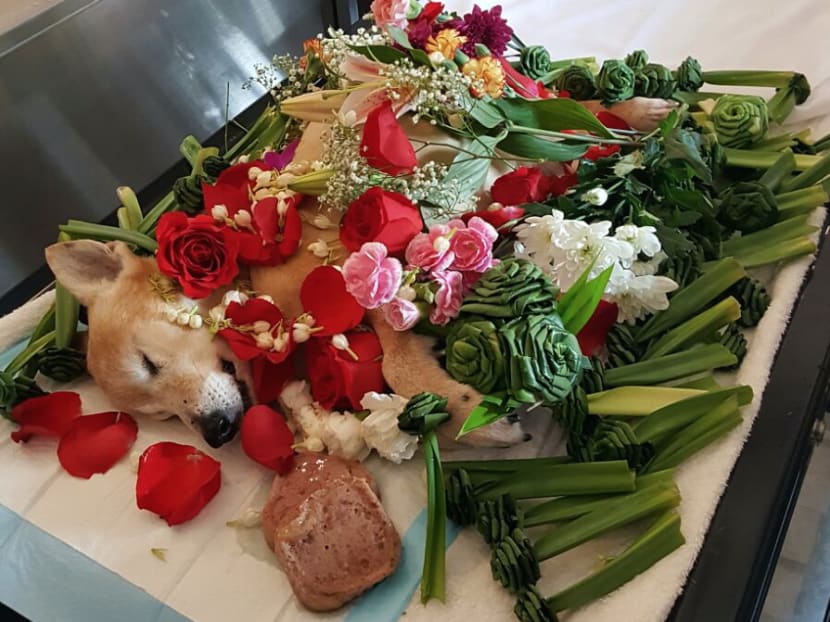 SINGAPORE — When Mylo the Jack Russell died two years ago, its body was placed in a specially-modified white coffin lined with cushions, transported in a hearse, and carried into the cremation hall by men dressed in black-and-white formal wear.
Cotton the Maltese's farewell three weeks ago was not far behind in scale. A monk was hired to chant Buddhist sutras at its funeral, and joss papers and the dog's favourite food like salmon and kangaroo meat were offered up. Later, Cotton's owner, Ms Zoe Tan, set up an altar with the pooch's urn at home. Seven days after its passing, she burnt more joss papers and offered food at the altar.
"Cotton is my daughter. I did what I did because I want to thank her for coming into my life. I hope she is safe and happy now," said Ms Tan, a customer service officer.
To some, such send-offs may seem excessive but to their owners, they were "most appropriate" for a beloved family member. As the number of pets here increase, vets and funeral services have also seen more owners keen on giving their pets a more dignified send-off. This has spurred a slew of services, from pet coffins and religious send-offs, to converting animal ashes into gemstones.
CASKETS, SEA BURIALS
Mylo's owner, Mr Elson Chong, 31, started a pet casket business, Rainbow Cape, after his dog's death. Despite his best intentions, Mylo had to be cremated bare because the casket was too big to fit into the cremation machine. "It was painful for me that Mylo who I consider as my brother was naked when we said our last goodbyes. I am sure other pet owners want something better for their pets as well," said Mr Chong, who is also the founder of Serenity Casket & Funerals.
When he started, people questioned why animals deserve caskets, he recounted. Still, from only two caskets last year, Rainbow Cape has this year sold the cardboard caskets for 10 dogs and cats so far, each costing between between S$100 to S$200.
Mr Alvin Goh, a funeral director at An Lok Funeral Services, offers child-sized wooden coffins for animals upon request, although this has only occurred twice in three years.
His parlour, however, has seen a spike in demand for sea burials for pets over the last one and a half years. There has been 30 per cent more calls asking about the service, and he has conducted some 20 sea burials for dogs since 2015. He charges between S$600 and S$700, and it includes boat rental, hiring religious masters for rites, flowers and final offerings. He has also done two funeral packages, which cost up to S$2,000 and include a casket and sea burial.
Prior to 2015, the company conducted two to three sea burials each year.
Mr Goh, who did a sea burial for his dog 10 years ago, said: "More owners are financially stable, and the family nucleus is quite small, so the trend is that people spend on their dogs, which are treated as children."
Ms Wendy Low, 40, paid S$180 to charter a ferry for her Pomeranian-Japanese Spitz's sea burial. "It's our form of respect to her as she had given to us all these years," said Ms Low. Her family dressed in white for the ceremonies.
Some owners, however, prefer to keep their pets' ashes close to home. Singapore Casket started converting human and animal ashes into gemstones two years ago. It sees five to 10 pet owners each year. Algordanza Singapore only offers the service for human ashes but gets about 50 to 80 enquiries from pet owners annually. It is looking into diversifying its business there.
SINGLE-PET CREMATIONS
More commonly, more owners are opting for single-pet cremations, instead of mass cremations.
Five years ago, up to 7 in 10 owners would choose a mass cremation and most would not bring the ashes home, said Mount Pleasant Pet Crematorium. Now, half its customers choose single or partitioned pet cremation options, which allow for ashes to be returned in an urn. The centre now does about 100 cremations each month.
Business at Tengoku, which specialises in single-pet cremation, has grown by about 5 per cent this year. The company upgraded its equipment this year to a fully automated cremation machine — "a mini version of what you see at Mandai Crematorium" — said operations manager Lucas Lim, 40.
While most cremated are dogs, cat funerals take up about 30 per cent of Tengoku's business. Send-offs for pet rabbits, hamsters, tortoises and even fishes, account for 1 in 10 sessions. In a photograph seen by TODAY, the tiny body of a hamster was placed alongside a child's scribbles and a single stalk flower.
United Veterinary Clinic vet Dr Nicholas Teo, 27, said most owners pick a private cremation now. Among those who do a mass cremation, some believe it is so that the animal will have more friends in the afterlife. Once, a patient kept hair and nail samples from his pet for cloning purposes. "There's no right or wrong. It really boils down to what each of them believe is right for their pets," he added.
Founder of Animal Lovers League, Ms Cathy Strong, often combines Christian and Buddhist practices in her send-offs. "The rites we performed at their cremation are not necessarily a cultural requirement but a means to find closure. It is precisely their stature in the family that we accord them the dignity and respect they deserve," she said.
Nanyang Technological University sociology professor Sam Han said more elaborate pet funerals are not surprising when funerals for humans are getting more varied. "Brochures are showing more options to value add a funeral for humans. This is just being paralleled in pet funerals," he said. "If you make something feasible (by ascribing meaning to it and making it available), people will spend. People spend on clothes for pets. They will do the same for a pet funeral."
According to Euromonitor, there are about 824,600 pets in Singapore, a 1 per cent increase from two years ago.