The science and art behind enduring love and a successful marriage
SINGAPORE — Being kind and compassionate to each other, a willingness to give and take and work out compromises, as well as not being stingy with outward gestures of affection. These acts of love and charity have kept the love going strong in the 30-year marriage between lecturers Raymond Chan and Pauline Chian.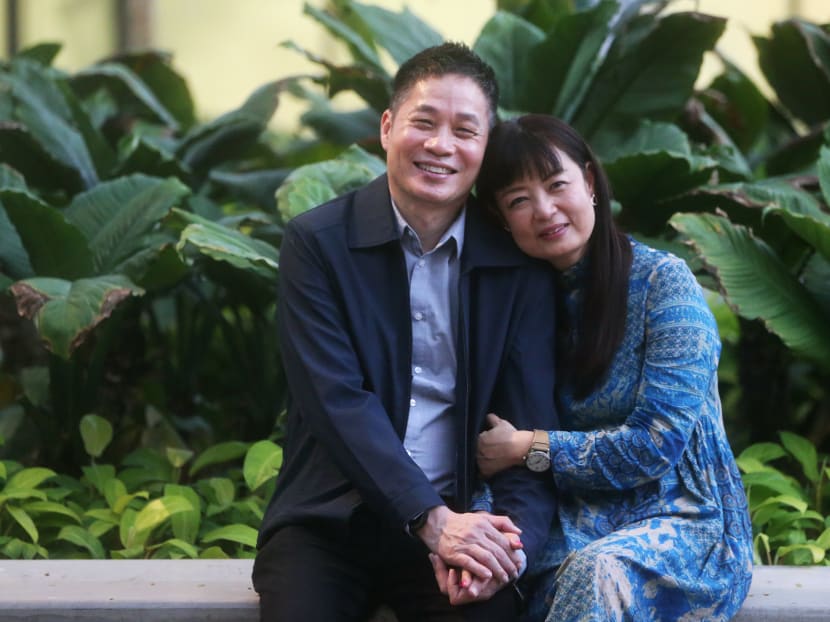 SINGAPORE — Being kind and compassionate to each other, a willingness to give and take and work out compromises, as well as not being stingy with outward gestures of affection.
These acts of love and charity have kept the love going strong in the 30-year marriage between lecturers Raymond Chan and Pauline Chian.
They did not stumble upon some magic formula. Their early years as a married couple were not all smiles and perfection. They had to learn and make some sacrifices in giving in to each other along the way.
More importantly, the couple — now both in their 50s and parent of two children aged 22 and 25 — want younger people to know that sustaining an enduring love is a long walk and needs constant renewal of commitment.
They first met through friends and married after a year of dating. After they tied the knot, she had trouble keeping a lid on her fiery temper and would "blow up over small things". He was bad at keeping tabs on his finances, which led to credit card debts that spiralled out of control.
Each time they faced a rough patch, they had to remember their commitment to each other, They also found common ground through religion.
Mr Chan thinks the lack of commitment is why so many young couples' marriages fall apart these days.
"People in general like to do what they like. They call it 'self-expression' and want the freedom to do what they want," he said.
"But if you are committed to (your relationship) right from the start, you should spend time on it. If something goes wrong, you have to assess what's wrong and then continue to work on it."
Mr Chan also advised couples to exercise compassion and kindness towards each other instead of being quick to criticise and judge.
"Putting yourself in the other person's shoes helps. The situation might not change but if your mindset and how you look at your spouse changes, you won't be so hard on her."
While the occasional romantic dates help keep the spark alive, everyday loving gestures are even more important after decades of being together.
Madam Chian said: "After being together for so long, things can become routine. Once in a while, dates and dinners are great. But so are the small things like holding hands and him giving me a kiss before leaving for work."
EVERYDAY INTERACTIONS MATTER
Research into romantic relationships shows the Chans are on the right path.
Everyone likes to feel special and be appreciated, and flowers and gifts on special occasions such as birthdays or wedding anniversaries can contribute positively to a relationship.
However, Dr John Lim, director of the Singapore Counselling Centre, said that more important than the special occasions and treats are the daily interactions, mutual respect, good communication, mutual trust and care for each other.
Dr Lim Boon Leng, a psychiatrist at Dr BL Lim Centre for Psychological Wellness, said what really matters the most in a relationship is the way people conduct themselves around their partners or spouses, treating them with respect and in a loving way on a daily basis.
"Studies have shown that having a sense of commitment, the desire to have a relationship that lasts will more likely lead to behaviours that support the relationship," Dr BL Lim said.
A study published in the Journal of Social and Personal Relationships in May 2014 found that people who show greater compassion towards their romantic partners are more likely to have satisfying and committed relationships.
DEADLY BEHAVIOURS THAT CAN KILL LOVE
On the other hand, certain toxic behaviours and attitudes can turn loving hearts stone cold.
Dr BL Lim observed that many married couples tend to devote too much resources and energy on their children, for example, and over time, neglect their spouse and their relationship with each other.
"They often take their partners for granted and assume that their relationship is based on trust and is on autopilot, while they focus entirely on other aspects of their life (like their careers and children). When the partner can no longer emotionally support the other, it is likely the neglected person will look elsewhere for affections," Dr BL Lim said, adding that continuous effort is needed for a healthy relationship.
Relationships lacking balance, with one person sacrificing too much, can also lead to a relationship burnout, he added.
Citing the work of the late American psychiatrist William Glasser, Dr John Lim said that there are "seven deadly habits" that are especially damaging and can lead to a relationship breakdown.
They include:
Criticising

Blaming

Complaining

Nagging

Threatening

Punishing

Bribing or rewarding to control the other person
Couples may grow to become more unforgiving of each other's faults and mistakes. Critical and condescending behaviour towards each other starts to show and becomes a regularity, Dr John Lim said.
"Nobody is without faults and no one likes to be criticised and reminded of their shortcomings regularly. This can result in the good feelings of love to be eroded on a constant basis until they do not feel love for each other anymore," he said.
Add on a lack of healthy communication, as well as the stress of work, financial issues and even parenting conflicts, and all of these factors becomes a recipe for an eventual relationship breakdown, Dr John Lim said.
REPLACE DAMAGING BEHAVIOURS WITH CARING HABITS
Besides the desire to make a relationship work, replacing hurtful habits with caring ones can help. Dr Glasser had written about the "seven caring habits" that can replace toxic ones. They are:
Supporting

Encouraging

Listening

Accepting

Trusting

Respecting

Negotiating differences
"It is about communicating with healthy intentions," Dr John Lim said.
Instead of complaining that your partner is not completing his or her portion of the chores, for instance, he suggested listening and finding out what is hindering your spouse from doing so.
Instead of nagging at your partner for falling short in some areas, consider accepting that he or she needs more time to learn.
Rather than hold grudges and rehearse your partners' shortcomings, being mindful of their good and strengths can help couples be more appreciative of each other.
"In summary, remember why you fell in love and why the both of you decided to get married. You were mindful of the good in each other. As you journey through life, expectations you have of each other can change, so it is important to manage those expectations, too," Dr John Lim said.  
RESOLVE DIFFERENCES EARLY, HAVE A FRANK PRE-MARRIAGE TALK 
Dr BL Lim said research has shown that issues that plague a relationship early on tend to set couples up for eventual failure.
"If couples work to resolve their difficulties and differences early on in their relationships, and commit to working hard to maintain them, they are likely to last longer. There is also data to show that professional help and relationship education that are received early in a relationship can be useful," he said.
Dr John Lim recommends that couples considering marriage undergo premarital counselling. The idea is to create a safe and structured space to tackle potential issues.
"Some may view premarital counselling as being akin to opening a can of worms, forcing both parties to talk about sensitive topics, such as finances and parenthood, which could spiral out of hand. However, these are issues that couples will eventually be confronted with during their marriage," he said.
"Doing so early in the relationship will allow them to work through differences with the help of a professional counsellor, before they turn into bigger issues later on."
Dr John Lim said that customised premarital counselling sessions are particularly useful because it enables counsellors to focus on issues specific to the couple.
"For example, an assessment will enable the couple to see where their beliefs and values overlap while highlighting their differences. The counsellor will then focus on these differences, so that they can explore their expectations and make adjustments accordingly," he said.
When carried out effectively, premarital counselling can lay the groundwork for a strong and stable relationship, he said.
Back in 1990, when the Chans got married, premarital counselling was unheard of. For them, negotiating conflicts while maintaining love for each other had been mostly by trial and error.
Now that their children have grown up and they will soon be facing an empty nest, they said that it is even more important for them to "have each other" in their next phase in life.
"I hope we can do mission work together, grow old and age healthily together," Mdm Chian said.
A final piece of advice from Mr Chan on sustaining love for a lifetime? Learn to cultivate contentment.
"There will always be better-looking guys and prettier girls around. If you learn to live a contented life, I think everything will work out fine."