SEA Games gold helps Singapore softball player realise father's dream
SINGAPORE — As the Singapore flag was raised and 18-year-old softball player Aloysius Ong was about to receive his gold medal on Sunday (Dec 8) at the Southeast Asian (SEA) Games, his father Ong Bin broke into tears and could not stop crying.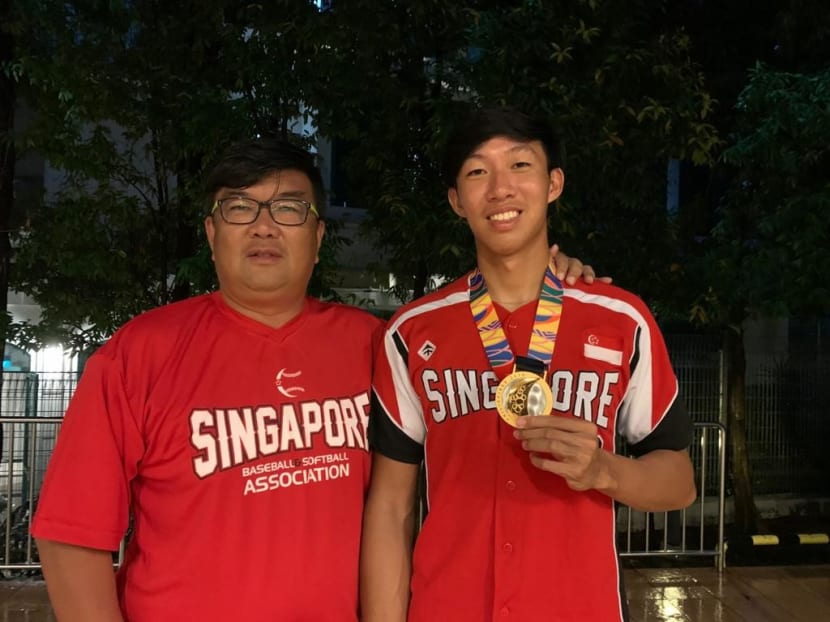 SINGAPORE — As the Singapore flag was raised and 18-year-old softball player Aloysius Ong was about to receive his gold medal on Sunday (Dec 8) at the Southeast Asian (SEA) Games, his father Ong Bin broke into tears and could not stop crying.
Mr Ong, 48, was a national softball player at the 1997 SEA Games, but he missed out on the podium that year when the team came in fourth. 
Standing among the spectators at the ballpark of The Villages in Pampanga, located further north of Manila, Mr Ong felt as if he was freed from an immense burden after pinning his hopes on his boy to fulfil what he could not.
Early this year, the senior project manager in the construction industry had asked his son to push back his A-Level examinations by a year to concentrate on the game.
His son, who was in his final year at Hwa Chong Institution, was reluctant. 
"Initially, I was quite hesitant. I would lose out one year, and I would miss my friends and wouldn't graduate with them," Aloysius said in an exclusive interview with TODAY.
"Some of my teachers and friends felt that it wasn't worth it, and it was too big of a sacrifice to lose out by one year." 
Then, in June, Singapore narrowly beat regional powerhouses the Philippines during the Softball World Championships at the Czech Republic, and it became apparent to him that the team "had a shot" at the SEA Games.
That was when he decided to take the leap and made up his mind to take the national exam next year. He still went for classes to catch up on schoolwork when he could, but he no longer felt the pressure of having to take the exam.
Half a year later, there he was on the podium.
Singapore men's softball team clinched their first-ever softball gold medal after they upset the hosts 6-1 in the final. 
When Aloysius was younger, Mr Ong was already planning for him to pick up the sport. 
His parents intentionally enrolled him in Maris Stella High School, seeing that it offered softball as a co-curricular activity. 
He took up the sport in Primary 4 at the age of 10, and later progressed to Catholic High School where he continued playing.
His father was a constant motivator and companion. Not only have they both played softball for the nation, but they also played in the same position as pitchers.  
Aloysius said: "It helps that my dad played before. He gives me plenty of tips and advises me on how I may improve my game.
"I think the greatest takeaway from my dad was to enjoy the game. There were definitely times when I felt that my game was quite stagnant and I would mull and stress over it, and then I would forget to enjoy it." 
Aloysius' parents supported his endeavours in more tangible ways, making it possible for him to train abroad. 
He went to Canberra, Australia on three training stints: One month in January last year, a week in February this year and then again for a fortnight in July. He trained and competed with an Australian team called Softball ACT. 
"I think my parents really invested a lot of money on me for these trips… each trip to Australia can be an average of about S$5,000 to S$6,000, so I definitely wanted to do my parents proud." 
Mr Ong said that he is giving his son the best conditions to thrive, because he did not want him to have regrets over missed opportunities. 
Not like the way he did.
ILL-PREPARED
In the months heading into the 1997 SEA Games, Mr Ong was pursuing his undergraduate degree in England and had not trained regularly. He was called back to compete for Singapore in Jakarta, Indonesia, but felt ill-prepared for the competition. Singapore eventually lost to Malaysia in the bronze medal playoffs. 
"I regret that we didn't play well previously, because we didn't train well," he said. 
The next SEA Games that featured softball was 2005 and Singapore failed to qualify for it. In the 2007 Games, Mr Ong was bogged down by work commitments and could not take part. He never played at the Games again. 
He said of Aloysius: "We support him all the way because it's a once-in-a-lifetime opportunity. If you miss this (chance), next time you may regret… So this year, I guided my son all the way."
Not every edition of the SEA Games features the sport. Since the 1997 SEA Games, just the 2005, 2007, 2011, 2015 and this year's editions did. 
So when it was his turn to step up to the plate, Aloysius knew that he had to give it his all. 
"I wanted to concentrate on one thing; I wanted to put 100% into something," he said. "I didn't want to half-study, half-play softball. I think I wouldn't be focused and it wouldn't be the best result for me." 
National softballer Aloysius Ong with his SEA Games gold medal. Photo: Nuria Ling/TODAY
LESS-THAN-IDEAL CONDITIONS 
Before the competition, he would train a total of 20 hours, six times a week — four sessions on the field and two sessions in the gym.
The field training at Farrer Park was done in less-than-ideal conditions, Aloysius said. "There were many potholes and the lighting was poor."
It did not help that training would often start in the evenings when visibility was lower, as many of the players had full-time jobs. 
The conditions were so bad, Aloysius said, that the players would have to go on all fours to pluck out weeds from the turf before training began.
The team have been training there since last year after vacating their previous homeground at Kallang when the lease expired. Sports governing body SportSG has earmarked the Kallang site to be developed for community sports activities such as football, a spokesperson from the Singapore Baseball and Softball Association said.
In October, things improved temporarily when the team went on a trip sponsored by the association, to train in various cities in Japan. There, Aloysius stayed for a month training under the nation's top coaches.
THE WINNING FEELING 
Recalling the sweet victory on Sunday, the moment when Singapore successfully defended the final inning to beat the Philippines and claim the top prize, Aloysius said that many players in the softball team, including himself, cried. 
"I just felt so relieved, so happy…  I just knew that all my hard work paid off," he said.   
"I think I was quite emotional because I saw some of my senior players crying. It was so touching because it has been a long journey for them since 2011, playing through many SEA Games, with gold (seen as) unachievable back then." 
The best-ever finish for the nation at the Games was a silver clinched by the women's team in 2007.
The Singapore men's and women's teams finished with a bronze medal in 2015, while the Singapore men's team bagged bronze in 2011.
For Aloysius' father, it felt like all the years of carrying around his own feelings of regret and yearning were lifted off his shoulders. 
"My wife cried, and then I cried, when the Singapore flag was raised and they did the medal presentation… because this has never happened before for the Singapore softball scene."  
Aloysius said that he has to thank the team captain Ivan Ng for leading them to the historic victory. 
Ng, 31, had asked his teammates' parents and loved ones to write motivational letters in advance, and he then handed the letters to the team before the grand finals against the Philippines. 
Aloysius said: "My father said (in the letter) that he was proud of me and I shouldn't feel too pressured.
"(He told me to) remember why I took a gap year and started doing this, and to just enjoy the sport."