Seafarers rejected at ports, stranded at sea, tell of physical and mental exhaustion
SINGAPORE — He had been out at sea for four months beyond his original contract, as the ship on which he worked had been repeatedly turned away at more than five ports. Physically and mentally defeated from the long voyage, Mr Ravi Nagar, the 40-year-old captain of an oil tanker, just wanted to be home.
SINGAPORE — He had been out at sea for four months beyond his original contract, as the ship on which he worked had been repeatedly turned away at more than five ports.
Physically and mentally defeated from the long voyage, Mr Ravi Nagar, the 40-year-old captain of an oil tanker, just wanted to be home.
At the back of his mind, his son's words uttered with conviction during the occasional video calls that he could dial through to his family were causing him some grief.
"It's very painful to hear a three-and-a-half-year-old boy saying, 'Papa, I don't want to talk to you'," he said of how his prolonged absence is affecting his child.
On being rejected at various countries, he said: "Everytime we passed a port, they (turned us away). It was also very painful. I don't think many countries understand our situation."
To his relief, on Friday (June 12), Captain Nagar finally set foot on land — at the Port of Singapore. He was wearing a mask, gloves and a white translucent jumpsuit.
He was among 87 seafarers who got to disembark from their vessels and were immediately shuttled to board a chartered six-hour flight back home to Mumbai, India from Changi Airport Terminal 1.
It was the same plane where 54 crew members had earlier alighted at the airport to join six ships berthed at the Port of Singapore.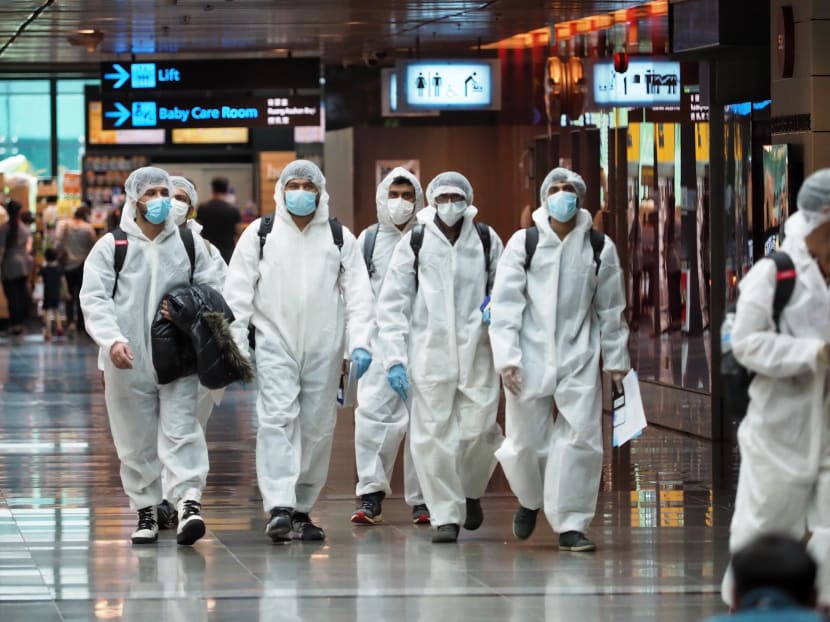 Since the outbreak of the coronavirus, restrictions put in place by countries to reduce the spread of Covid-19 as well as the drastic reduction of air traffic have prevented routine crew changeovers on ships.
This has left hundreds of thousands of seafarers stranded at sea months after their contracts had expired.
In a Facebook post highlighting their plight on Tuesday, Transport Minister Khaw Boon Wan said that this has led to the international shipping industry threatening to stop sailing unless replacement crew can be brought in to relieve those stranded.
This could "potentially disrupt or even clog up global supply chain", given that commercial vessels carry 80 per cent of the world trade, he added.
Mr Khaw said that Singapore is aware of this issue and agencies have been working with shipping partners, seafarer unions and shipping companies to facilitate crew change in a safe manner.
Three chartered flights have been scheduled this week to help seafarers return home. The first was at Changi Airport last Saturday, in accordance with the protocol set out by the International Chamber of Shipping, he said.
On Friday, the Maritime and Port Authority (MPA) said that to date, it has approved more than 4,000 cases of crew change for more than 300 companies since March 27.
These involved some 500 ships, which included tankers, bulk carriers, container ships and offshore vessels.
CANNOT WORK WELL FROM EXHAUSTION
The seafarers said that being stranded at sea and going about the same routine for months on end took a toll on them both physically and mentally and, at times, hindered their ability to work optimally.
Captain Nagar said that being away from their families for extended periods of time, especially during a global pandemic, added pressure on the 26 crew members onboard the oil tanker.
"(They) were mentally exhausted because they just wanted to sign off after their time (on the ship) was over, but they could not do that.
"As the captain, I need to take care of my crew… but (as a father), I also wonder who is taking care of my family. In this situation, even our parents cannot help to look after our children," he said.
Mr Nitin Kunder, chief engineer of another oil tanker who was stranded for a month beyond his contract, said it did not help that they had no clear indication of when travel restrictions would be lifted and they could return home.
The 50-year-old, who has been working at sea over 23 years, said: "We get bored, of course, but we (crew members) always meet in the evening to play darts or any other games."
One port, he recalled, offered them internet service even though they were not allowed to disembark for fear that they would mingle with members of the community.
"They sold (internet data) to us for cheap, so many of us bought it to call our families," Mr Kunder said.
When they were told that they could finally dock in Singapore and leave their ship to return home, Mr Kunder said that he heaved a sigh of relief and counted his blessings.
He also saw crew members on his ship, whose contracts had ended, eager to pack up. 
Mr Kunder, who has a 12-year-old daughter, could not wait to see his loved ones. He has been calling his girl at least twice a day with the intermittent internet that he has onboard.
Similarly, Captain Nagar video-called his family whenever he could and knew that his homecoming was long overdue, with his son now refusing to talk to him.
Captain Nagar also said that he knows more than a hundred seafarers still stranded at sea and wishes for their safe return.
Ship captain Arya Pankaj, 39, hopes that more countries will be able to provide such crew changes.
SHIPPING AGENTS DEALING WITH REGULATIONS
Shipping agents said that the pandemic has impacted all aspects of the maritime industry and it has been particularly severe for crew onboard ships.
Therefore, it is important that they navigate the regulations that MPA has put in place to ensure safe crew changes.
On March 27, the authority said in a circular that it allowed crew change under "special circumstances" even though entry of short-term visitors to Singapore has been tightened.
These circumstances include:
 

Seafarers who have served until the end of their contracts on board and are not granted further extension of employment

 

Those who seek to disembark on compassionate grounds

 

Those who are no longer medically fit to work on board a ship
It then expanded the criteria on May 22 to include seafarers whose employment contract has expired and those not crucial to the safe manning of the ship.
Approval for these crew changes is subject to MPA's requirements.
Disembarking crew must not have gone ashore in the last 14 days, have a fit-to-travel certificate issued by a Singapore doctor, proof of expiry of contract or an unfit-to-work medical report.
For crew members who are boarding, they must complete a two-week quarantine, test negative for Covid-19 not more than 48 hours before their departure flights and are certified fit to travel.
These crew members must also be transferred directly between the ship and the point of arrival or departure in Singapore.
Mr Satyendra Pratap Singh, managing director of Executive Ship Management, which initiated the crew change on Friday, said that this is the biggest challenge for shipping agents.
"To get this seamless operation, you have to organise the ships to come to Singapore in such a way that there is no disruption."
He added that there was a lot of coordination done before the crew change, which took almost a month to get approval from both the Indian and Singapore governments.
Asked about the cost and who would bear it, Mr Singh said that the company would absorb the cost for the 60 seafarers under it, which adds up to about US$120,000 (S$167,000).
MPA's chief executive Quah Ley Hoon said that it has seen a sharp increase in the daily crew change applications since its last Port Marine Circular.
"We understand that shipping companies face immense challenges operating in this pandemic. MPA will continue to work with the industry and unions on creative solutions, one of which is a floating holding facility for crew (which) we are finalising the details," she added.
Dr Lam Pin Min, Senior Minister of State for Transport, said in a Facebook post on Friday that in addition to Singapore's commitment to keeping ports open during the global pandemic, it has also been facilitating crew change in a safe and coordinated manner, using a new protocol outlined in the Singapore Crew Change Guidebook.
This guidebook was developed by an industry task force led by the Singapore Shipping Association, in partnership with the Singapore Maritime Officers' Union and supported by MPA.
"To ensure vital supplies reach those who need it most, we hope that port authorities around the world can keep global supply chains moving by allowing crew changes whenever possible. Singapore will continue to play its part," he said.