'Higher than usual' surge in seafood prices due to weather, high demand for Chinese New Year
SINGAPORE — With Chinese New Year taking place earlier this year in the midst of the seasonal rainy weather, fishmongers are saying that supplies of popular fish and seafood are even tighter than in past years, driving prices higher than usual.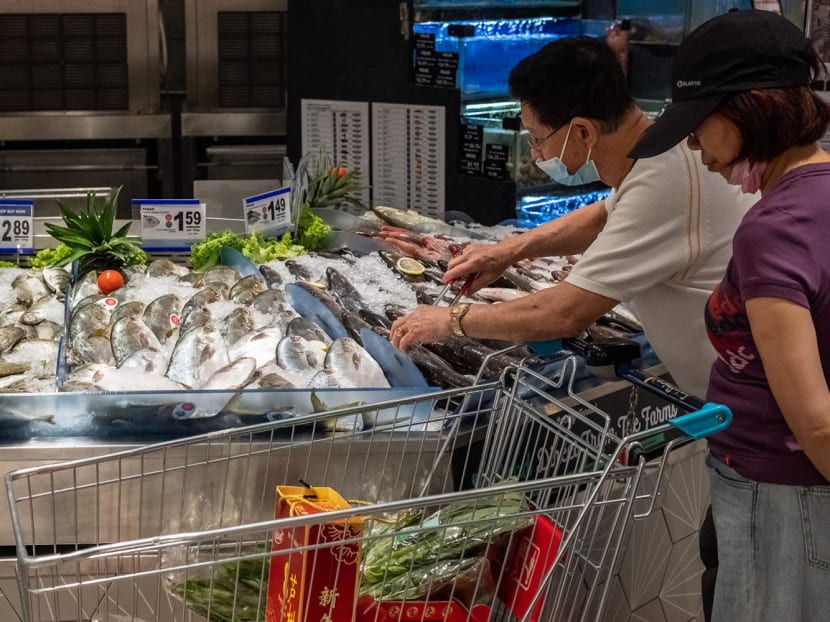 The early Chinese New Year period coincides with the monsoon, making seafood hard to get and prices edging up
Fishmongers said that their suppliers have raised prices by around 10 to 50 per cent
Prices of chicken have remained high since Malaysia's export ban in 2022
Consumers are finding ways to get around the higher prices or do not mind spending more for the festival  
SINGAPORE — With Chinese New Year taking place earlier this year in the midst of the seasonal rainy weather, fishmongers are saying that supplies of popular fish and seafood are even tighter than in past years, driving prices higher than usual.
The year-end period, which coincides with the Northeast Monsoon in the region, typically sees lower supplies of seafood because the bad weather prevents fishermen from going out to sea. 
However, supplies usually rebound by February, when the stormy weather gives way to calmer waves and safer fishing conditions. 
This year, Chinese New Year begins early from Jan 22 and, coupled with the exceptionally bad weather, have driven up demand when supplies are still thin, leading to price increases of as high as 50 per cent from seafood suppliers. 
Mr Gary Tan, who has been running a seafood stall at Ang Mo Kio Central Market & Food Centre for 42 years, said that supplies of seafood have dropped by around 30 to 35 per cent. He usually sources from Indonesia and Malaysia. 
Red groupers that suppliers usually charge S$20 a kg on an average day now cost about S$60 a kg — about 30 per cent higher than the S$45 to S$50 a kg charged during the festive period last year, Mr Tan said.
He is planning to absorb some of the costs and increase his prices for the fish by just 10 per cent. He is now charging about S$55 a kg for red groupers during this period. 
Similarly, Ms Rachel Chia, co-founder of Guang's Fresh Mart, said that the prices of seafood supplies have increased around 10 per cent to 30 per cent. 
In particular, the prices of tiger prawns have jumped significantly — by around 40 per cent.
Ms Chia said that the market selling price for a kilogramme of these prawns is now around S$22 compared to S$15 on a typical day. 
She observed that the bad weather has affected the quality of certain seafood, saying that they tended to arrive at the port broken into parts, perhaps due to the rough conditions out at sea. 
For example, in the past, out of 100kg of squid that arrives from a supplier, only less than 5kg of them are not "aesthetically pleasing", she said.
These days, more than half of the squid is in this condition. Although still fresh, Ms Chia has to reject the seafood because they are not what customers want. 
"For customers who buy raw seafood from us, they would think that it's not fresh. But it's not that it's not fresh, it's just that when the weather changes, the seafood tends to become like this," she added. 
Aside from seafood, consumers must be prepared to fork out high prices for other popular items such as pork and chicken, though some stallholders told TODAY that they are planning to absorb most of the costs. 
Chicken sellers said that prices of fresh poultry have remained high since Malaysia's export ban that lasted from June 1 to Oct 11 last year, with no signs of prices easing as the festive season approaches. 
Mr Lee Ming Hock, who has been running a fresh chicken stall at Tiong Bahru Market for the past 30 years, said that his suppliers have increased prices by around 30 per cent since Malaysia's ban. 
Mr Norman Firdaus, owner of Amina Halal Fresh Poultry, said that the prices of his fresh chicken supplies had increased by the usual 30 cents because of the festive season. 
However, he has chosen not to raise prices by the usual S$1 to S$2 during the Chinese New Year period because he felt that he was already selling at high prices due to the increased charges from suppliers since Malaysia's export ban. 
He is now selling fresh chicken at around S$13 a kg, compared to his usual price of S$8 to S$9.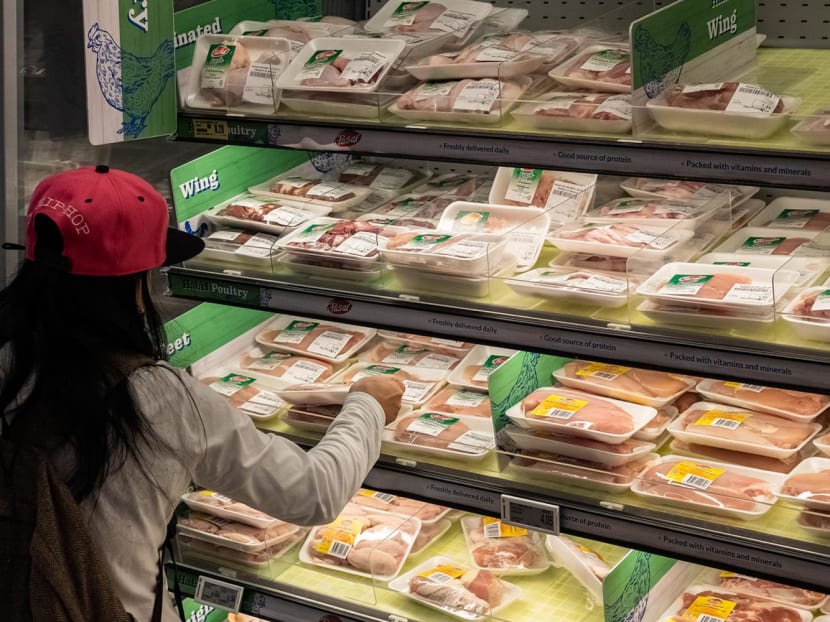 Prices of fresh pork have also risen, but by a smaller margin compared to chicken and seafood. 
Mr Soh Kin Guan, who runs the pork stall Little Red Pig at Toa Payoh West Market & Food Centre, said that prices of fresh pork have gone up by around 3 per cent to 5 per cent.
This is primarily due to the Ukraine-Russia war, which has driven up oil prices and as a result, fuel prices for transport and delivery, he added. 
In response to TODAY's queries, supermarket chains NTUC FairPrice, Giant, Cold Storage and Sheng Siong said that prices of certain seafood have increased, though they are making efforts to keep prices low for customers. 
On how it manages to sell its fresh seafood at low prices, FairPrice said that it uses ongoing strategies such as forward-buying by placing advance orders for stocks to prepare for the expected higher demand leading up to Chinese New Year. 
"We also diversify our sources where we import from multiple countries to ensure a stable supply of seafood at good value," it added. 
Sheng Siong said that prices of meat and poultry at its outlets have remained stable for this festive period. However, seafood prices have increased "in line with the usual festive increase due to tighter supply-demand conditions".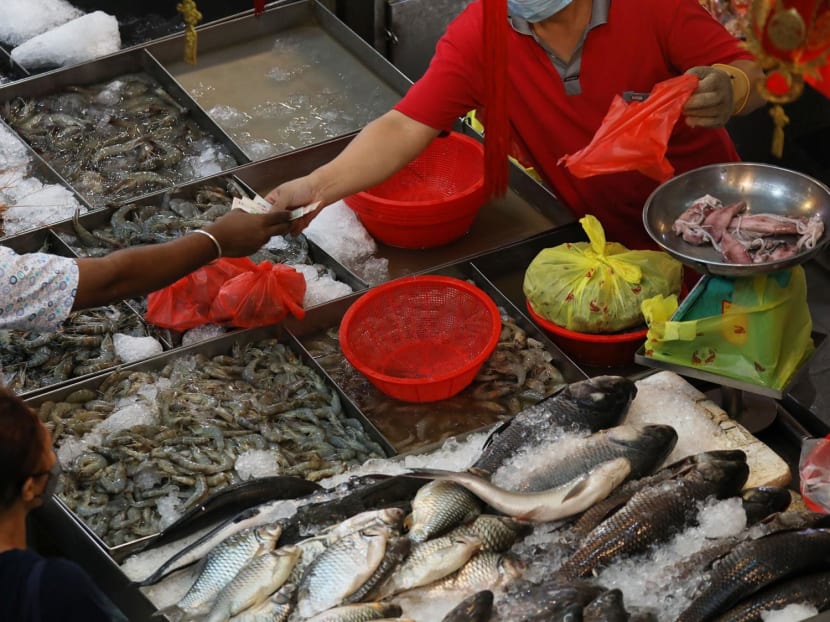 Despite the price increases, Singaporeans who spoke to TODAY said that they are still willing to pay for the ingredients they usually buy to celebrate Chinese New Year. 
For Ms Chay Keng, a 65-year-old retiree, it is simply a matter of ensuring that she does not buy more than what her family needs, which would lead to wastage. 
Retiree Alex Yeo, 79, said that he would look out for supermarket promotions, or buy seafood in advance and freeze them to avoid the festive price hikes. 
Ms Laylin Chen, 60, a social worker, was doing her Chinese New Year shopping at Chinatown Complex on Wednesday (Jan 18). She said that she usually buys frozen chicken but has opted for fresh chicken for her reunion dinner since it is a celebration and she does not mind "splurging". 
"We are fortunate that we can still manage to have a similar Chinese New Year dinner as the last few years."
In response to TODAY's queries, Mr Melvin Yong Yik Chye, president of the Consumers Association of Singapore, said that the association did not receive any feedback related to prices of Chinese New Year goods, fresh seafood and meat from Jan 1 to 18. 
"In view of increasing prices, consumers may wish to consider frozen alternatives where supply is generally more stable and prices tend to be cheaper when compared to fresh seafood and meat," he advised.