Seafood stall Kin Hoi suspended after 15 people developed gastroenteritis symptoms
SINGAPORE — The authorities have suspended a food stall at a Holland Close coffeeshop after 15 people reported gastroenteritis symptoms having consumed food prepared by the eatery.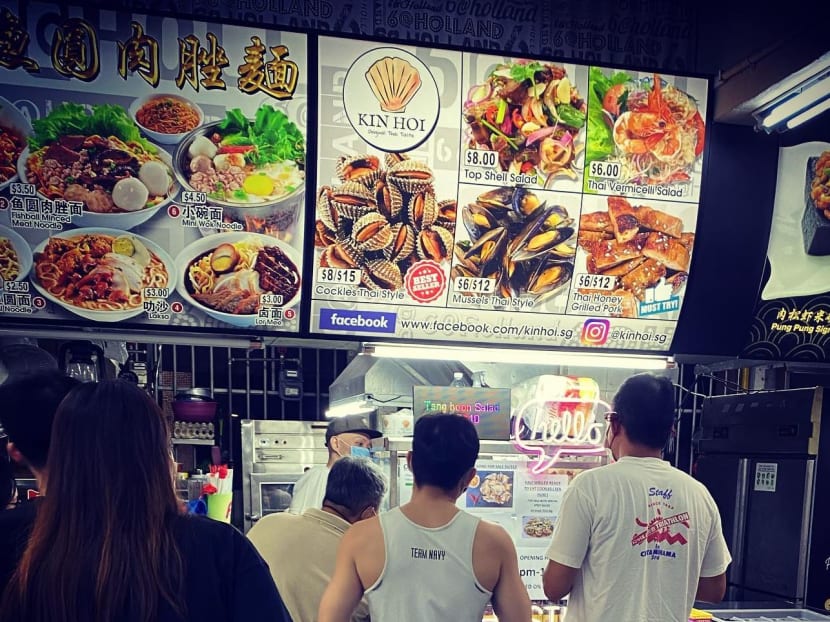 SINGAPORE — The authorities have suspended a food stall at a coffee shop on Holland Close, after 15 people reported gastroenteritis symptoms from having consumed food prepared by the eatery.
The Ministry of Health (MOH) and the Singapore Food Agency (SFA) said in a joint statement on Wednesday (April 21) that they were investigating the incident at Kin Hoi, which mainly sells Thai-style seafood dishes.
Those affected reported symptoms of vomiting and diarrhoea after consuming food there between March 28 and April 15, and the agencies were notified of the most recent one on April 19.
"One of the cases was hospitalised and has since been discharged," they said in the statement. 
"In view of the suspected ongoing transmission, SFA has issued a direction to suspend Meetup@352 (Kin Hoi)'s food business operations with effect from 20 April 2021 until further notice."
Meetup@352 is the registered business name of the stall.
A statement on Kin Hoi's website that was also posted on its Facebook and Instagram accounts said that the stall at Block 6, Holland Close, and its online deliveries will be unavailable from April 21.
"We are taking this short break because we are working on giving you an even better seafood experience," it said, without any reference to the gastroenteritis incidents.
In a subsequent Facebook comment, Kin Hoi apologised to those affected.
"We are sorry and incredibly saddened by this incident."
A spokesman for the stall told TODAY that it is "working closely with the authorities to resolve this issue which is pending investigations".
"We view hygiene standards as paramount and have followed all protocols strictly. Internally we are also tracing and checking the supply chain. We feel for all those affected by this incident."
Gastroenteritis, which is commonly associated with food poisoning or "stomach flu", is the inflammation of the stomach or the intestines, with sufferers having symptoms of diarrhoea and vomiting.
In cases linked to food poisoning, it is caused by ingesting food and drink that have been contaminated by bacteria, viruses or parasites.
SFA has also banned Kemono, a business partner that provides food and cooking services for Kin Hoi's online delivery orders, from preparing and serving all food menu items.
Kemono, located at 171 Selegie Road, prepares its food for Kin Hoi in a facility that is separate from its own food business.
Kemono has been instructed to disinfect its food preparation surfaces and floors and ensure its wash basins are hygienically maintained, the authorities said.
Food handlers working at Kin Hoi will need to attend and pass the Food Safety Course Level 1 again before they can resume work.
The stall is also required to clean and sanitise their premises as well as its equipment and utensils.
"SFA would like to remind food operators to observe good food and personal hygiene practices at all times. SFA will not hesitate to take firm action against anyone found to be in violation of the Environmental Public Health Act," the authorities said.