Parents speak of disrupted lives as all at home catch flu; doctors say post-Covid-19 'revenge travel' one reason for case spike
SINGAPORE — With flu season in full swing, a parent said that her entire family of four came down with flu symptoms of high fever, vomiting and more after her school-going child fell ill on Chinese New Year's eve (Jan 21).
More than 50 students from Nanyang Primary School fell ill with acute respiratory symptoms and two were hospitalised, MOH reported on Jan 31
The flu season is on and three parents who were interviewed said that their young school-going children were recently down with flu 
Two of the parents said that most, if not all, family members were later infected
Doctors said that the spread of viruses is common during the end and start of the year due to cooler weather, increased travel and children going back to school
SINGAPORE — With flu season in full swing, a parent said that her entire family of four came down with flu symptoms of high fever, vomiting and more after her school-going child fell ill on Chinese New Year's eve (Jan 21).
The 31-year-old customer service officer who gave her name as just Siti was among three people interviewed by TODAY who said that they were likely sickened by the influenza virus, with patient zero in the household being their young child.
Two of them added that the flu spread to most, if not all, members of the household.
Earlier this week, 53 students and two staff members of Nanyang Primary School were reported to have taken ill with acute respiratory symptoms including fever, cough, runny nose and sore throat. Two students were hospitalised and then discharged.
In some classes, pupils were told to stay home and lessons conducted via home-based learning.
None of the 55 people had Covid-19, though some students tested positive for influenza.
For Ms Siti, the infection began with her seven-year-old daughter who goes to Angsana Primary School in Tampines.
"I think my daughter got the virus from school or other places outside. Some of the kids at her school were also absent due to flu or cough," she said.
Five days after her daughter fell ill, the rest of the family — Ms Siti's three-year-old son, husband and herself — started having flu symptoms of fever of up to 40°C, cough with phlegm, runny nose, fatigue and vomiting.
She added that the flu had disrupted her family's daily routine and activities.
"It took a toll on us. Everyone was extremely weak and had no appetite. We were also unable to carry out daily basic activities properly such as doing household chores, preparing food for the family, cleaning and, for the adults, even working from home was difficult.
"The cold weather recently did not help either," Ms Siti said, adding that she still has cough.
Last week, Minister for Health Ong Ye Kung said that there was no spike in the number of daily Covid-19 cases in Singapore over the Chinese New Year holidays.
Although the Covid-19 situation is stabilising, doctors contacted by TODAY said that they have been noticing a spike in flu cases since November last year.
This is seasonal and common, they added.
They also cited various reasons for the increase in cases, including increased overseas travel during the recent year-end period in light of many countries' easing of Covid-19 restrictions. 
'FEVER SO HIGH YOU FEEL LIKE BLACKING OUT'
One parent, Ms Carol Loo, a 42-year-old financial consultant, said that her nine-year-old daughter fell sick over the first weekend of Chinese New Year, which began on Jan 22 this year.
The virus then spread to everyone in the family, except her husband.
Her daughter began running a high fever of 40°C on Chinese New Year's eve, followed by her two-year-old son two days later. Both of their temperatures remained consistently high for five to six days.
Ms Loo, her 28-year-old domestic worker, and her 60-year-old mother then started becoming ill, first with a fever and then other flu symptoms such as a cough and sore throat. 
Ms Loo said that she had to push through her own sickness to take care of her children.
"My fever was so high, about 38°C to 39°C, that I just felt like I was going to black out. But my helper was sick and experiencing nausea, too. So I let her take medication and rest. I had no choice but to take care of the kids.
"My mother doesn't live with us but she usually comes often to take care of the kids. But with her falling sick, she couldn't come to help and just rested at home."
Ms Loo said that she was still feeling some after-effects of the flu. 
"I still feel cold very easily and don't feel like I'm back to my usual self.
"My helper and mother who fell sick also have not fully regained their health. My mum is still coughing," Ms Loo added.
Another parent said that when her son fell sick, she thought that it was a normal cold, until she found out that students from the school had been reporting sick since last Thursday (Jan 26).
The woman, who did not want to be named because she did not want to jeopardise her relationship with school officials, is in her 40s and working in finance.
Her son, a Primary 2 student at Nanyang Primary School, fell sick two days after a school-wide Chinese New Year celebration.
He had a 40°C fever last Friday, which continued the next day.
That evening, his younger brother, who is four years old, started running a fever as well.
"My main gripe is that the school did not tell us which virus had infected the kids who got sick," the mother said.
She added that influenza has a specific medication that can be used, Tamiflu, but it needs to be started as soon as possible and within 48 hours of symptoms appearing.
"I only found out which virus it was from another parent and close to the end of the 48-hour period for my older son."
She herself also fell sick with the flu but had mild symptoms.
She is pressing the school to explain why it had not alerted other parents when children began reporting sick from last Thursday, or why it did not share information about the virus infecting the children.
SEASONAL SPIKE IN FLU CASES
Dr Philip Koh, a general practitioner (GP) from Healthway Medical Group, said that he has observed an increase of about 20 to 30 per cent of patients contracting the flu or other respiratory infections since December last year to the present day.
Another GP, Dr Sunil Kumar Joseph from Tayka Family Medical Centre, said that he saw an increase of about 20 per cent for respiratory cases from November last year to the Chinese New Year period. 
Based on MOH's weekly infectious diseases bulletin, there has been a gradual increase in average daily polyclinic attendances for acute upper respiratory infections. It went from 2,500 cases in September last year and peaked to 3,514 cases the month after that.
Between Jan 15 and 21 this year, the week before Chinese New Year, the average daily polyclinic attendances for acute upper respiratory infections was 2,405 cases.
This number rose to 2,805 cases between Jan 22 and 28, the week after the holiday weekend.
Dr Koh said that the jump in flu cases at the start and end of the year is typical, even before the Covid-19 pandemic.
"The flu season happens around this timing because of increased travel, and especially now because of 'revenge travel' after Covid," he added, referring to people making up for lost time and opportunities by travelling a lot more now that Covid-19 controls have largely eased in most countries. 
Dr Koh also said that the start of the year is when school begins for young children, which makes it a vulnerable period to get sick since children are less immune to diseases and easily pass germs to each other through close intermingling. 
Another factor, Dr Sunil said, is the cooler weather.
"Flu infections are very common during winter and monsoon seasons at the end of the year. This is because viruses are more transmissible and active during cold weather."
The increased social gatherings during the Chinese New Year period may also be a contributing factor to the spike, Dr Sunil added.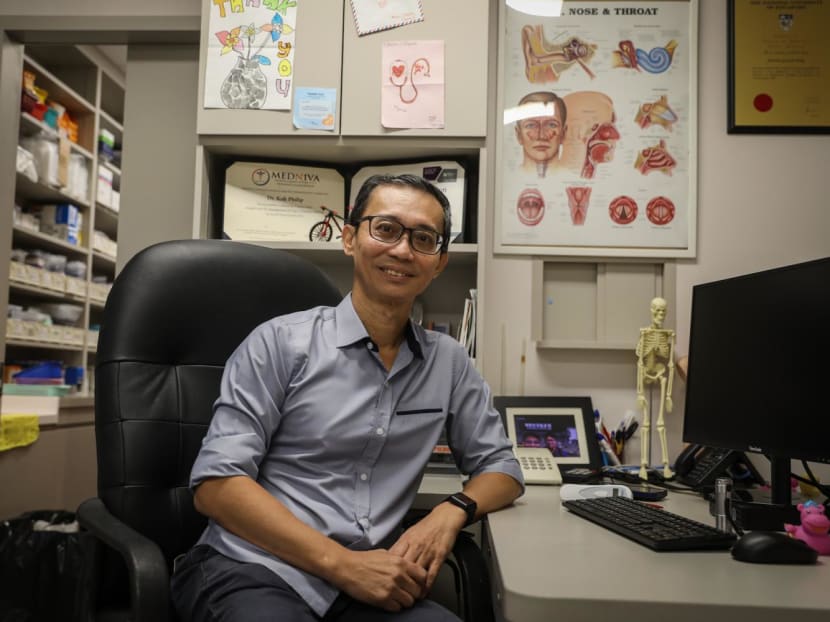 On how to prevent falling ill from a flu, Dr Koh said that people may strengthen their immune systems by improving their nutrition, hydration and fitness levels, and regulate their emotional health by reducing stress.
The two doctors also recommend that people go for their yearly flu vaccination, which is a key strategy in preventing the spread of flu viruses. 
"People have been focusing on getting Covid-19 vaccinations, but flu vaccinations are also important.
"The pick-up rate for flu shots could be better, especially for those who are more vulnerable such as the elderly," Dr Sunil said.