From secondhand clothes to cloth hongbao, more young Singaporeans turn to eco-friendly ways of celebrating Chinese New Year
SINGAPORE — Like many others who celebrate Chinese New Year, Ms Chan Kah Mun has been picking out new clothes over the past few weeks to wear during the festivities.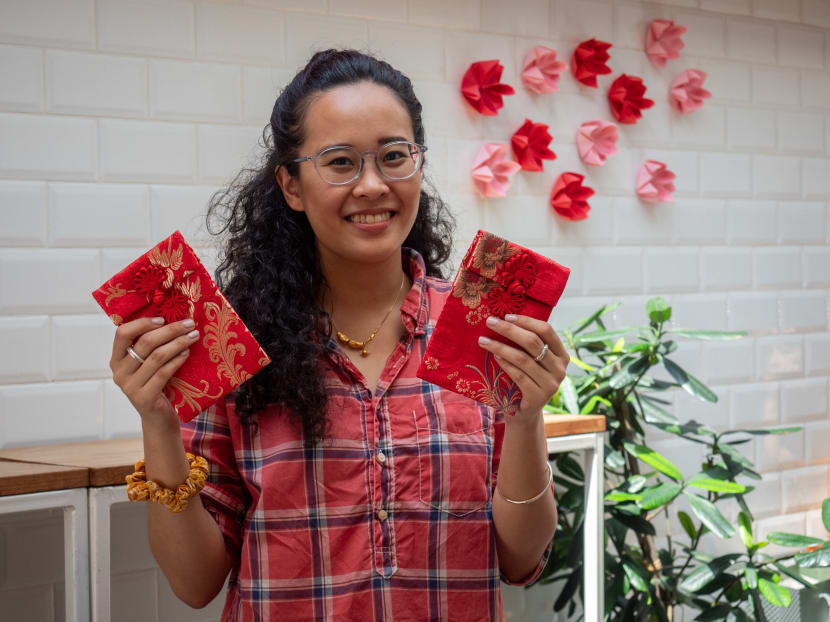 A crop of young Singaporeans are increasingly turning to eco-friendly ways of celebrating Chinese New Year
Some are choosing not to buy new clothes or using alternative forms of paper hongbao
A fashion store that allows people to swop old clothes for secondhand ones said that it has been seeing more customers ahead of the festive season
Sustainability groups urged those celebrating the festival to be mindful not to over-consume and watch the waste they are creating
SINGAPORE — Like many others who celebrate Chinese New Year, Ms Chan Kah Mun has been picking out new clothes over the past few weeks to wear during the festivities. 
Except those clothes are not exactly new, but secondhand. 
"They may not be new to the world, but they're new to me… And that's all that matters," said the 24-year-old who works in the public sector.
As is customary during this time of celebration, many Chinese families buy new clothes to dress up when they visit their family and friends — sometimes to impress and other times as a form of respect for the tradition.
Yet, a crop of young Singaporeans are increasingly turning to eco-friendly ways of celebrating this festival, from choosing not to buy new clothes specifically for the few days of visiting to using alternative forms of paper "hongbao", or red packets that contain cash gifts.
Ms Chan said that she has not been wearing new clothes for Chinese New Year for the past few years. She has not been buying any since 2019, barring a few small essential items.
She gets her secondhand clothes through a variety of ways, such as swop shops that cost her on average about S$4 apiece, exchanging with friends or through the many Telegram chat groups that have popped up since the Covid-19 pandemic where people sell their used clothes.
"I also try not to shop online for many reasons. There's plenty of unethical labour practices and terrible emissions when you're constantly delivering," Ms Chan said. She also works as a creator at photography studio How Light Falls, which donates proceeds to cause such as gender equality, social justice and climate action groups.
Green advocacy group ZeroWasteSg said that it has seen conscious consumption during the Chinese New Year gaining momentum in recent years. Fashion store Swapaholic, which allows customers to exchange their old clothes for secondhand clothing brought in by other customers, said that it has seen more shoppers at its Orchard Central store ahead of the holiday.
Among this group of environmentally minded consumers is Ms Melissa Lam, 30, who has chosen not to buy new clothes specifically for this annual occasion.
Instead, she said that she has been wearing clothes that she already owns, although she did visit a fashion swop store some years back to get a couple of cheongsams, or traditional Chinese dresses, for fun.
Ms Lam, who owns online zero waste business Bamboo Straw Girl, said: "In the past, people didn't buy clothes often. So what they buy for New Year's Day is a good set to last them throughout the year." 
While it may not be wrong to buy new clothes, it is not sustainable to buy different outfits for each day of the new year and never wear them again after the celebrations, she added.
However, straying from tradition can sometimes be met with resistance. 
Ms Chan said that when she first started wearing secondhand clothes, her mother would chide her for it, saying that she would not know who the previous owner of the clothes was or where the clothes had been.
It took a while, but her mother has since become more accepting of her wearing secondhand clothes after she began showing her that these clothes are clean and of good quality.
"It's just more exposure, showing them and proving that I can find all these stuff that fit and I'm not doing all these because I'm trying to be a cheapskate," Ms Chan said.
HOW TO REDUCE WASTE
Ms Angie Ng, executive director of non-governmental organisation and charity ZeroWasteSg, said that Chinese New Year is a time for celebration, but it is important to be mindful that a great deal of waste can be generated from the excesses of this season.
To reduce waste, she offered the following tips.
Shopping for food: Unlike in the past, many retail and food outlets now close only for the first two days of the holiday. Some even remain open throughout the public holidays, so there is no need to overstock on food. Take along your own bag or container when shopping for food.
Food preparation: With restrictions on the number of daily visitors for a household, it is easier to plan in advance and prepare portions accordingly. Consider preparing food that stores better as leftovers.
Spring cleaning: While spring cleaning, consider donating items you do not need that are still in good condition. There are applications such as Carousell or Olio that can match you with suitable takers. For spoiled items, consider repairing instead of replacing them. And if you wish to discard any items, take this opportunity to learn what items can or cannot be recycled.
MORE PEOPLE SHOPPING CONSCIOUSLY
Ms Jen Teo, the executive director of non-profit group Singapore Environment Council, said that the council has observed more people buying clothes from secondhand stores and donating old clothes to the Salvation Army instead of disposing of them.
Buying new clothes to celebrate Chinese New Year is a long-held tradition, but she said that consumers should be mindful of their purchases in this era of conscious consumerism.
"The fashion industry is one of the major contributors to the world's greenhouse gas emissions with roughly 2,700 litres of water needed to produce a single cotton T-shirt and 1,800 gallons of water used to produce a single pair of jeans," Ms Teo said. 
Over the past month, Swapaholic has seen about a 30 per cent jump in the number of customers at its shop and a 16 per cent rise in sales. 
At the shop, customers buy a membership package based on the number of used clothes they want to give. They are then given a certain number of points based on the items they swop and can use those to exchange for other used clothes at the store.
"The practice of buying new clothes around festive seasons such as the Chinese New Year propagates the act of impulse buying," Swapaholic's founder Priyanka Shahra said. "Unfortunately most of these whimsical buys are doomed to end up in a landfill after being worn once or not at all."
The good news, Ms Shahra said, is that younger generations — the millennials and the Generation Zers — appear to be much more open to preloved fashion and prefer to buy from sustainability-conscious brands. 
OTHER WAYS OF CUTTING WASTE
Besides not buying new clothes, Ms Chan upcycles packaging waste from past years such as using old mooncake boxes to store her makeup.
Similarly, Ms Lam has also been using e-hongbao and reusable cloth hongbao for the past few years — a practice she said can even become a part of family tradition.
And like she does with regular grocery runs outside the festive season, she would take reusable containers to the market to pack the fresh food and ingredients for reunion dinner. 
She stressed, however, that being sustainable is not about buying more secondhand clothes or cloth hongbao. 
Rather, it is taking stock of what you already own and to avoid creating more waste on top of that. 
For instance, if a person already has stacks of free hongbao from companies that print them as marketing material, he should use those instead of buying new ones. And buying a new piece of clothing is fine if you know you are going to be wearing it for years.