Secrets of the deep: Scientists from NUS, Indonesia set sail to explore marine life in West Java
SINGAPORE — It is not your typical "cruise", but that is what one professor is calling it.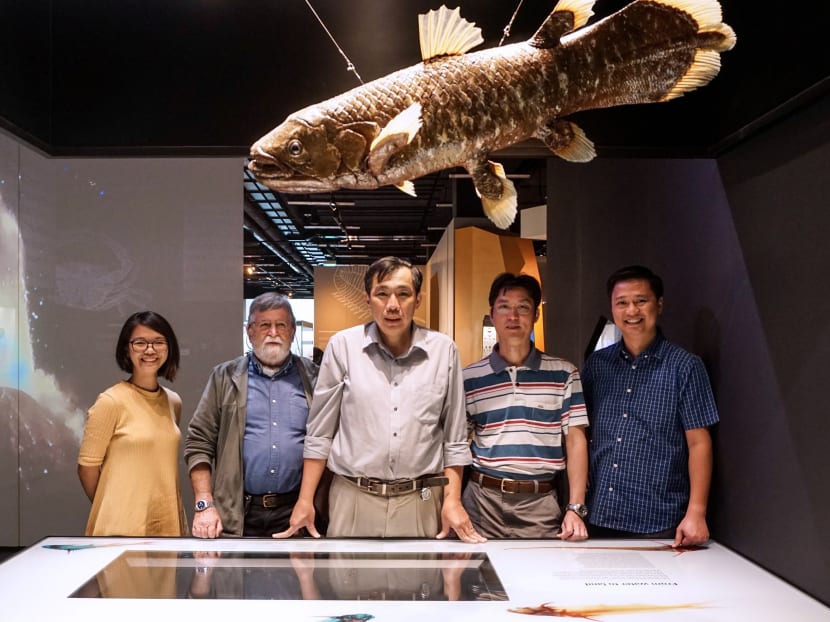 SINGAPORE — It is not your typical "cruise", but that is what one professor is calling it.
On Friday (March 23), a team of 30 researchers and support crew from Singapore and Indonesia set off on a quest to find out what crabs, prawns, fishes and other marine life dwell in the seas off western and southern Java.
Over 14 days on board the Indonesian research vessel Baruna Jaya VIII, the team will use dredges, beam trawls and other gadgets to sample the range of organisms at depths of 500m to 2,000m in the largely unexplored waters.
The average depth of the ocean is about 3,800m but based on the researchers' experience, depths of 500m to 2,000m display the greatest biodiversity.
The route that researchers will take for the South Java Deep-Sea Biodiversity Expedition 2018, from March 23 to April 5, 2018. Photo: NUS
Led by Professor Peter Ng, head of the Lee Kong Chian Natural History Museum at the National University of Singapore (NUS), and Dr Dwi Listyo Rahayu, senior research scientist at the Research Centre for Oceanography of the Indonesian Institute of Sciences, this will be the first deep-sea biodiversity expedition that Singapore and Indonesia are organising together.
Departing from Muara Baru in Jakarta, they will sail anti-clockwise towards Cilacap in southern Java and back, returning to land on April 5.
The "cruise" — as Prof Ng dubbed the expedition — will also mark the first time the scientists will provide daily updates to their colleagues in Singapore on interesting creatures hauled up, if Wi-Fi on the vessel permits.
"The science will come first, but if (Iffah Iesa, a team member) sees a really cool fish, she'll take pictures and get scientists on board to give her snippets, and she'll write it up to send to you," Prof Ng told reporters last week. "I think it's important that the public knows what (we're) doing, why (we're doing) it."
The two-week expedition will cost more than S$400,000, which will be shared by both sides.
Prof Ng rubbished the notion that there is no life to be found in the deep sea, which has been called no man's land.
Past expeditions elsewhere have unearthed sea cockroaches resembling Darth Vader, bloated oil-filled fishes with poorly developed eyes as well as spectacularly coloured lobsters, he said.
A Giant sea cockroach unearthed during a 2005 deep-sea expedition in central Philippines. Photo: Peter Ng/NUS
During a deep-sea expedition in central Philippines organised by the Philippines, France, Taiwan and Singapore in 2005, for instance, researchers found more than 1,500 species of crabs, shrimps and lobsters, and more than 150 of these were new to science, Prof Ng said.
LONG LIFE
"Deep-sea animals generally have a long life because of the high pressure and cold temperatures. Most of the animals generally live five to 10 times longer than things in shallow waters," he said.
Deep-sea expeditions have traditionally been organised by the French, Americans, Australians, and English, and Prof Ng said that the experience would stand Singapore and Indonesia in good stead.
In 2015, Ocean Mineral Singapore, a unit of Singapore conglomerate Keppel Corporation, signed a 15-year contract with the International Seabed Authority to explore how metal-rich rocks could be harvested in an area in the Pacific Ocean about 80 times the size of Singapore.
Prof Ng noted: "More and more organisations are starting to look at deep sea as a resource for fisheries, for oil, gas, mining and so on… How do you use it in a sustainable way?"
While the researchers will collect animal specimens during their journey, there will be "limited damage" to the environment, Prof Ng said. There is no other way, he added, to obtain definitive data needed to confirm that a species is rare or new to science, for example.
On why the team is not sending a submersible down into the deep sea, he explained that it would have been expensive and they would only be able to sample a small area. These vessels are good for detailed studies, but not for a first-cut study of a largely unknown area.
The team, which includes other members from Singapore such as fish scientist Dr Tan Heok Hui and the Tropical Marine Science Institute's Dr Tan Koh Siang, plan to survey 29 sites during the fortnight.
The sea creatures collected will be sorted, photographed, preserved and labelled on the vessel, and some will be kept alive for short periods in chilled tanks so they can be observed, studied and filmed.
Thereafter, the scientists expect to take about two years to study the samples and plan to share the results at a special workshop in Indonesia in 2020.
The project is part of RISING50, a celebration of 50 years of diplomatic relations between Singapore and Indonesia.