Selling narcotics over Telegram: An inside look at a drug raid
SINGAPORE — It was 6am and the sun had not appeared over the horizon, but officers from the Central Narcotics Bureau (CNB) were already on the move.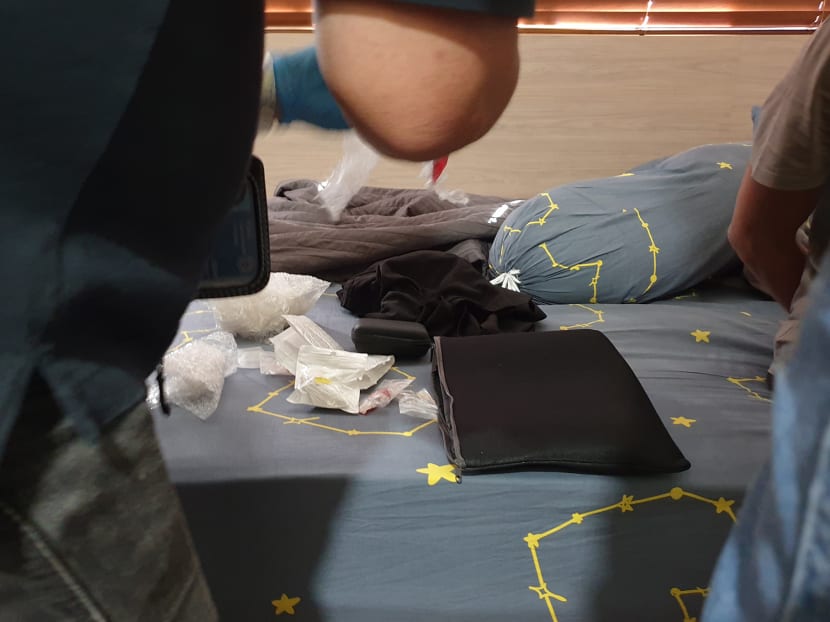 The media was invited to tag along with the Central Narcotics Bureau on a recent early-morning raid
This was to give reporters an inside look into its enforcement efforts
The raids were aimed at those who used messaging app Telegram to buy drugs
CNB said the drugs seized from the two-week operation were worth almost S$20,400
SINGAPORE — It was 6am and the sun had not appeared over the horizon, but officers from the Central Narcotics Bureau (CNB) were already on the move.
Travelling with them in an unmarked white van were me and another bleary-eyed reporter.
We were invited to tag along with CNB on its anti-drug raid to better understand its enforcement efforts.
The raid last Tuesday (Nov 23) was targeted at drug abusers who use Telegram, a secure messaging application, to conduct their illicit drug transactions.
It was one of several done by CNB across the island from Nov 16 to 30.
The operation covered areas such as Ang Mo Kio, Boon Lay and Pasir Ris.
In all, 50 suspected drug offenders were nabbed, CNB said in a statement on Wednesday.
The drugs seized were estimated to be worth nearly S$20,400.
They included methamphetamine (otherwise known as Ice), cannabis, ketamine, Ecstasy tablets, lysergic-acid-diethylamide stamps (a psychoactive agent typically sold on blotting paper), new psychoactive substances, Erimin-5 tablets, and bottles of liquid suspected to contain gamma-hydroxybutyrate, a psychoactive drug.
Superintendent Aaron Tang, director of the intelligence division at CNB, said on Wednesday that drug abusers turned to secured messaging apps for drug transactions to evade CNB's surveillance efforts.
"Given the popularity of messaging applications for daily communications, it is no surprise that drug syndicates and drug pushers are lulled into a false sense of security in using them for their drug activities," he said.
Even so, they "cannot be more wrong" in thinking that such apps grant them a certain level of anonymity to conduct illegal activities, he added.
Using Telegram for illegal activities is not a new phenomenon and CNB has been taking regular enforcement action against such drug offenders since 2019.
More than 200 such offenders have been arrested.
LEAVING NO STONE UNTURNED
Reporters were let in on the location of last Tuesday's raid just before we set off from CNB's headquarters on New Bridge Road.
Even then, we were told only that we would be visiting a mix of private and public houses in eastern Singapore.
At 6.15am, we pulled up at our first stop.
It was a condominium near Flora Drive in Loyang. Save the presence of security guards, the premises were devoid of activity.
We were told that the raid that day was starting in the early morning, so that officers could get hold of the suspects before they set off for work.
As the media trailed behind, plainclothes officers headed up to the suspect's apartment.
The couple who answered the door did not resist the officers' request for a search.
As one officer spoke to the suspect's wife, who appeared worried, several other officers proceeded to search one of the rooms.
We were later told that officers who conduct raids have different roles.
There is at least one on hand to engage family members, while the other officers assume roles such as searching for and recording evidence.
As the search continued on Flora Drive, we were whisked away to a landed house in Bedok South.
When we arrived, officers there were already knee-deep in their search.
The suspect, a young man, had been handcuffed and made to sit on the bed.
He stayed silent as officers rummaged through bags, cabinets and even under a mattress.
The haul? Five packets containing about 2.4g of crystalline substances — believed to be Ice — as well as drug-taking utensils.
Our next stop was a Housing and Development Board (HDB) flat near Tampines Street 82.
The search was over by the time we got there and officers had nabbed the suspected drug abuser.
They seized a packet containing a small amount of Ice and drug paraphernalia, including seven glass pipes.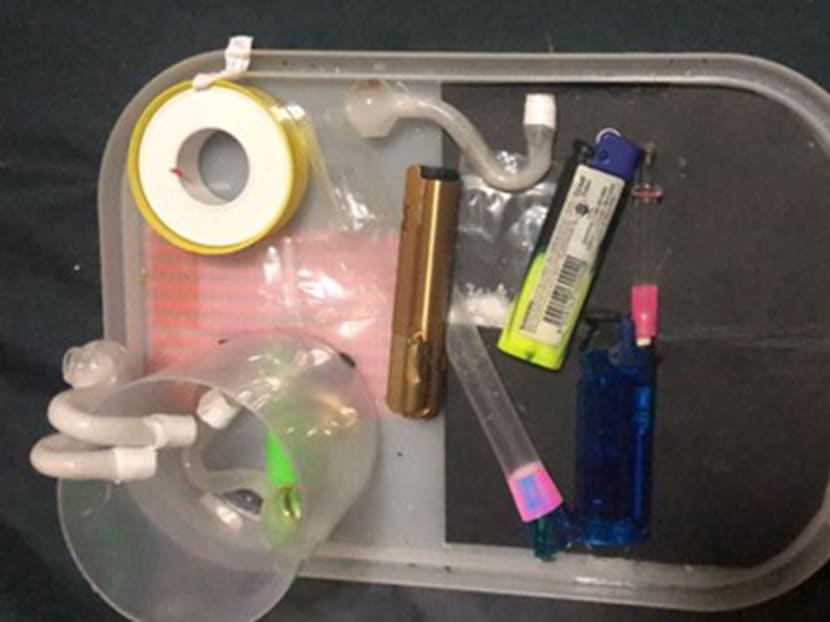 The suspect, a food delivery rider, was handcuffed and taken to his motorcycle parked at the foot of the housing block for a further search. Nothing more was found.
The officers then ushered him into one of the unmarked vans they had driven.
Our final stop, just after 8.30am, was a landed house near Sims Avenue East.
The officers did not approach the house immediately, but first sussed it out for possible escape routes.
While all the suspects we came across that day were compliant, we were told of instances where drug offenders scaled down walls or leapt out of windows to evade arrest.
After a quick chat with the officers, the suspect's brother at the house allowed the CNB team into the suspect's room.
No stone was left unturned as they emptied the pockets of the suspect's clothes, rifled through a trash bin and looked behind pictures displayed on hard-to-reach shelves.
As the search was under way, officers firmly but politely reminded the suspect to confess if he had drugs in his room.
The search turned up two packets containing about 2g of crystalline substances — believed to be controlled drugs — and drug paraphernalia including four glass pipes and a digital weighing scale.
At the request of the suspect's brother, the officers kept the arrest as discreet as possible.
They reversed an unmarked white van into the property's driveway, so that the suspect could board without neighbours looking.
A piece of clothing was also draped over his handcuffs to conceal it.
After the raids, we were driven back to the headquarters of the Bedok Police Division, where the suspects were taken.
Here, they were made to provide a urine sample that was tested on-site for the presence of drugs.
Urine samples may also be sent to the Health Sciences Authority for a confirmatory test, we were told.
PROMISE OF HASSLE-FREE PURCHASES
We were later also shown a conversation between one of the suspects and a drug supplier on Telegram.
The seller promised "hassle-free", "safe delivery" of purchases islandwide, and listed prices for drugs based on their weight.
A gram of Ice, for instance, would cost S$100, and 50g could go for S$2,300.
Once the suspect made payment into a bank account, a video was sent showing that the drugs had been left in a package in a discreet area of an HDB lift landing for pick-up.
Between January 2019 and Sept 17 this year, CNB said that it nabbed a total of 77 drug traffickers linked to Telegram drug transactions.
Five of them were operators of Telegram drug channels.
In the same period, the drug-busting agency arrested 154 drug abusers linked to Telegram transactions. About 70 per cent were younger than 30.
In its statement on Wednesday, CNB said that the youngest person arrested in its latest islandwide raids was a 20-year-old Singaporean man on Nov 18 near Punggol Way. 
Officers seized about 16g of Ice, 247g of cannabis, 9g of ketamine, 30 Ecstasy tablets, six lysergic-acid-diethylamide stamps and an Erimin-5 tablet.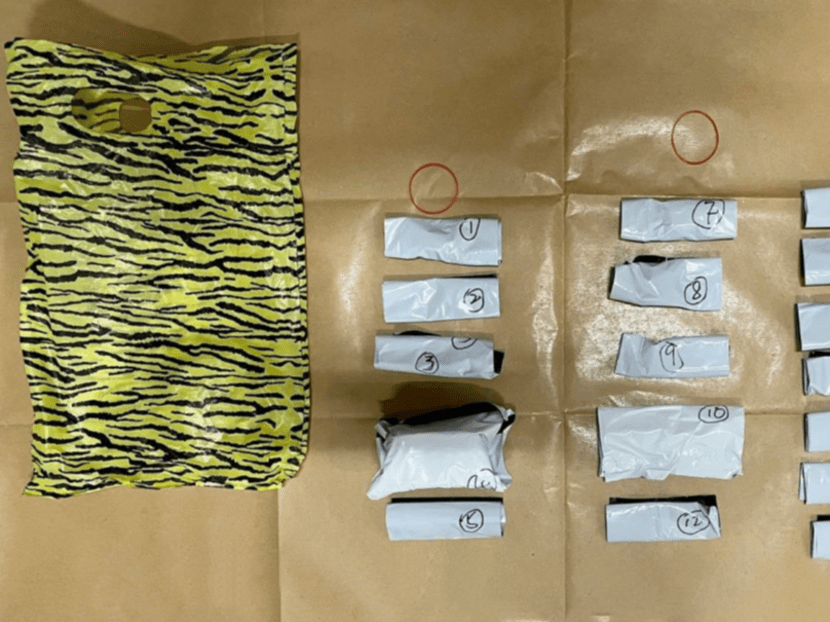 That evening, CNB officers also nabbed a 35-year-old Singaporean man near Sengkang East Way. About 25g of cannabis and drug paraphernalia were seized.
By the time I finished my assignment last Tuesday, it was about 10.30am.
For CNB's officers, though, their stop at Bedok Police Division was but a pause before they pressed ahead with more raids later that day.
Navene Elangovan is a senior journalist at TODAY, where she covers the environment, education and housing.
.embed-container { position: relative; padding-bottom: 56.25%; height: 0; overflow: hidden; max-width: 100%; } .embed-container iframe, .embed-container object, .embed-container embed { position: absolute; top: 0; left: 0; width: 100%; height: 100%; }