From setting emissions target to changing behaviour through procurement, public sector to lead S'pore's green push
SINGAPORE — From hitting the peak of its carbon emissions by 2025 to encouraging sustainability through procurement and education, the public sector is set to take the lead in Singapore's green push.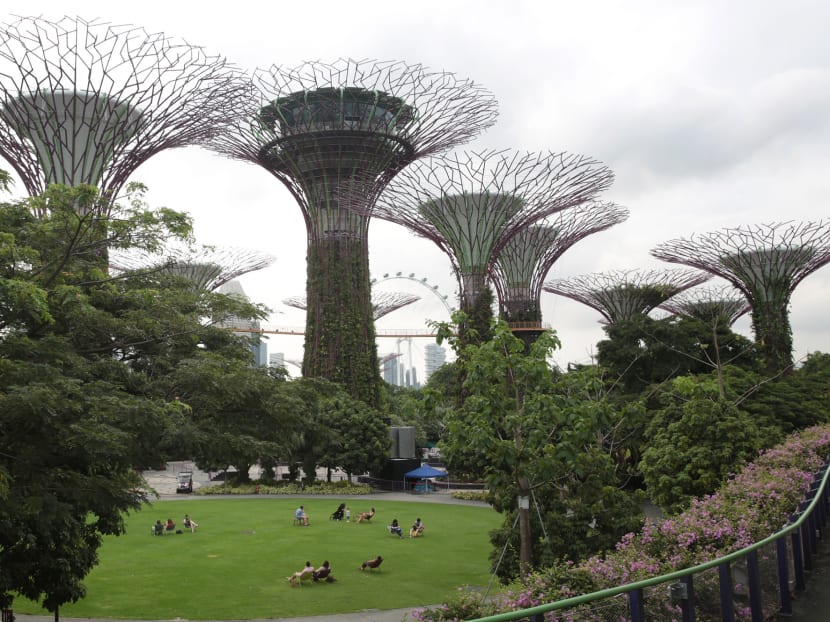 The public sector will contribute to the Singapore Green Plan 2030 through the GreenGov.SG initiative
The goals include hitting the peak of its carbon emissions by 2025
PUB will also start coastal protection studies for City-East Coast area, Jurong Island in 2021
Government agencies will also study how to mitigate the urban heat island effect
SINGAPORE — From hitting the peak of its carbon emissions by 2025 to encouraging sustainability through procurement and education, the public sector is set to take the lead in Singapore's green push.
A new initiative, dubbed GreenGov.SG, will contribute towards the national sustainability agenda mapped out in the Singapore Green Plan 2030, which charts the Government's vision to create a more liveable and sustainable future.
Ms Grace Fu, Minister for Sustainability and the Environment, said in Parliament during a multi-ministry segment on sustainability on Thursday (March 4) that the public sector would focus on several areas.
First, it would hit the peak of its carbon emissions by 2025, in advance of the 2030 national target. This is the first time that the Government is setting a carbon emissions target for itself.
Singapore aims to peak greenhouse gas emissions by 2030, and expects the volume of such emissions equivalent to carbon dioxide it produces a year to peak at 65 million metric tonnes around that time.
Second, the GreenGov.SG initiative will cover not just government-owned offices but public-sector infrastructure and operations, such as transport and healthcare facilities.
Plans are also afoot to use tools and levers at the public sector's disposal, including procurement and education, to influence those in and outside the public service to raise awareness of and adopt sustainability practices.
Ms Fu said that as a major consumer of goods and services, the public sector "can and will influence the industry" towards sustainable business choices and practices by incorporating more sustainability requirements in its procurement framework.
A final goal of GreenGov.SG, the ministry said, is to encourage public servants to adopt more environmentally friendly practices and start ground-up initiatives at their agencies.
GreenGov.SG replaces an older initiative, the Public Sector Taking the Lead in Environmental Sustainability. Introduced in 2006 to improve public sector resource efficiency, the initiative was updated in 2014 to focus on sustainability outcomes and put in place organisational processes to manage resource use.
GreenGov.SG will be continuously refreshed, the Ministry of Sustainability and the Environment (MSE) said, and more details will be released over the course of the year. 
COASTAL PROTECTION, URBAN HEAT STUDIES
Aside from the measures to be undertaken by the public sector, the Government also plans to shore up Singapore's coastal defences to protect the island against rising sea levels.
To do so, national water agency PUB announced on Thursday that it would start a four-year coastal protection study for the City-East Coast area and Jurong Island this year.
These areas were identified as being more vulnerable and critical, based on factors such as the potential impact of a flood event as well the locations of assets, including Changi Airport, and economic and industrial districts.
PUB said that studies to protect the northwestern coast, comprising Sungei Kadut and Lim Chu Kang, will be next, though it did not provide a timetable.
In addition to these studies, PUB said it was developing a model to assess inland and coastal flood risks that will help it to evaluate the effectiveness of proposed coastal protection work under various scenarios.
The model will be capable of analysing the combined effects of extreme sea levels and inland floods due to intense rainfall, and simulate flood events based on projected rainfall and coastal events.
Separately, MSE and the Urban Redevelopment Authority will study how to mitigate the urban heat island effect, a phenomenon where urban areas are hotter than more rural ones.
This is due to heat trapped from energy consumed by air-conditioning systems and vehicles, for instance, the presence of less vegetation, and building materials that absorb and store heat from the sun.
To better understand this effect, the agencies will collect data by expanding its network of islandwide environmental sensors. The information will be used within climate models.
The agencies said a digital twin of Singapore will be created with various models, as part of the Cooling Singapore 2.0 research project, co-led by principal investigators from the Singapore-ETH Centre and Singapore Management University.
The Singapore-ETH Centre is a research centre providing solutions to pressing global challenges on environmental sustainability.
This digital twin will simulate Singapore's urban climate and allow policymakers to assess the effectiveness of various mitigation strategies, said the agencies.
The Government is also looking to partner interested building owners and suppliers of cool materials to conduct tests on the use of cool paints on transport infrastructure, residential districts and commercial buildings.
Cool materials absorb less heat and could precipitate drops of up to 1.6°C in surrounding air temperature and 5.6°C in wall-surface temperature.