Shanmugam questions funding sources behind TOC, reiterates need for laws to curb foreign interference
SINGAPORE — Online sites that receive funding from and hire foreigners can easily be used to advance foreign interests, Home Affairs Minister K Shanmugam said on Wednesday (Sept 25).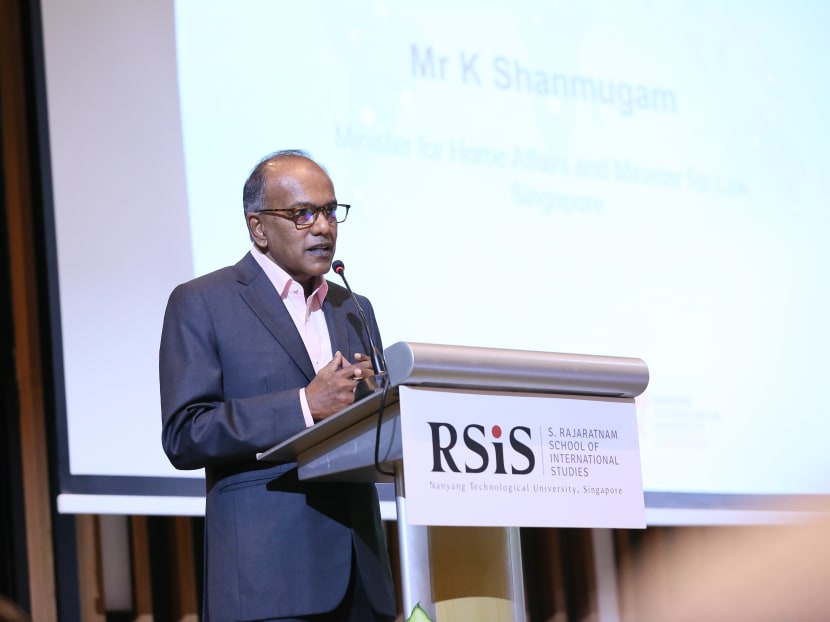 SINGAPORE — Online sites that receive funding from and hire foreigners can easily be used to advance foreign interests, Home Affairs Minister K Shanmugam said on Wednesday (Sept 25). 
He highlighted sociopolitical website The Online Citizen (TOC) as an example, noting that it received support from and employs foreigners — including Malaysians — who write "almost exclusively negative articles" on social and political matters in Singapore.
Speaking at an S Rajaratnam School of International Studies (RSIS) conference on foreign-interference tactics and countermeasures on Wednesday (Sept 25), Mr Shanmugam pointed out that the site was responsible for an article at the heart of a defamation lawsuit brought by Prime Minister Lee Hsien Loong.
Mr Lee's lawyers had described content in the article as false, including allegations that Mr Lee had misled his late father into thinking the Government had gazetted their Oxley Road family home.
Mr Shanmugam said he was not commenting on the legal merits of the article and only that it was written by a Malaysian named Rubaashini Shunmuganathan, who is said to reside in Shah Alam, Selangor.
She was also behind another article urging Singaporean civil servants to follow the example of their counterparts in Hong Kong, which has been in the grip of months of protests.
Noting that the writer has written many other articles to try to influence views in Singapore, Mr Shanmugam said this raised questions of who controls and pays her, and what purposes her work serves.
Mr Shanmugam, who was speaking at the Parkroyal hotel on Beach Road, pointed out that most readers would assume that a Singaporean contributor was behind TOC's articles.
Only five out of 14 administrators of the website, which is helmed by chief editor Terry Xu, are in Singapore, he pointed out.  
Nine are based elsewhere, including four in Malaysia and two in Indonesia. 
"We don't know who they are. Are they Singaporeans? Are they foreigners?" said Mr Shanmugam, who is also the Law Minister. 
He noted that these online sites are "only interested to get eyeballs" and have been used by other countries to attack and deepen divisions.
Responding to Mr Shanmugam in an article published on TOC, Mr Xu said: "Nothing goes unvetted by me, a Singaporean who has served his National Service and (is) held responsible by the Ministry of Communications and Information as the registered person in charge." He added that there is "no law against hiring (a) person of foreign nationality" and TOC "has not used (or) received any foreign funding".
ACTIVISTS WHO MET DR MAHATHIR
In another example cited by Mr Shanmugam, historian Thum Ping Tjin, political dissident Tan Wah Piow, freelance journalist Kirsten Han, civil-rights activist Jolovan Wham and graphic novelist Sonny Liew met Malaysian Prime Minister Mahathir Mohamad in Kuala Lumpur last year.
They urged the Malaysian leader to bring democracy to Singapore and other countries, with Dr Thum saying Singapore should be a part of Malaysia and celebrate independence on Malaysia Day on Sept 16, said Mr Shanmugam. 
In an email to TODAY, Ms Han maintained that they never urged Dr Mahathir to bring democracy to Singapore and other countries. Instead, Dr Thum had asked Dr Mahathir to "take leadership in South-east Asia for the promotion of democracy, human rights, freedom of expression and freedom of information", she said. "We talked very little about Singapore and asked him questions about Malaysia, given the huge political shift (there)."
Mr Shanmugam added that Ms Han and Dr Thum also set up New Naratif, a self-described movement for democracy and freedom of expression in the region, which receives foreign funds.
"Ms Han, on video, has said that Singapore has failed compared with Hong Kong, because 500,000 people don't go on the streets to march, unlike (in) Hong Kong. And she wants to change that through classes run by New Naratif," he said. 
"(This) will seem ridiculous on so many levels, but leave that aside because everyone is entitled to their views, however reasonable or unreasonable."  
But he asked: "Should foreign contributions be received in order to push these lines?"
Ms Han noted that she made the comments cited by Mr Shanmugam in 2016, when New Naratif — which was set up in 2017 — did not exist.
In the video, which was recorded at a forum on activism and civil disobedience, Ms Han had said: "If you measure Singapore against Hong Kong and think that the goal that we want is to have 500,000 people in the streets, then, yes, Singapore fails because we do not get 500,000 people in the streets. But if the goal that we want, being at such an early stage, is growing discussion, growing pushback, growing networks and activism and civil society, then these are things that we can achieve and I would argue are actually happening already."
She added that it was important to acknowledge these efforts because "a social movement is not 500,000 (but) all the work that goes into potentially one day having 500,000 people in the streets".
On Wednesday, Ms Han said that throughout her speech in the video, she had argued for "context" and highlighted "legitimate, non-violent ways for people to participate, such as organising parliamentary petitions or taking part in consultations". "Ideally, these processes will actually work and then we won't ever need to consider a day when the situation is so desperate we need 500,000 people in the streets, which I think would be the best result for everyone involved," she said.
While the New Naratif has conducted "democracy classroom" sessions on topics such as public order and protest, and fake news, Ms Han noted that she did not say she would "hold classes to change the fact that Singapore doesn't have 500,000 people in the streets".
LAWS NEEDED
Mr Shanmugam reiterated that legislation was necessary and the state cannot take a hands-off approach because foreign interference in Singapore's affairs is "an issue of sovereignty and national security". 
Laws must be able to counteract foreign interference, including giving the Government powers to make targeted, "surgical" interventions to investigate and respond quickly to hostile information campaigns.
The authorities must also have access to information to investigate the provenance of content, ascertain the extent to which it is being influenced by foreign parties and respond appropriately.
"The serious impact of hostile information campaigns on the social fabric, political sovereignty, peace, stability and national security has to be met head-on by states, working with technology companies as partners," he said.
Other countries have done this, including France, which has introduced an information-manipulation law that mandates transparency over social-media platforms' algorithms and election advertising. 
It also allows the French national broadcasting agency to suspend television channels controlled or influenced by a foreign state.
Stressing that foreign interference is an "age-old threat" going back thousands of years, Mr Shanmugam said: "Governments have to lead from the front and we need to ensure we have the right tools to fight this."