Shanmugam rejects claims that foreign interference Bill being rushed through and would curtail foreign collaborations
SINGAPORE — The draft law designed to detect and counter foreign interference in Singapore's politics will not unnecessarily restrict interactions with foreigners, curtail academic work with them, or be used disproportionately against legitimate collaborations and links with foreigners, Law and Home Affairs Minister K Shanmugam said.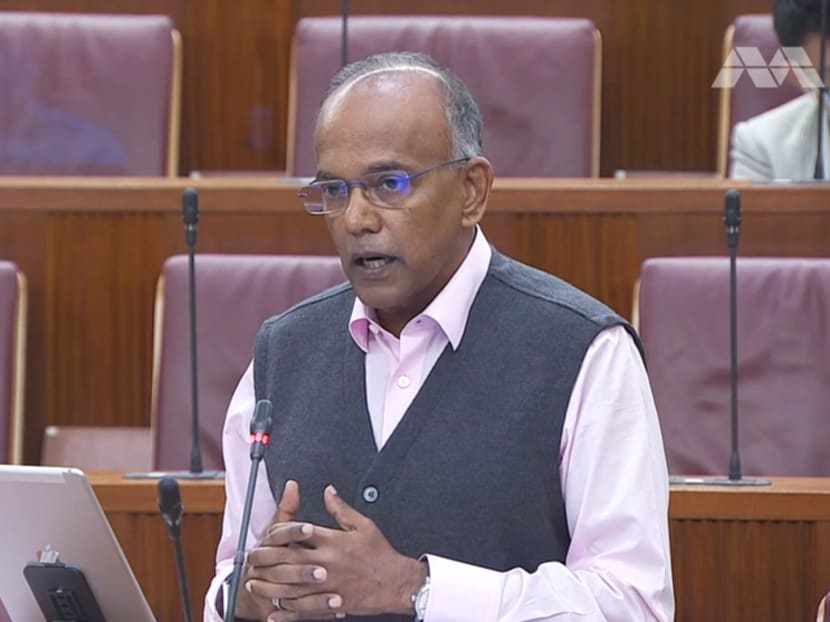 In a speech exceeding two hours, Home Affairs Minister K Shanmugam sought to clarify some misconceptions about the Foreign Interference (Countermeasures) Bill
The proposed law was not rushed, with more than three years of discussions about foreign interference, he said
It had to be broadly worded since foreign countries use "legitimate-looking fronts" to carry out influence operations
Mr Shanmugam also took aim at Fica's critics Thum Ping Tjin and Kirsten Han, who had a history of dealings with Malaysia
SINGAPORE — The draft law designed to detect and counter foreign interference in Singapore's politics will not unnecessarily restrict interactions with foreigners, curtail academic work with them, or be used disproportionately against legitimate collaborations and links with foreigners, Law and Home Affairs Minister K Shanmugam said.
The Government has been talking "extensively" about the issue for more than three years, and rejected claims that the Bill to enact the Foreign Interference (Countermeasures) Act, or Fica, was being rushed through with little consultation, he added.
The issue of foreign interference has been discussed publicly as well as being addressed in the parliamentary select committee on deliberate online falsehoods in 2018, he noted.
Mr Shanmugam was responding in Parliament on Monday (Oct 4) to some of the common criticisms of Fica, which aims to safeguard Singapore's political sovereignty by granting powers to the Government to target foreign interference operations if there is a public interest to do so.
In his speech exceeding two hours, Mr Shanmugam opened the debate on the Bill by correcting "misconceptions" of Fica that have emerged since the Bill was introduced in Parliament last month, taking aim at historian Thum Ping Tjin and freelance journalist Kirsten Han's campaign against Fica at one point in his speech.
He said: "Some of the doomsday scenarios — that Fica is a way to close off foreign collaborations, if that is correct, we as a Government must have suddenly gone mad, because in a country like Singapore, which depends so much on the flow of ideas and international collaboration, is that even thinkable?"
The minister pointed to other jurisdictions with laws that have broader powers, such as the United States' Foreign Agents Restriction Act and Australia's Foreign Influence Transparency Scheme.
The law in the US, for example, states that any political activity designed to influence the government's decision-making on behalf of a foreigner will require registration, but the same scenario is unlikely to trigger Fica's proposed disclosure rules for politically sensitive persons, which cover a "narrower" group, Mr Shanmugam said.
"Singapore depends for its success and vitality on being open. A Government that seeks to close (that) down will lead Singapore to ruin," he added.
PUBLIC CONSULTATION ON NEW LAW
Responding to assertions that the Bill is being rushed through without public consultation, he said that there have been extensive discussions about this for more than three years, since the 2018 public hearings on online fake news.
One of the testimonials provided in the public hearings had highlighted how foreign states could engage in information operations targeting Singapore's faultlines as a means of "asymmetric warfare" considering the country's military might in the region.
"What that means is that the internet becomes a particularly attractive theatre for adversaries who would seek to do us harm. I will ask MPs (Members of Parliament) to register this point in particular, because our conventional military superiority ironically means we become a bigger target online," he said.
The topic of foreign influence operations had also been discussed in Parliament several times, during Budget debates and also in response to parliamentary questions filed by MPs.
Publicly, Mr Shanmugam spoke about the need for legislation in an international conference in 2019, which was covered extensively by the media.
"The trend of foreign interference and its seriousness is not disputed by most people. Most people also agree that something needs to be done," he said. 
MISCONCEPTIONS AND DOOMSDAY SCENARIOS
During Mr Shanmugam's speech, handouts were distributed to MPs that compiled the various arguments advanced by opponents to Fica, some of which were brought up by Senior Counsel Harpreet Singh Nehal and some Singapore academics in the past week.
These misconceptions include:
 

The proposed law defines "foreign interference" and "public interest" too broadly, in a way that means legitimate online activity can run afoul of the law, even when there is no hostile information campaign involved

 

Political debates that legitimately require collaboration with international experts, researchers and non-governmental organisations (NGOs) may be curtailed

 

Academics who conduct research with foreign authors, whose work are featured on foreign publications and are funded by foreign universities, foundations and states may be affected

 

Legitimate advocacy work undertaken by civil society organisations and activists, as well as journalistic reporting and analysis or opinion pieces, may be targeted by the law

 

Religious organisations with foreign links that has a position on an issue, such as abortion or other rights issues, could be affected
Reiterating the rejoinder on Sunday by the Ministry of Home Affairs (MHA) to Mr Singh and Academia.sg, Mr Shanmugam said that the key point is that the authorities have to consider the public interest before issuing a direction under Fica.
That means that the decision has to be made on the basis that it is "necessary and expedient" to do so, he explained.
Granted, it may be difficult to determine if it is necessary or expedient in issuing a Fica direction, such as if two academics collaborate on a paper on a sensitive LGBT (lesbian, gay, bisexual and transgender) issue.
Mr Shanmugam said that the difficulty for the authorities lies in the reality that out of 10,000 interactions, only one may be the sort where there is an attempt to interfere in domestic politics.
Since foreign agencies may use "legitimate-looking fronts" to further their aims, the language of Fica needs to be broad enough to cover what looks normal, he added.
"It is not only the classic foreign agency, subversion sort of situation. There could be foreign associations, NGOs, persons who want to change our laws, for example."
Hence, one must consider whether it is proportional to exercise Fica's proposed powers, as well as to look at the facts, such as whether there is a hostile campaign, the extent of the damage to Singapore, and the involvement of a foreign agency.
"Collaboration and partnership with a foreign person by itself is not the trigger. You have to go further, look at the facts," he said, stressing that a vast majority of collaborations and foreign linkages will not be affected by the proposed law.
SPREADERS OF MISINFORMATION
Mr Shanmugam then noted that there are some people who are "actively trying to put out misinformation" about the Bill, naming New Naratif's co-founders Thum Ping Tjin and Kirsten Han as the chief culprits.
He said that their sociopolitical website receives significant foreign funding and it had organised a series of democracy workshops on Malaysia supported by the US Embassy in Kuala Lumpur.
Dr Thum had said in the past that Singapore should become a part of Malaysia again, and met former Malaysian prime minister Mahathir Mohamed with Ms Han in 2018 to urge him to bring democracy to Singapore, Mr Shanmugam said.
He noted that Ms Han, too, had previously said that Singaporeans should push back against the idea that foreigners should avoid influencing domestic affairs, and had organised a petition with The Online Citizen's chief editor Terry Xu against the Bill.
"So (MPs) can see why (Dr Thum and Ms Han) are very concerned that Fica will focus on foreign funding and have been mounting their own disinformation campaign," Mr Shanmugam said.
As for Mr Xu, he said that The Online Citizen website has hired Malaysian and other foreign writers to write incendiary articles about Singapore.
"Now, Mr Xu and others can continue to do this after Fica (is passed), but a direction can be given to them to make it clear that the article is written by a foreigner.
"We all want transparency, right? So it will be useful for Singaporeans to know whether the writer of the article is local or foreign."