She had aggressive breast cancer at 37. Now she urges younger women not to neglect breast checks
SINGAPORE — At 37, Ms Wu Ying Ying thought she was too young to get breast cancer.
Triple-negative breast cancer is an aggressive cancer type that can afflict younger women
At the National University Cancer Institute, Singapore (NCIS), most patients with this form of cancer is below the age of 60
Patients have poorer chances of surviving it and a higher death rate
Immunotherapy, a new treatment option, is available for advanced cases
All such Stage 4 cases at NCIS and Singapore General Hospital can get fully subsidised test to assess suitability for this therapy
SINGAPORE — At 37, Ms Wu Ying Ying thought she was too young to get breast cancer.
Now, the marketing manager wants women to know that the disease can hit at any age and encourages them to pay attention to their breast health through regular screening and self-examinations.
Three years ago, it was a blow to her when she found out a small lump in her left breast turned out to be Stage 1 triple-negative breast cancer, an aggressive type of breast cancer.
It is considered "aggressive" because it usually grows and spreads faster than other types of breast cancer. It is also more commonly diagnosed in younger women.
Most breast cancers are fuelled by female hormones oestrogen, progesterone or a protein called HER2.
In triple-negative breast cancer tumours, these three common types of receptors known to promote the growth of breast cancer cells are not present.
Dr Lim said that there could be several drivers for triple-negative breast cancers. One of them is the BRCA1 gene mutation, which is associated with a family history of breast and ovarian cancer.
At the National University Cancer Institute, Singapore (NCIS) where Ms Wu was treated, triple-negative breast cancers made up 8 per cent, or 164 patients, of all breast cancer cases seen between 2013 and 2017.
Most of them were under the age of 60. Ms Wu, now 40, was among the 12 patients in the 30 to 39 age group seen in that five-year period.
"I remember thinking I had 'hit the jackpot' since triple-negative breast cancer only impacts a smaller group (of people with breast cancer) and is not as well-researched as other breast cancer types," Ms Wu said.
"I felt overwhelmed, trying to make sense of the situation, information and medical jargon from various doctors and the internet."
WHO IS AT RISK
Dr Lim Siew Eng, senior consultant at the department of haematology-oncology at NCIS, said that apart from the cancer tending to hit the younger set, other risk factors include a family history of breast cancer or family members who have the BRCA1 gene mutation.
About 70 per cent of BRCA1-associated breast cancers are triple-negatives, she said.
In 2013, Hollywood actress Angelina Jolie publicly wrote about her controversial decision to have a double mastectomy to remove her breasts as a preventive measure to significantly lower her risk of getting breast cancer. She has the BRCA1 gene.
For Ms Wu, she tested negative for BRCA1 and has no family history of the disease.
She led a healthy and active lifestyle and could not understand why cancer hit. Her family and friends were also shocked when she broke the news to them.
WHY THE CONCERN
Compared with the more common breast cancer types, triple-negative breast cancer is usually associated with poorer outcomes, which means patients have poorer chances of surviving it and a higher death rate, Dr Lim said. 
For example, the average survival rate for Stage 4 triple-negative patients is 18 months, but those with Stage 4 oestrogen- or progesterone-positive breast cancers have an average survival rate of three to four years.
As triple-negative breast cancer grows faster and occurs more frequently in younger women, Dr Lim said that this can make detection by mammogram slightly more difficult since women under the age of 40 are usually not recommended to have regular mammogram screening.
Another reason is that in younger women, tumours may not show up as well on mammograms since they tend to have denser breasts — with more breast tissue than fat tissue.
Dr Lim added: "Triple negative breast cancer also tends to recur earlier than other breast cancer groups. When it does recur, it usually recurs within the first five years."
WHAT EVERY WOMAN SHOULD KNOW
Every woman is at risk of getting breast cancer. One in 14 women will get breast cancer before the age of 75, the Breast Cancer Foundation said.
It is one of the most common cancers here in women aged 15 to 39.
It has also been the leading women's cancer here in the last five decades, and figures from the Singapore Cancer Registry show that numbers have gone up drastically.  
The incidence rate has gone up more than three-fold in the last 50 years, from 20.1 per 100,000 population between the period of 1968 and 1972 to 69.8 per 100,000 population between 2013 and 2017.
It was also the leading cause of cancer death among women from 2013 to 2017.
While genetic factors play a role in cancer risk, research suggests that the disease might have become more common due to changes in lifestyle, diet and reproductive patterns.
This may include having children at a later age, starting menstruation at an earlier age, having fewer children and more people becoming obese.
TREATMENT FOR AGGRESSIVE CANCER TYPE
For patients diagnosed with triple-negative breast cancer, it can be frightening to learn that the disease has poorer outcomes and cannot be managed by existing treatments that can effectively target the more common breast cancer types.
However, the outlook is not entirely bleak.
Dr Lim said that patients are more likely to respond to chemotherapy. "And for those who have (survived beyond five years after diagnosis), there is a good chance of a long-term cure."
A new treatment option in the form of immunotherapy is also now available for some advanced triple-negative breast cancer patients.
Immunotherapy uses the body's own immune system to fight cancer. Until recently, chemotherapy was the only effective treatment for triple-negative breast cancer.
About two in five patients with triple-negative breast cancer test positive for a protein called PD-L1, which enables cancer cells to evade the body's immune system. 
Dr Lim said: "Using the immunotherapy drug against this receptor PD-L1 could be a useful (treatment) strategy. It works by blocking PD-L1, thereby strengthening and restoring the immune system of the patient to fight the cancer."
Based on findings from a Phase Three clinical trial (named IMpassion130) conducted in 41 countries including Singapore's NCIS and National Cancer Centre, immunotherapy combined with a chemotherapy drug reduced the risk of the disease worsening by 38 per cent, compared to using just chemotherapy alone.
More than 900 patients with advance triple-negative breast cancer that could not be surgically removed or had spread to other parts of the body took part in the study.
Commenting on the results, Dr Lim shared another significant finding: "By adding the immunotherapy drug to chemotherapy, we were able to improve overall survival by seven months and increase the patients' survival to 25 months. This is an addition of seven months over a (Stage 4 patient's) average survival of 18 months," she said.
Common side effects reported were hair loss, fatigue and numbness in the hands and feet.
Starting from last month, all Stage 4 triple-negative breast cancer patients seen at NCIS will be eligible for a fully subsidised PD-L1 test to check if they are suitable for immunotherapy.
The test is also fully subsidised at the Singapore General Hospital and Parkway Laboratory Services.
GETTING SUPPORT
After undergoing surgery to remove the tumour, Ms Wu underwent chemotherapy and radiotherapy that lasted around six months.
With support from her family and friends, she pushed through the side effects such as hair loss, fatigue and numbness in her limbs.
"From surgery, chemo to radiation, physically I did whatever I could to improve my (treatment) outcome. For the things that I could not control, I just tried to not think about it," she said.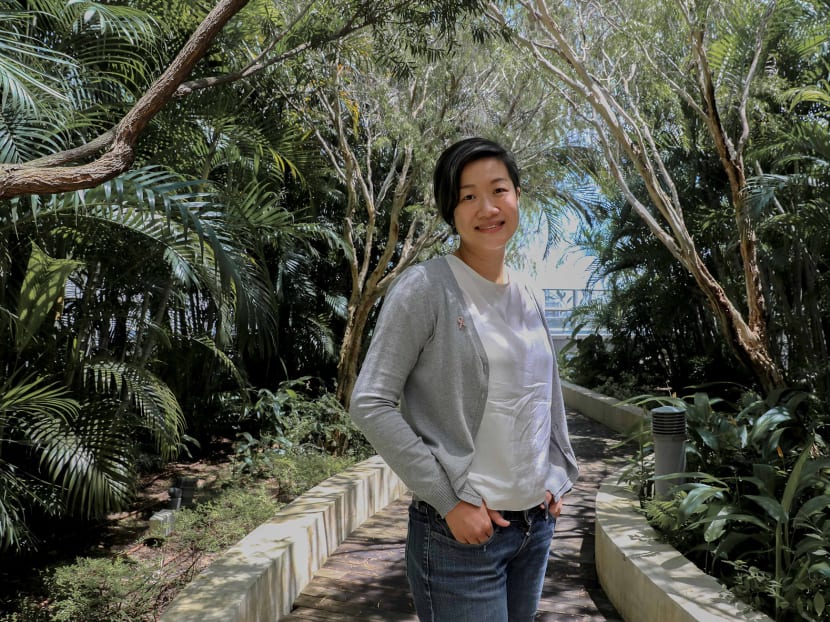 To keep her mind off cancer, Ms Wu continued to work from home during her treatment with her company's support.
She also took part in the Breast Cancer Foundation's support group and programmes that helped her feel less alone during her cancer journey as a young patient.
In July 2020, the foundation started a dedicated support group for advanced breast cancer patients. Today, Ms Wu is giving back by supporting patients in their cancer journey.
Her illness has made her question and review what she truly wants in life.
"Before my cancer diagnosis, I can be anxious and want things to be done in a certain way. I guess you could say I was quite a perfectionist.
"Post-cancer, I don't have such high expectations of myself or expect things to go in a certain way," she said.
"When I do something now, I also asked myself if it is meaningful, does it bring me purpose and if this is how I want to end my life with ultimately."